If there is a holiday that re-defines gluttony and the festive culinar mood, it has to be the German Oktoberfest. However, all we know about this grand month-long festival seldom goes beyond pretzels and beer here in the city.
Update for 2023: The Oktoberfest menu is back at Taj Palace New Delhi and it is live till 24th September 2023:


Not anymore though and the Chefs at Taj Palace Hotel in New Delhi have taken the charge for introducing the Bavarian way of feasting this Oktoberfest.
The iconic Capital Kitchen at the Taj Palace Hotel was the destination where I was invited to savor this handcrafted feast but the same can also be home-delivered to wary folks out there by the seamless Qmin app.
The meal started with a fresh and hearty Wurstsalat. The freshest of produce, chunky roasted chicken breast slices and a sufficiently flavorful vinaigrette. Don't mind eating healthy if I can get my hands on a salad like this everyday.
Then came a creamy surprise in the form the Camembert cheese spread- Obazta. Used the contents of the signature bread basket to scoop out this creamy rich Bavarian cheese dip to glory.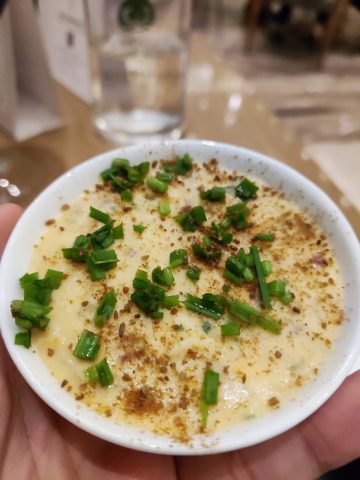 Still can't say what is more comforting than a bowl of cheesey hot housemade pasta to go with your tipples. Well, the Bavarian rendition Kasapaetzle checked all these boxes and the fact that it was served fresh and hot just took the comfort food quotient up a few notches.
Then it was tims for the real deal. What's an Oktoberfest without a good currywurst? The chefs at the Capital Kitchen have nailed the recipe and you can quote me on this- the highest quality pork bratwurst sausages drenched in tangy sweet ketchup curry sauce is an absolute flavour bomb that commands a try at least once before the Oktoberfest bids farwell to us ftom the Taj Palace Hotel.
To go with it, we had the quintessential roast chicken feast- The Oktoberfest Brathend'l complete with sautéd baby potatoes and white cabbage. Austere and filling, having this perfectly cooked chicken was the perfect ending to this joyride of Bavarian flavors.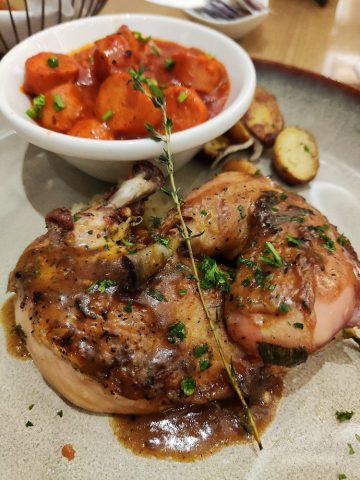 This absolutely delightful feast from Taj Palace Hotel New Delhi is available till 3rd October 2021 at the Capital Kitchen for dine-in or via Qmin App for home delivery.