Ever visited a fancy restaurant and been intrigued by the fancy furniture? Well, chances are that while visiting the newest venture by Priyank Sukhija in New Delhi's Aerocity area, you'll have a similar experience. With one difference though. Plum by Bent Chair is a one of its kind restaurant bar where you can actually shop for furniture while dining. Fancy that bar stool? Yes, go ahead take it home (by paying for it of course).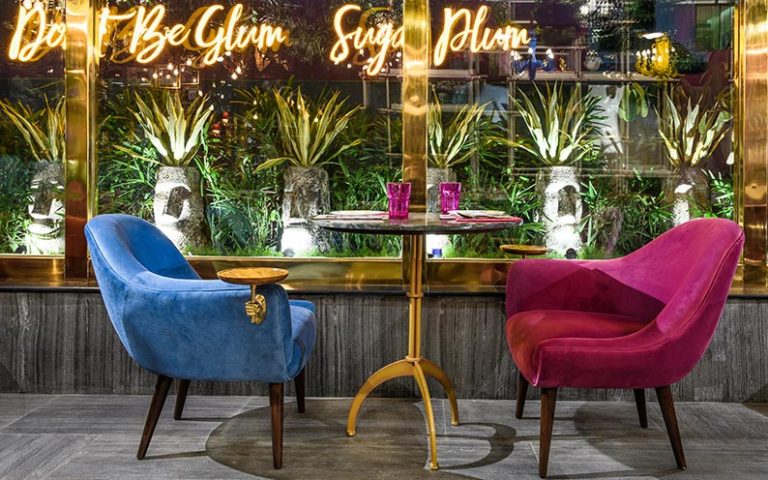 Image Courtesy- https://www.bentchair.com/plum-cafe-delhi
A Confluence of Hospitality & Interior Design
A collaboration between Mr. Sukhija and Ms. Natasha Jain (co-founder of Bent Chair- A seasoned new-age Furniture retail brand), Plum by Bent Chair focuses on scrumptious Pan Asian delights on its menu. With dishes ranging from finely crafted Dimsums to velvety Thai curries, the menu is a shear flavor delight.
When it comes to the interiors, of course, you can expect an unmatched quirky vibe with furniture and crockery that you would indeed want to take home.
For party-goers, Plum by Bent Chair offers a huge bar churning out some funky and delicious cocktails.
What? Plum by Bent Chair- A Shop & Dine experience
When to When? 11 AM to 11 PM
Where? Worldmark 2, Aerocity, New Delhi
Tel. No.- Toll-free Call 24×7: 1800-419-6934