Zomato Gold brought in a revolution of sorts with a 1+1 deals on food at a huge number of restaurants in Delhi. The 2+2 on drinks is also huge value for the drinker lot. However, the membership is no longer available for purchase to the general public unless you get access to an invite code (call up your friends in Zomato if you haven't already).
Now, if you think you missed out on this amazing blessing for the foodie community, you're wrong! There are still some ways through which you can get your hands on a Zomato Gold Membership and if not, we'll tell you about other amazing 1+1 offers on food that are still up for grabs!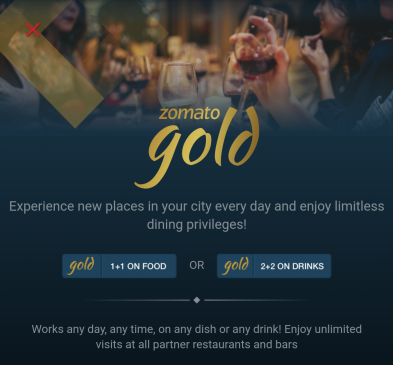 Buy Zomato Gold Now for INR 2,599/-
It is a myth that you can no longer buy a Zomato Gold Membership. It is very much available on the Zomato mobile app, just at a tad bit higher price!
Don't want to spend more? See the following offers!
American Express Card Holders Can Still buy Zomato Gold
Yes, if you've got an Amex Card (or if your Dad/Brother/Uncle/Neighbour/Neighbour's Dad or Mom/Dad or Mom's Neighbour/We should stop now) you can still buy a Zomato Gold Membership at the normal discounted price from the Zomato mobile app (Do read the T&C carefully. Everytime, okay?). This again could be open only for a couple of days more so hurry up!
ICICI Bank Card Holders can also still buy Zomato Gold
Again, for a couple of more days, the discounted Zomato Gold membership is still open for ICICI Bank card holders. This is also available on the Zomato mobile app.
None of the Above? Try EazyDiner Prime
The EazyDiner has a 1+1 deal at a couple of restaurants in Delhi (including the likes of Bar Cat, Masala Trail, etc.) and the best part about this is that you don't have to buy any membership and unlike Zomato Gold, it is not valid for just a single dish. So if you're booking a table under this deal on EazyDiner for say 5 people, you'll be entitled to 5+5 dishes or to put it simply, you'll get a 50% off on your food bill. The only drawback is that they only have a few restaurants serving the deal and also, unlike Zomato Gold, these deals have specific time slots within which they can be redeemed.
Know More Here: https://www.eazydiner.com/delhi-ncr/deals/fifty-percent-discounts
EazyDiner also recently announced their partnership with American Express for an exclusive EazyDiner Prime membership. This one not only offers at least 25% off on partner restaurants along with additional discounts & freebies for the Prime members.
The best part about EazyDiner Prime? Even India's finest restaurant, Indian Accent is a partner restaurant and they're even offering a free dessert per person on a table booked through EazyDiner prime! Isn't that insane?
EazyDiner surely has a classier selection of partners with the likes of restaurants in the best 5-star hotels of the country and hence, is a must-have of luxury dining lovers.
Also, you can ait for the Great Indian Restaurant Festival By DineOut- Flat 50%