The Dockyard Cafe is a small little, nautical themed cafe in the exclusive South Campus hangout space, Satya Niketan. Light on the pocket and great on quality plus quantity, the place is a perfect lunch spot for the students. The cafe serves you the best of food in Delhi University while competing with the likes of The Big Yellow Door and The Woodbox Cafe. Where does it stand? Let us find out.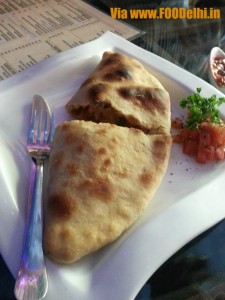 The Dockyard Cafe- Nautical Theme and Awesome Food in Delhi
Being a pocket-friendly cafe and a new entrant in the scene of Food in Delhi university, the Dockyard Cafe still manages to find itself in the league of Delhi restaurants with aesthetic interiors and a gourmet menu. The nautical theme just adds to the value and you feel like you're sitting in an upmarket restaurant. Just when you see the menu, you realize that you're not in any fancy or expensive cafe because of the highly reasonable pricing (something common for the cafes serving food in Delhi university).
Nevertheless, in the pocket-friendly price range,
The Dockyard Cafe
does provide you with the pleasing food experience.
Price Range- Approx. Rs. 300/- Per person (Inc. of taxes)
What Food in Delhi University is Famous and What to order?
When we talk about Food in Delhi University in this article, we currently include only the south campus food scene. The Food in Delhi University, North Campus would require an article of its own (soon to be uploaded).
Satya Niketan is synonymous with the scene of food in Delhi University's South Campus. The food that is famous in this area:
Tandoori Momos (QDs)
BYD Bomb Burger (The Big Yellow Door)
Chowrangee Wraps and Kathi Rolls.
Steamed Momos at street stands in Satya Niketan
All of the food items mentioned above are nothing short of being called Heavenly. However, The Dockyard does not serve any of the mentioned food items particularly. That is obvious because the items are more or less the patents of the serving restaurants anyway. Does that mean they do not serve anything good? No, actually they are serving stuff that might one day make it to the list of famous food items in Delhi university. Here are the dishes we loved at the Dockyard cafe:
Calzone Al Polo
Peri Peri Chicken Pizza
Cheesy Chicken Nachos
BBQ Chicken Burger
Calzone Al Polo from the Dockyard Cafe.Freshly baked dough with the amazing onion-capsicum-chicken-mushroom tangy filling. Served with a fresh tomato salad.#Food #Delicious #Italian #GourmetFooDelhi.in
Posted by Foodelhi on Friday, April 3, 2015
Peri Peri Chicken #Pizza. Baked to perfection with toppings that are simply delectable.
Posted by Foodelhi on Saturday, April 25, 2015
FOODelhi Rating 3.5/5
Value for money- 4.5/5
Taste- 3.5/5
Service- 2.5/5 

Recently, as a part of Menu expansion, the Dockyard cafe added some amazing new dishes like:
Lebanese Burger/Sandwich
Chicken Ravioli in Pink Sauce
Lasagna
Mushroom Risotto
All of it makes our mouths water, doesn't it? So let's head out to the Dockyard Cafe and try the delights at offer. Been there? Let us know your favorite dishes in the comments below or write to us at foodelhiblog@gmail,com