The Taj Mahal Hotel in New Delhi holds a special place in my heart. From the decadent bull's eye dessert at Machaan to that chilled cocktail at Rick's Bar, the hotel and its culinary (and beverage) destinations have been a part of us Delhi-ites' celebrations, small or large. Another gem here is House of Ming. A Sichuan & Cantonese inspired menu here has been charming the connoisseurs and food lovers of Delhi since time immemorial.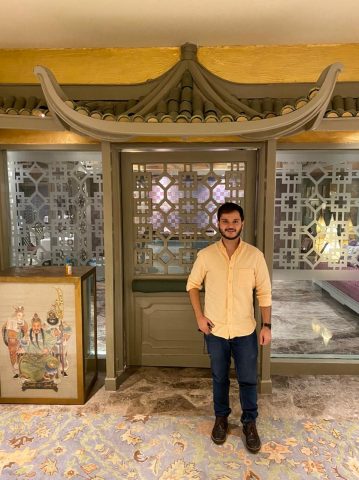 So when I was invited for an elaborate meal at House of Ming, of course I couldn't say no. The evening was set and as I reached, I saw the restaurant standing there in its full glory with the entrance reminding of traditional Chinese architecture. Upon entrance, I was greeted by warm smiles and glistening eyes (of course the latter peeked through the well-fit masks)- both of which are a notional trademark of the signature Taj hospitality.
As we settled on our comfortable table, we were visited by Chef Salem who was appointed to be our feeder for the day (and boy the Chef did total justice to the job as you'd read here on). We started with the signature Amuse-Bouche that consisted of pickled papaya and pineapple. Just the right mix of sweet and sourness I needed to stimulate my palate and get it ready for a journey of flavors from the Canton & Sichuan regions of China.
Then arrived the Dim Sum. Probably my favorite course during any Chinese meal. Here, Chef Salem shared his signature preparations like the
Char Sui Bao; a fluffy rice bun filled with barbecued pork. I am big fan of steamed buns and the sweet & salty flavors of their version did the trick for my palate. The bun was fluffy and fresh (not to mention melt-in-mouth).
Prawn Har Gau; Simple yet elegant. Yes that's how I describe a good seafood dumpling. Steaming the prawn meat wrapped in a crystal translucent wrapper instills it with the freshness and juiciness required to give you the real, fresh and simplistic flavor of sea food and this one did the job for sure.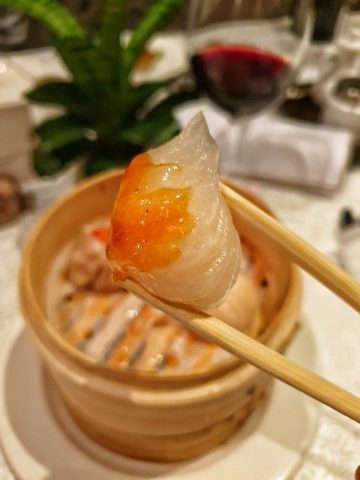 Mushroom and Truffle Oil; Now this one was a carnival of flavors too. Mushroom, truffle oil and some cheese- the fusion destined to induce a food-coma and it truly did so.
Steamed Chicken; This one paired with their in-house dipping sauces gave me the perfect juicy steamed dumpling experience that I always crave for.
The elaborate and satisfying dim sum experience curated by Chef Salem got me ready for the on-coming classic House of Ming appetizers. That's the magic of dim sum. You never eat them to fill your stomachs. You eat them to enjoy the meat fillings, savor the sauces and more importantly to whet your appetite for the dishes ahead. Let's see what we got for appetizers and small plates:
Crispy Konjee Lamb– Beijing Style; A signature preparation that has been on the House of Ming menu since 1987. Goes without saying, this indeed a timeless classic that has built its own fan-following and that is indeed the reason why it is still on the menu. Moreover, with the first bite you can tell why is that the case. Well-suited for the Indian palate, the dish is a journey of flavors and textures. When they say crispy lamb, they mean Crispy Lamb. The chewy-ness of lamb is gone and each bite is a crackling, sweet and spicy experience. The chopped shallots, bell peppers and onions- all of them unite together on your palate to complete the symphony of flavors.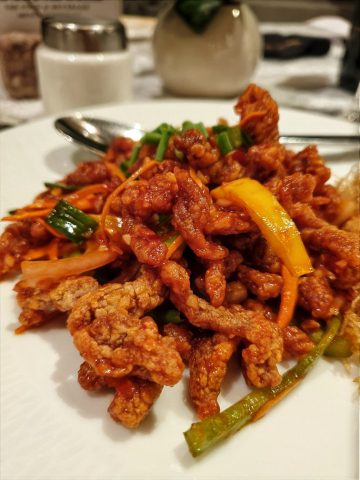 Chicken Tai-Chin; Juicy chicken with whole-garlic. What could even go wrong here? The chicken was cooked till it packed a juicy bite and the fresh potent chilies gave the dish a fitting finale.
Wok fried haricot beans: Salty fresh and crunchy beans on a bed of Chinese cabbage. Just the kind of healthiness, fiber and protein you need in your small plates.
Butterfly prawn in spicy garlic sauce; This one has my heart. Extra-ordinarily meaty and juicy fried prawns in a scrumptious sweet and spicy, garlic sauce. Savored this one till the last bite. The oozing juices after a crisp crunch of each bite went so well with the thick sauce.
Spicy smoked duck; Crispy smoked pieces of duck served with a sweet and salty sauce (don't go too generous with the sauce as it is extra sweet- to balance out the saltiness of the duck meat). This one is best enjoyed piping hot so don't let it sit on the table for too long (unless you're a food photo hoarder like me).
Crispy Spinach: This goes in bold font because it deserves the accolade. One of the most nostalgic and rustic dishes on the House of Ming's menu, this one is probably the best accompaniment to go with your drinks from the elaborate Alco-Bev menu at The Taj Mahal Hotel. Thin flakes of spinach crisped to perfection and topped with almond flakes. This dish all about the lightness of fried spinach, the crunch of almonds and the salty, spicy seasoning that holds both of them together. Really addictive.
These small plates came together to create a big positive impact on my culinary journey at House of Ming and I hardly had space for the main-course in my stomach. Yet we happily accepted the small portions of some of the signature mains that have wooed the Asia-cuisine-aficionados of the Taj Mahal Hotel New Delhi:
Silken Tofu with Minced Pork;  Smooth tofu chunks in a pork mince that was full of spices. This dish, although all about balance, had a slightly saltier profile than expected. But then, I happily scooped out the silken tofu chunks to munch them away to glory.
Stir-fried-vegetables; When a meat lover like me puts a vegetarian dish in bold font in his experience review, you can comprehend how good it may have been. An assortment of vegetables and beans in a subtle flavored, slightly thick sauce that was perfectly seasoned. The vegetables didn't lose their crunch, making it a fantastic and hearty vegetarian dish to go with the rice and noodles.
Seafood rice: Again, a simple yet charming rice dish. Best enjoyed as well with the spicy, saucy mains as it is on its own. The actual freshness and flavors of the assorted seafood was retained and that was one of the highlights of the dish.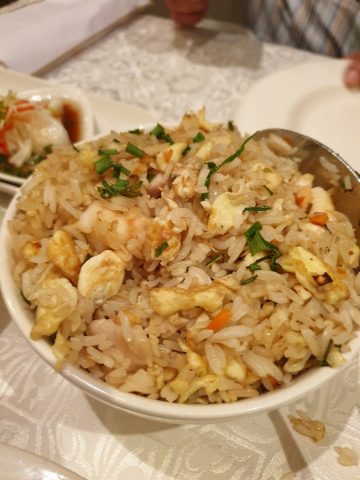 Crispy Date Pancake: Sometimes I feel I have a separate stomach for desserts. Or maybe this particular dessert was irresistable enough for me to forget that I was full till the forehead. The crispy date pancake (like a crispy pastry filled with a delicious date mash) was served with a vanilla ice cream that actually tasted like pure, aromatic vanilla and not like a sugar and milk mix that is usually the case with a lot of other place. Reminding me about the attention to detail that is not only given to food at House of Ming but to everything done at The Taj Mahal Hotel.
At the end of the meal, I felt like I was fed by my granny who always makes sure that her grandchild eats enough food before leaving.  Except that it was Chef Salem who made sure that no iconic dish from the legendary House of Ming menu was left for us to taste. The whole experience was a like an orchestra of flavors that came together to craft a symphony for my palate that I will savor for long (or just until my next visit which would probably happen very soon and then I can rave about the other items from the menu that I may have missed this time).