I loved my meal at the Jugaad Cafe Bar located in Defence Colony Main Market. First of all, the hip interiors actually made out of jugaad (Delhi slang for life hacks). For this reason, you'll see metal pieces, tools, junk and everything waste, transformed to eye pleasing decorations.
Quirky and Tasty Dishes at the Jugaad Cafe Bar
The quirk doesn't end there. There is a similar twist and fun in their dishes. The cutlery comprises mostly of mason jars, bulky slates (as plates), small buckets for dips, indeed lighten up your mood and whet your appetite.
They have some novel dishes like Chilly Chana, an Indo-chinese preparation consisting grams tossed in chillies, onions and capsicums. A very new and delicious dish served in a miniature baalti (bucket).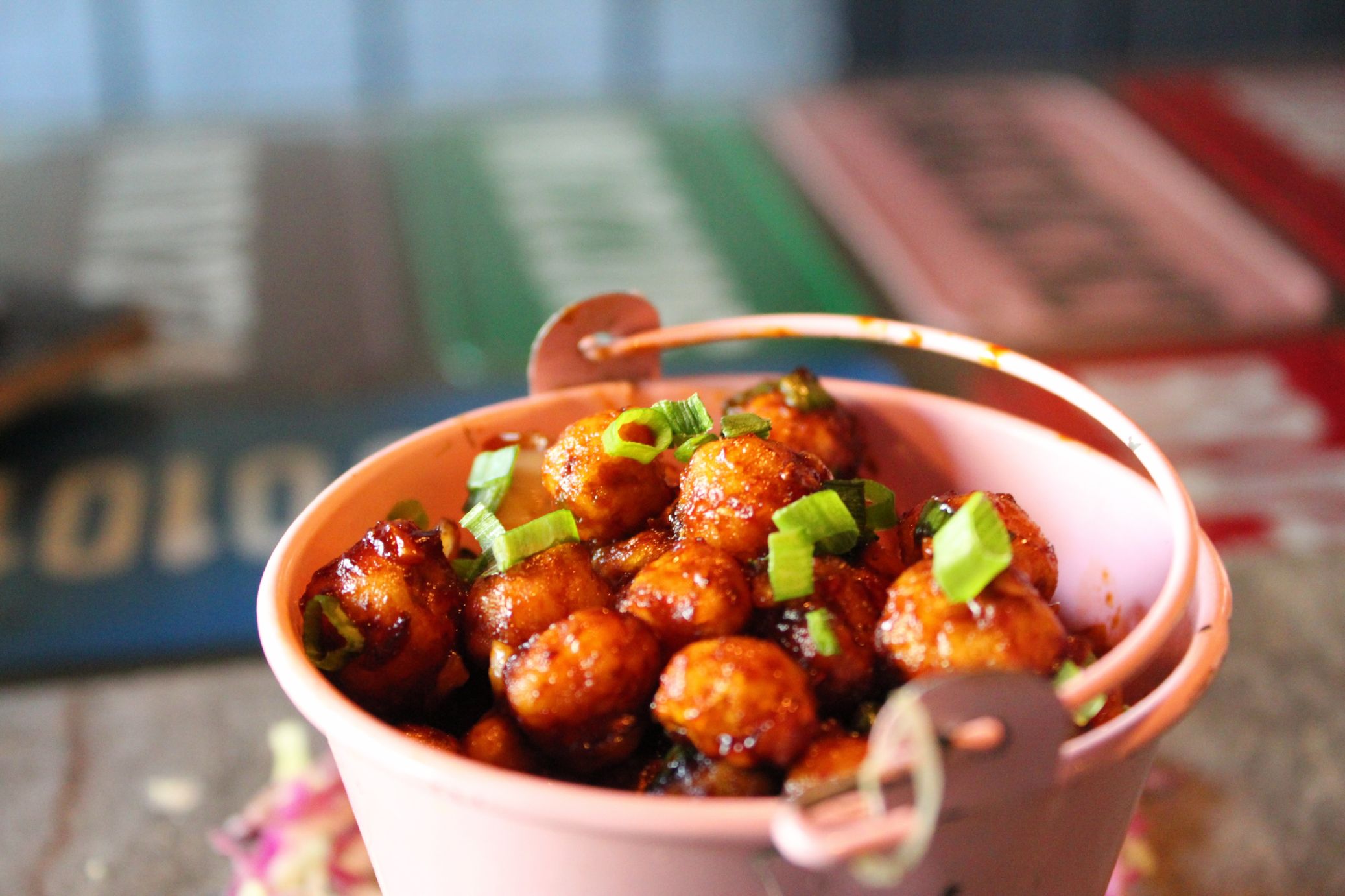 Paneer Sushi was yet another fun and unique dish. Fried cottage cheese rolls filled with more cheese, dry fruits and spices. With a generous dose of dried coriander (which some people may not like), this dish was served with a micr-bucket filled with tamarind chutney (sonth). Paneer Sushi is a very Indianized snack and may even remind you of Paneer pakodas.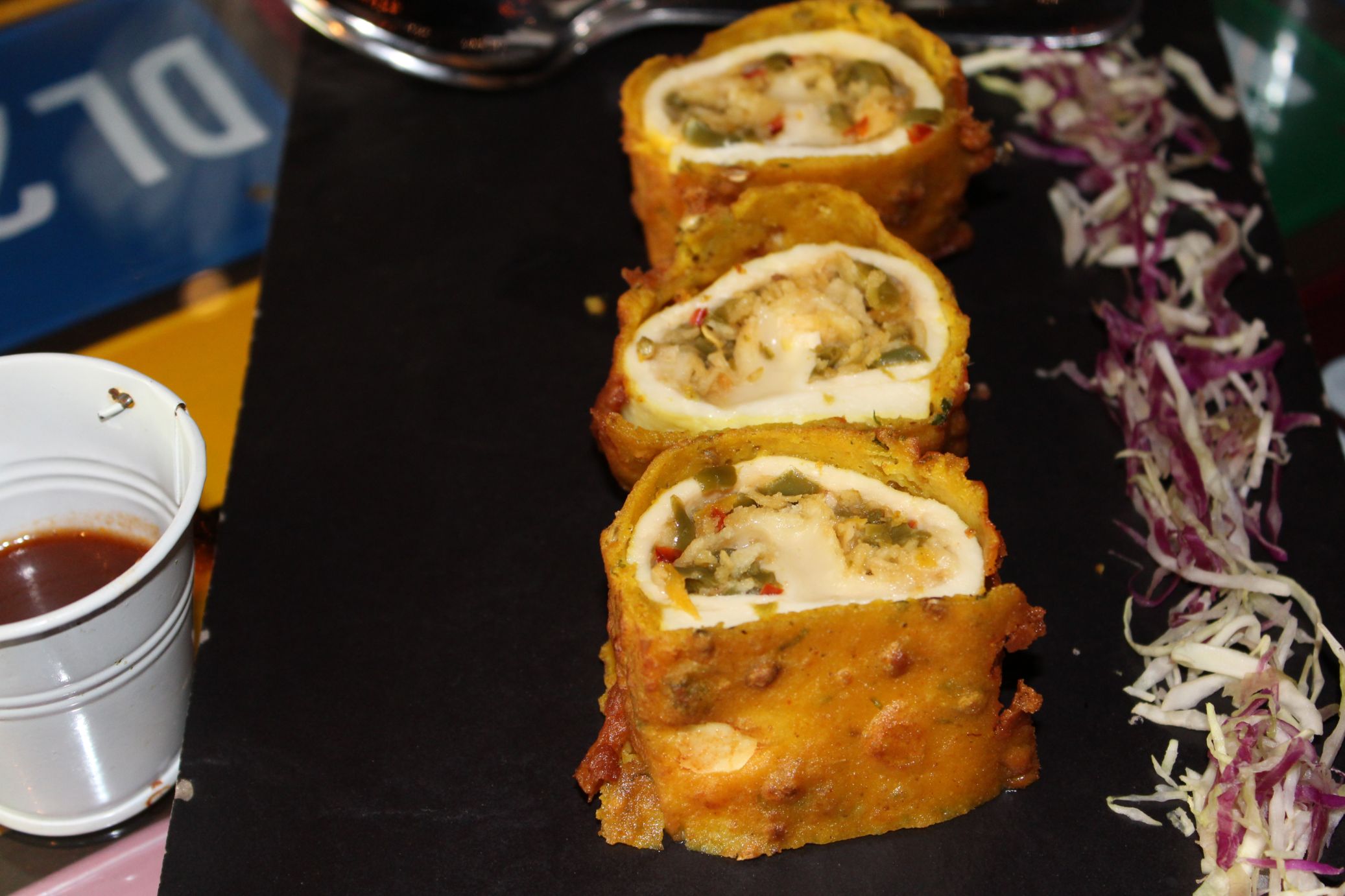 Thai Veg Spring Rolls. Regular, bite sized crispy rolls enveloping some fresh veggies and aromatic thai spices. This one was served with a thick sweet chilly dip.
Another favorite was the Baba Ki Potli. These were little fried bags filled with a delicious mutton keema and tiny cut onions and capsicum, with a very crispy knot on the top of the potlis.
All of these dishes were served on amazing  slate slabs and all of them were garnished to perfection.
I tried the Watermelon and Mint Cooler and it was as refreshing as it gets. A perfect summer cooler for you to sip on while nibbling at their delicious appetizers.
Heading on to the main course, if you're a chicken and mushroom lover and if you also don't mind a generous dose of  cheese in your meal, then you must try the stuffed chicken breast in Mushroom curry. The onion and chilly cheese filled chicken breast in a deliciously creamy mushroom sauce was a very filling delight. It was served with a side of mashed potatoes and sauteed veggies (these perfectly balanced out the saltiness of the main dish).
Also, on the servers' recommendation I tried the white sauce chicken pasta. Even this one was delicious. Our all time favorite, cheesy pasty laden with a generous quantity of chicken pieces.
All in all, The Jugaad Cafe is all about quirk and youthful vibes. This reflects in everything, from the interiors to the cutlery. It is an experience I would definitely recommend.
They have a very unique dessert perfect for the summers, the Lichi Rabdi Shots. Two small glasses filled Rabdi and lichi pieces. A burst of sweet and refreshing flavors to satisfy sugar cravings.