Locked down at home but craving honey chili potato? We uploaded a full step-by-step video on how to make this amazing desi-chinese dish on our Instagram TV channel @foodelhi. So here is the full honey chili potato recipe in Hindi. If you are stuck at any step, please feel free to email us on foodelhiblog@gmail.com or simply DM us on instagram.com/foodelhi and we'll try to get back to you as soon as possible.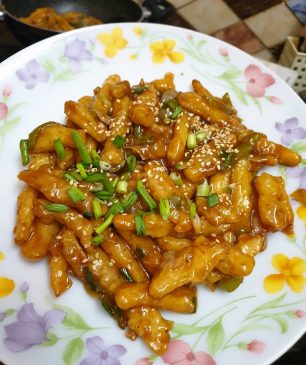 Step by Step Honey Chili Potato Recipe in Hindi
Also, here are some additional things to keep in mind that you may not find in this honey chili potato recipe in Hindi:
The fry-cut potatoes were mingled in a dry rub of corn flour and maida (all-purpose flour mix).
We double fried the potatoes i.e. first we cooked them to 75-80 percent and then again we fried the potato to a crisp golden brown to make sure the honey chili potato are very crispy.
Don't add too much water while preparing the sauce. Doing this will dilute the flavors and also make your the potatoes very soggy.
We added sugar in the later step, in this 'honey chili potato recipe in Hindi' video it is mentioned as 'Salt'. Although this step is also optional as you will anyway add tomato ketchup and honey at the end. Both of these ingredients will make sure you get the desired sweetness in your sauce.
View this post on Instagram
If you follow these additional pointers while making honey chili potato at home, we are sure you'd get an extremely delicious and flavorful end result.
Do message or email us with the pictures of the dish if this recipe helps you. 🙂