Recently, FOODelhi received an honor of attending a Cheese tasting and master class with Go Cheese and Ranveer Brar. Go Cheese is a prominent cheese and dairy product manufacturer/exporter from North India. They grown exponentially over the last few years because of their commitment to quality and innovation.
Go Cheese by Parag Foods is also an integral part of the food and restaurant scene in India, because, they supply cheese and other dairy products to leading QSRs like Pizza Hut and Dominos. Not only that, they're very well venturing into the supply chain connected to some small yet popular fine dining restaurants as well.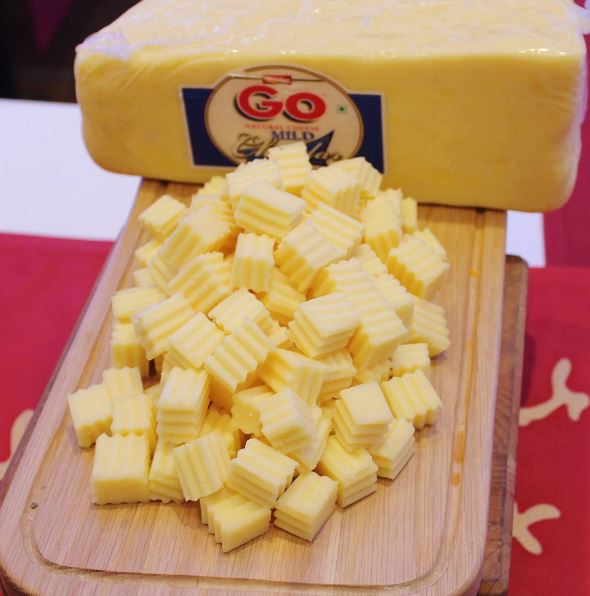 Their highest quality products like the Nacho Cheese are a rage amongst the foodies because of their taste and quality. We were made to try this lovely dip with the Nachos and we indeed felt like it is something we could use on the daily basis. Other products like the Mozarella, Orange Mozarella, Mild Cheddar and what not, are a part of the wide range of products manufactured by Go Cheese. The Mozarella indeed made for some delicious Pizzas and Flat-breads. The other products were equally rich in taste, even though we tried the out-of-the-packet samplers of most of them.
The event, held at the Shangri La Eros Hotel, New Delhi witnessed the participation of Celebrity Chef Ranveer Brar, who also happens to be the Brand Ambassador for Go Cheese. He demonstrated his craft by the means of molecular gastronomy while he created a wonderful and eye-pleasing cheese platter using the versatile range of Go Cheese Products.
While the event proceeded, there was no dearth of cheese samplers and delicious flavored milk, butter milk and other yummy Parag Food Products. We also got to hear some exclusive ideas, plans and achievements from the VP Sales, Parag Foods. They are also launching an innovative and exciting range of new cheese products like Mozarella Sticks, Spheres and a lot more.
After the master class and words of wisdom, there was also a raffle draw. Team Foodelhi was lucky enough to be the recepient of the 2nd prize, which was a Dell Venue 7 Tablet Computer.
The event was well attended by Hospitality Industry leaders, chefs, executives and media persons and it concluded with a wonderful lunch buffet curated by the super talented chefs at Shangri La Eros Hotel. We even got to take home a goodie bag filled with awesome cheeses and milk products from the House of Parag Foods.
Being made only with pure Cow milk, the Go Cheese range of products is indeed a great asset to the country and its foodies, and we look forward to use these amazing products, determined to give out the best culinary experience for the end user, on a very frequent basis.