Where do I even start praising Farzi Café. Flaw less conceptualization, pitch-perfect service, not over-the-top prizes and taste to die for. Farzi Cafe is easily one of the best place to dine in Delhi NCR. Having dined at the Farzi Cafe DLF Cyber City Outlet, I realized what smart, fine dining is all about. It is not just about lavish interiors, what matters the most is getting back a value for both money and time. Farzi Cafe scores full marks in that aspect.
I am lucky to have tried almost all the gems of their extenisve and finely curated menu.
Gems of the Menu at Farzi Cafe Cyber City
Prawns Tempura with Nimbu Mirchi Foam– Very good quality of prawn meat cooked in sweet and sour sauces and topped with some molecular goodness in the form of Nimbu mirchi foam. The end product is a wonderful and delicious dish having an awesome fusion of flavors.
Butter chicken bun, just too good of an idea to put our favorite chicken preparation inside a steamed rice bun.
Similarly, Rogan Josh was presented in a beetroot bun and boy, it was delicious. They have surely changed the definition of the perfect burger with this one.
Bombay Bhel Puri Version Two. Ever complained about the Bhel Puri getting soggy? Well, not at Farzi. Because they nitro freeze the Bhel. Super crispy street style goodness.
Farzi Fried Chicken, a fusion of Roasted and Fried Chicken is one of the yummiest chicken based appetizers I've tasted in a while. They're served in cute little trucks. Presentation, Farzi Style.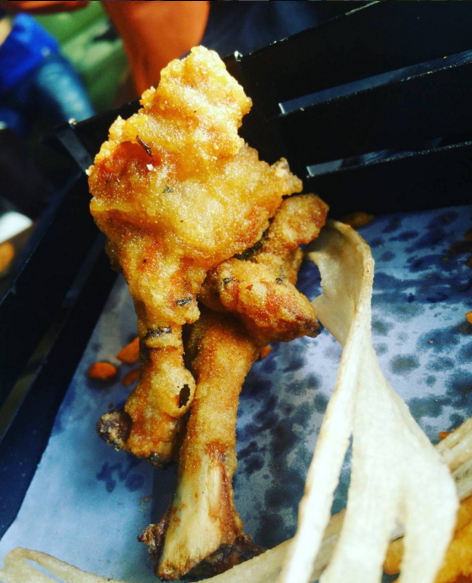 Also, the mishti dahi shots deserve a special mention. These are tiny little pellets with a thin membrane, carrying delicious mishti dahi inside them. Once the pellet bursts, your tastebuds are treated to a sweet fiesta.
Keema Kulcha is my favorite. Tiny roasted kulcha filled with yummy mutton mince.
Yuju Masala Chicken Lollipops were super flavorful especially because of the tangy masala sauce covering the chicken lollipops.
Farzi never stops surprising. So they've now clubed Baked Tarts with Chicken Khurchan. These little chicken tarts were very palatable, and are highly recommended for those wishing to try something new.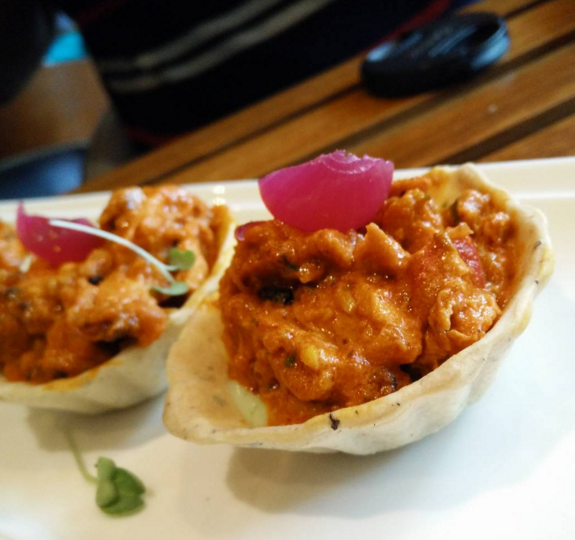 For main course, Prawns Chettinad was the ultimate fusion and kept me craving for more. Served with rice and tiny pappadum, Wow is the word for this one.
Mutton Irachi with Malabari Parantha is my ultimate favorite. Boneless and tender mutton pieces cooked in palatable and droolworthy spicy flavors. The flaky malabar parantha perfectly complemented the mutton.
Desserts are outstanding at Farzi. The Milky Way is as much a spectacle as it is a treat for the taste buds. Must order.
Other favorites are; Suji ka Halva (served as a slice of cake with pistachio ice cream), Ras Malai and the Parle-G Cheese Cake.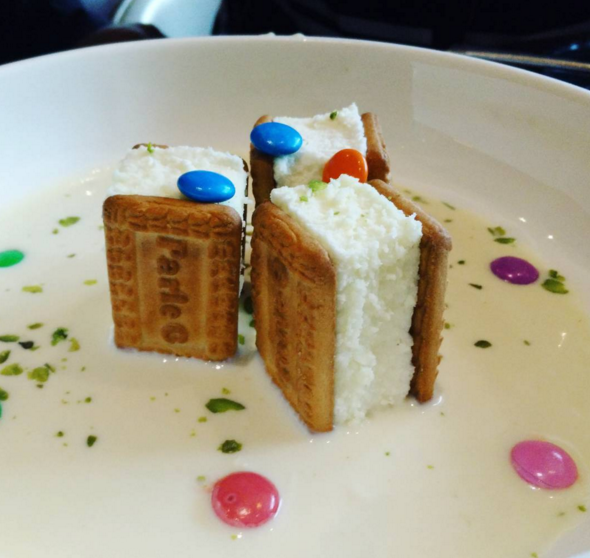 Thank you Farzi, you've redefined good food for me.