Gourmet food in a student-friendly niche, is just what was needed in Satya Niketan. Pipeline café is bringing sophisticated european main-course at affordable prices.
Let's talk about the 'Yay's and 'Nay's from the menu;
Stir Fried Potatoes with Cottage Cheese. Now thise dish was a surprise. With the goodness of oriental, sweet and sour flavors and the layers of sliced potatoes filled with cottage cheese, this was a wonderful treat for the taste buds. An absolute 'Yay'.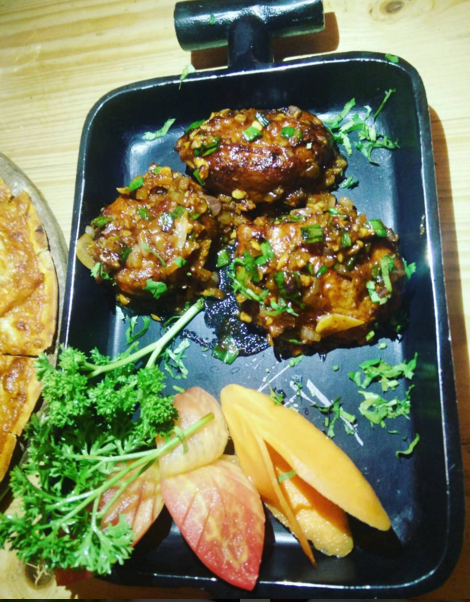 Makhani Pizza- Tried it with both Paneer and Chicken Toppings. Alas, it didn't impress me. The richness of Makhani sauce was missing. A Nay from our side for this one. However, the feedback was definitely given to them and hope they look into it.
Grilled Pita Pockets with Chilli Mayo- Now these were what I'd call pockets of awesomeness. Freshly made and perfectly grilled pita pockets fill with fresh and pan-seared exotic veggies topped with a chilly mayo sauce. These pockets were indeed lip- smacking. A definite 'Yay'.
For the drinks, I tried the sugary delicious kit kat shake. It had all the elements of a good thick milk shake and I liked it till the very last sip.
For main course, I decided to dig into vegetarian Russian indulgence and for that the cafe owner suggested me to try the Mushroom and Zucchini Stroganoff. It was a nice and yummy getaway from the conventional main-course. Well cooked veggies in a delicious sauce on a bed of fresh rice.
Now coming to the winner of our meal at Pipeline Cafe. The Banofee Pie was SCRUMPTIOUS. Super fresh banana toffee and cream cheese on a bed of tasty biscuit crumble. Easily, one of the best banoffee pies I've had in a while. Must Try.
Overall, it was fun having a meal at Pipeline Cafe. Go there if you want a nice getaway from the conventional dishes and want to try some out of the box continental items from their exclusive menu. And also, you must pay a visit to try the yummy Banoffee pie.