Ever since its launch in 2010, Nandos India has been an all-time favourite amongst the chicken lovers of India. The brand has so far retained its brand ethos of being a premium South African chicken restaurant and yet, it has never shied away from innovating dishes for the Indian palate. Adding to its kitty of new launches, the brand has come up with a dish destined to compete with the classic Indian Biryani.
Cashew Chicken Arroz is nowhere close to a biryani, in taste or in preparation. Yet, the fact that the dish comes with spicy rice and  tangy cashew curry, makes it an interesting alternative for those who want to try something new. Priced at Rs. 1395++ , it serves at least 4-5 people with 4 hearty and jumbo pieces of chicken, a portion of rice and a portion of cashew curry. The packaging is premium with all 3 constituents of the dish packed separately. The well roasted chicken pieces are topped with roasted cashews, lemon wedges and cilantro for garnish.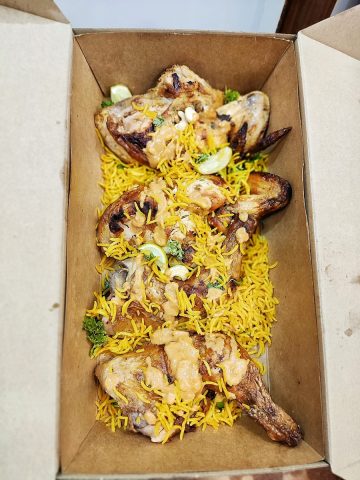 The dish however is still more about the chicken than anything else. Yet, the spicy rice and the curry are welcome additions and make for an interesting activity during a family feast. Open the box of chicken, pour over the rice and then. drizzle the curry for an immersive pre-meal shenanigan. Quality of all 3 components is top-notch however I felt that the quantity of rice and curry could be upgraded as it might fall short for even 4 pax, considering the huge size of the chicken pieces.