Kama at Radisson Blu, Kaushambi is an Authentic Indian Food restaurant. At present, they are running a Rajasthani Food Festival, wherein, they are bringing authentic Rajasthan Dishes to your plates and taking you to a culinary journey. The expert chefs have their share of expertise in the regional cuisine because of their postings as chefs in the region. Understandably so, the dishes absolutely delighted our palate and we got the promised taste of the diverse regions of Rajasthan. To add another dimension to the dining experience, the servers were even dressed in the regional Rajasthani attire. To start with the food, here is the culinary journey at Kama, Radisson Blu Kaushambi.
A Journey of Flavors to Rajasthan
Jaiselmeri Paneer Tikka was the first spectacle with its surprising and smokey presentation. It was served in a singhdi or a tiny tandoor. Taste wise too, the yummy spices, a delicious grilled crust and the tender fresh paneer created a nice sumptuous symphony of flavors.
Dhaniya Murgh was another favorite of mine. Served on a burner, skewed on a seekh and garnished with coriander, lavaash and some onions, this clay oven roasted chicken dish looked very appetizing and its taste indeed did full justice to the presentation.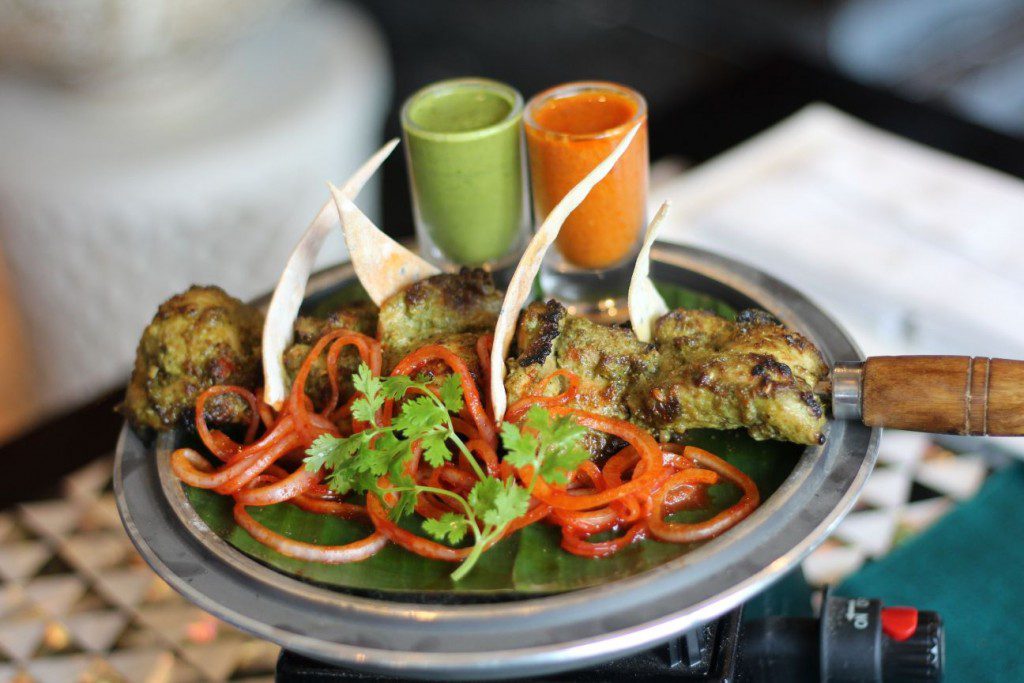 Other delights that were served included the Pyaaz Kachodi with Keri ka Jaljeera. The Jaljeera was an instant hit at our table as almost everyone called for more the yummy sweet and tangy refreshment.
Sumptuous Rajasthani Main Course at Kama
For the main course, there was many options for the vegetarians (maybe more) as there were for us carnivores on the table. Being a chicken lover, the Murgh ka Soweta was the first thing I tried and how much I loved it. Delicious spices and their spiciness balanced by the sweetish corn kernels. The very tender and superbly cooked chicken indeed made this one a perfect Rajasthani dish for the chicken lovers to savor.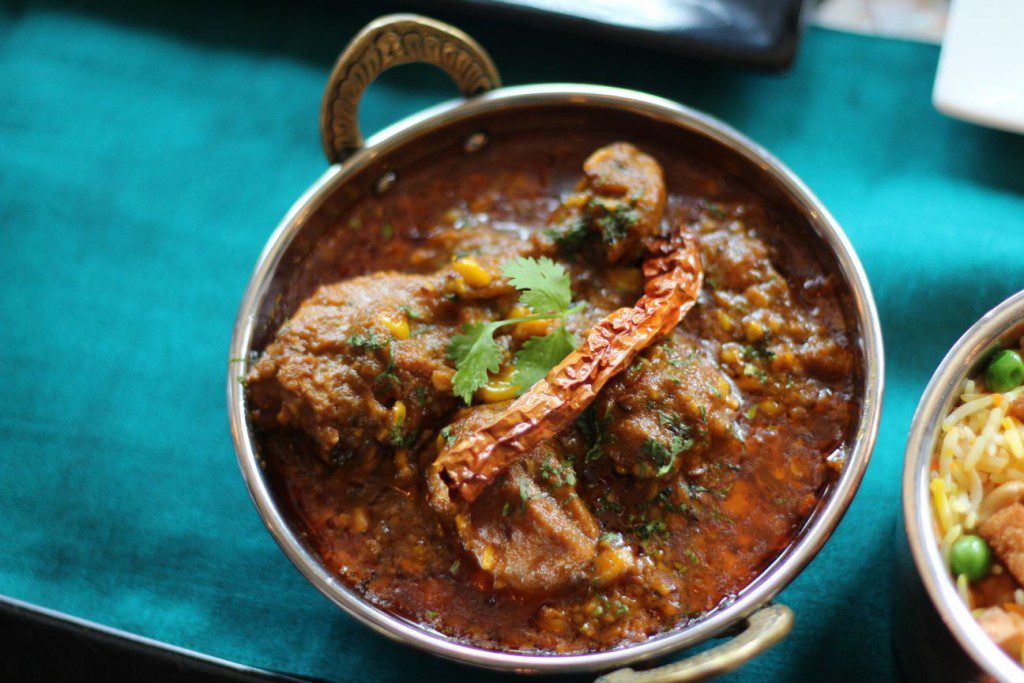 How can we not talk about Laal Maas when we talk about Rajasthani Food? Well, one of the myths about this dish is that it is super spicy. This is not true about Laal Maas. This one had its spiciness under control because of which other savory flavors also stood out on the palate. Amazingly succulent and well cooked mutton pieces were another highlight of the Laal Maas served at Kama, Radisson Blu, Kaushambi.
Bread Croutons in a Pulao? Yes, this is how the delicious Kabuli Jodhpuri Pulao made, along with green peas. The aromatic rice dish went really well with all the Rajathani curries served on the table.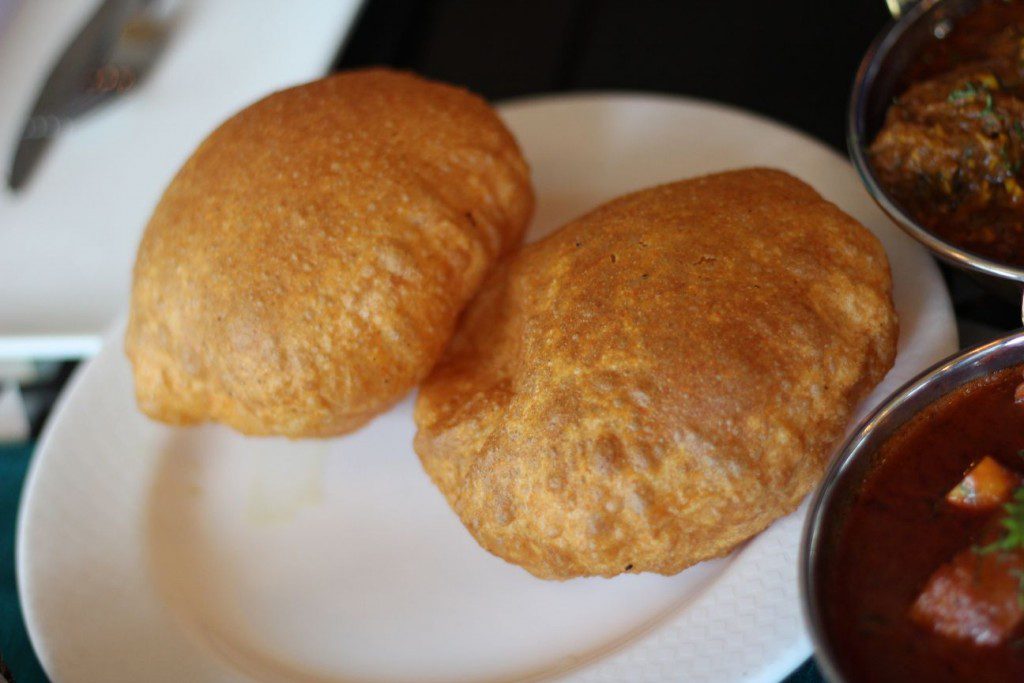 Authentic Rajasthani Desserts at Kama
Desserts were spectacular at Kama. The one I liked the most was the Malai Ghewar. This is a traditional Rajasthani dessert, a monsoon specialty because of the certain amount of moisture which is required to make the slightly moist and still, lightly crispy crust filled sweet malai and topped with cherries and dry fruits. This dessert absolutely raised the bar for the other desserts.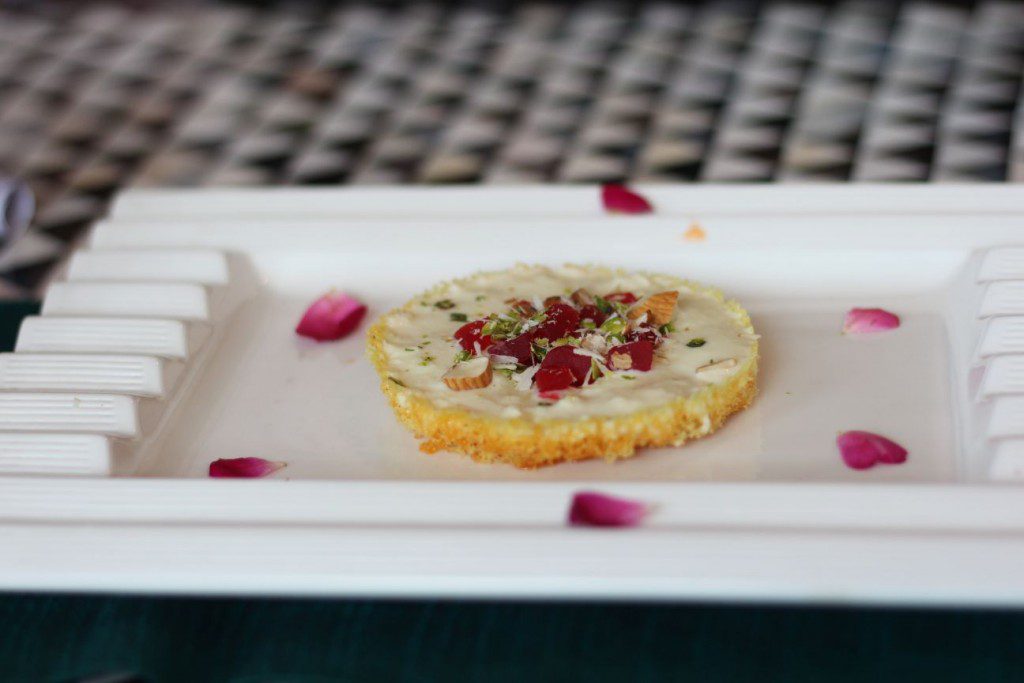 Then there was the yummy Mawa Kachodi served with Almond and Pistachio milk. Rabdi Faluda was yet another delicious dessert and it was also wonderfully presented with liquid nitrogen, a chocolate disc, and with Faluda served separately in a shot glass.
All in all, Kama at Radisson Blu is a highly recommended experience, especially because of the on-going Rajasthani Food festival which would definitely take you on a culinary journey without having you to spend money on an air/train ticket.