India is known for its spices. Hence, it is always a delight to dine at a restaurant where these spices are given special attention, by craftsmen-like Chefs who know how to create magic with food, capturing the essence of Indian  cuisine. The Great Kabab Factory, the Indian speciality restaurant at Radisson New Delhi is one such place.
With very interesting India themed interiors, TGKF is a wonderful place for Family Dinners and Lunches. Let's give you a round up of food served here;
As the name suggests, TGKF is the perfect place to eat kababs like there is no tomorrow, and their serving style would ensure that you eat piping hot kababs to your heart's content. Recently, they hosted a festival called 'Namaste India': Celebrating Herbs & Spices of India'. It was indeed a delight having my lunch at TGKF during that time.
A vast variety of kababs were served to us during 'Namaste India', and all of them had that magical touch desi spices along with aromas that stood out. The very first kabab that deserves a mention, is the Galouti. TGKF is indeed one of the best places to have these Kababs. The delicate Galouti is served with a nice and warm Varqi parantha. The first of bite itself gives you a burst of smooth and spicy flavours in which the minced mutton is prepared. I couldn't resist but order more of these.
The other kababs I tried were really nice too, each having a characteristic Indian spice. The Adraki Hariyali Jheenga; spicy and aromatic chargrilled prawns with a pinch of Ginger among other lingering spices. Then among other tasty delights was the Dill Coriander and Mustard Macchi Pakora; this one seemed to be a direct import of the street favourite, Moong Dal Laddoo and its wonderful fusion with fresh fried fish.
As if the Kabab Spread wasn't satisfying enough, there was a delightful main course as well. The classic Dal Factory (TGKF's own version of Dal Makhani). Thick, creamy and just the right amount of flavours. There was another dal in the main course menu, and it was the Lehsooni Dal Tadka.  This subtle and tasty yellow dal had really homely flavours, making it a nostalgic dish. The Mirchi Masala Chicken Biryani could've been better. Although I could've ordered a bowl of raita to go with it, I wish there was an option of Salan or some other gravy to with the Biryani. The last thing on my plate was the Laal Mans and its gravy full of lingering spices. The superbly succulent mutton was perfectly cooked.
Ended my meal with the sumptuous range of Indian desserts ranging from Tinka Kulfi to a unique Malai Gulab Jamun (cubes of Gulab Jamun topped with a frothy milk cream), not to miss the piping hot jalebi with Rabdi.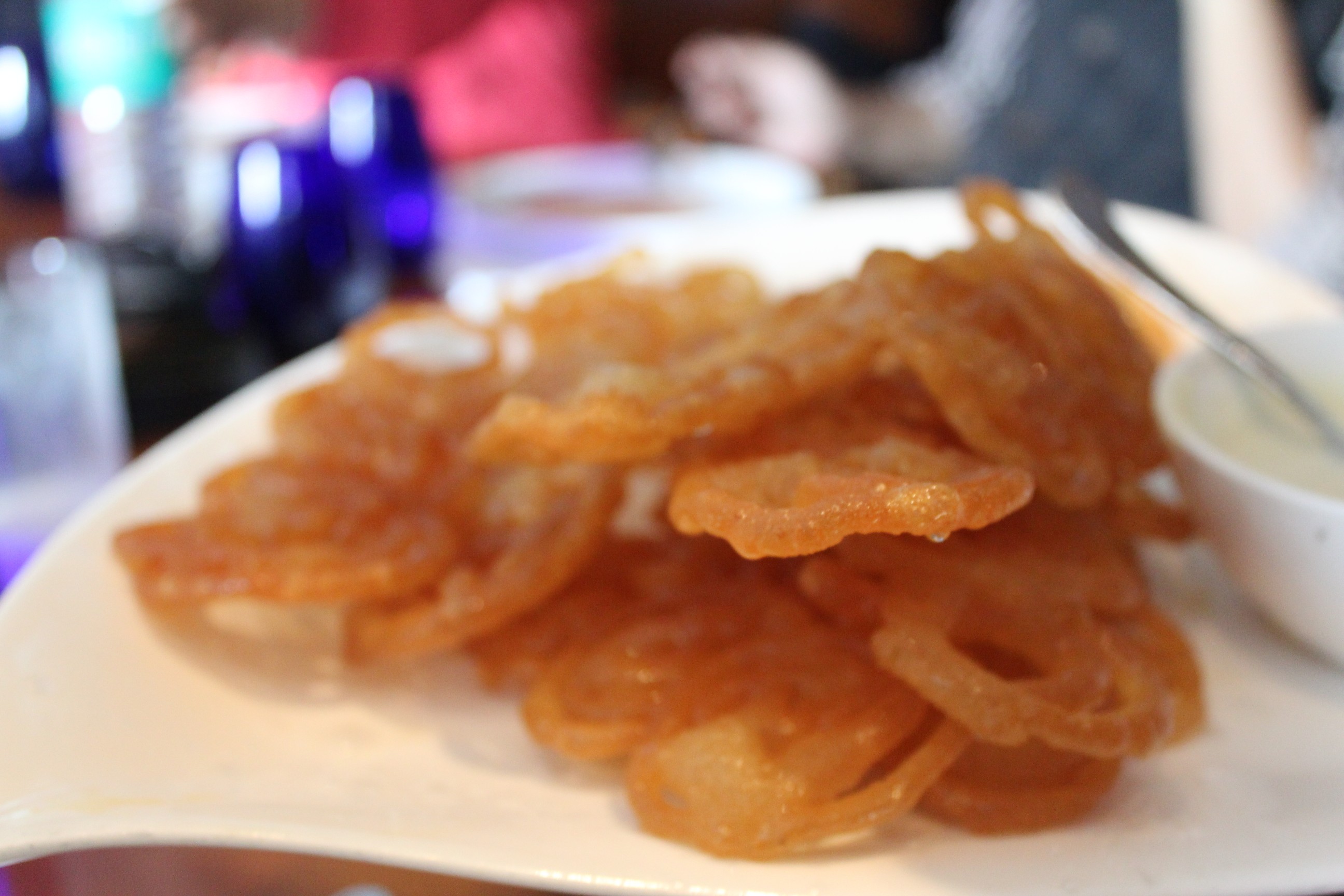 All in all, be it the choicest range of Kebabs or the well-curated main course, the 'Namaste India' festival at The Great Kabab Factory in  Radisson Mahipalpur was a great symphony of India spices which were showcased in a range of well-made dishes. I would definitely want to check out what's in store next at TGKF, the superb Indian speciality restaurant.