In the N-Block Market of Greater Kailash Part 1, there is a restaurant that is serving an authentic spread of Thai dishes, some Delectable Dimsums and Scrumptious Sushi. Here, I share a brief of my experience and also an attempt to familiarize you with the taste and the names of the dishes I liked at Dao, Dimsums, Sushi and Thai.
After a long day, all I like is a glass of a fine potent drink, but I also end up confused whether to go for a Chilled Beer (gives a happy high) or to go for a nice Sangria (an elegant but gradual high). The Beer Sangria at Dao solves that dilemma and how! Absolutely loved this drink and it got me all ready for an amazing spread of dimsums that were next in Line.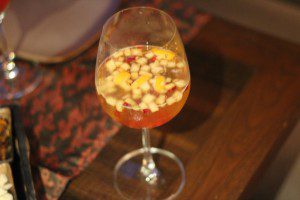 Out of the five or so varieties I sampled, the Duck dimsum is the first one to strike my mind when I recall the meal experience. Absolutely loved the fibrous texture of the duck meat inside a well crafted steamed dimsum on a bed of slightly sweet hoi-sin and plum sauce (caramelized).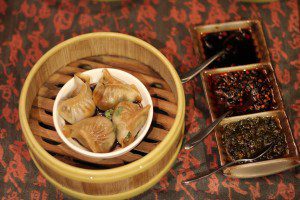 The next one I really liked was the very different Prawn and Spinach dimsum. This one is indeed the healthiest type of dimsum you can order, without compromising on the taste. This another steamed dimsum chucked rice/starch sheets altogether as the fresh prawn meat was wrapped inside a spinach leaflet before being freshly steamed and tossed in chilly oil with a garnish of micro-veggies.
The classic and the ever so delicious Prawn Sui-Mai, Prawn Har Gao, Chicken and Chive were all well made and hence, it was hard to find a flaw in them. The usual condiments like the chilly oil, black bean sauce, etc. were all on-point.
Crispy Prawn Cheung Fun; the lesser said the better, this is one entree I always look forward to try at a dimsum speciality restaurant. The crispy crust under the translucent rice sheet, enveloping amazing and fresh prawn meat, with a generous drizzle of soya sauce.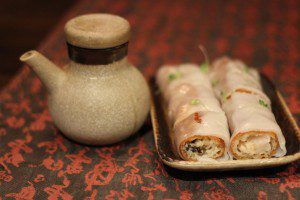 Another entree that deserves a very special mention is the Chicken wrapped in Pandon leaf. Chunky pieces of boneless chicken, friend while wrapped in Pandon leaves, imparting a charred texture to the crust of the chicken (when unwrapped). A chicken lovers absolute delight, this one.
I also liked the Lamb in Tamarind sauce; crispy strips of lamb meat with sweet and tangy flavors.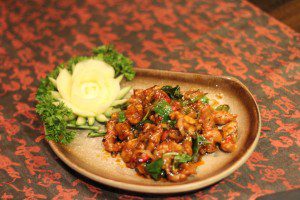 From the Sushi menu, I tried the California Rolls, Tuna and Salmon. Somehow I feel I have had much better Sushi in Delhi itself. Nevertheless, Dao is a champion of Dimsums and Thai food before anything else.
For the main course, the Chicken Panang Curry was my absolute favorite. A signature Thai curry with chicken pieces cooked in Kaffir lime leaves, Thai chilly and Pea aubergine. Devoured this with super fresh Jasmine steamed rice of the highest quality. Never been a fan of Stir-fry vegetables, though the ones they served were cooked in a yellow bean sauce. This dish was slightly over powered by the flavors of the Panang curry. Nevertheless, the main course was thoroughly enjoyed with the home made chicken flat noodles cooked in exotic veggies. Panang Curry being my winner, the main course meal ended on a great note with their amazing lime frozen Daiquiri.
[Also Read: World Cuisine at Number 8]
I have always been that kid who wouldn't eat even the best of the fruits like Mango. But a Thai dessert with fresh mangoes and a sticky rice pudding changed that. The combination of sweet and milky sticky rice did wonders with the fresh pieces of mango. A blessing of a dessert this summer.