With a plethora of Buffet and Brunch options available in Delhi, how does a restaurant give out a unique experience? Well, try out the Sunday Brunch at Sorrento, housed inside Shangri La's Eros Hotel, and you'll definitely get a taste of something new.
The Winter Brunch offers a delicious authentic Italian spread which is lavish in all accords.
With Chef Luigi Ferrero's mastery over the cuisine, you'll definitely get a taste of authenticity of the cuisine, with their fresh baked Neapolitan Pizzas, fresh bread loaves, gourmet pasta, and a lot more.
At ₹ 3750++ per person (including cocktails), the Sunday brunch has something for everyone (kids would especially love the desserts). You can also take advantage of their beautifully sun-kissed lawn to enjoy your meal (highly recommended, considering the dropping mercury of Delhi's weather).
They have a DIY Salad Bar, Tapas counter (do try out the seasoned and flavorful varieties of cheese), appetizer hotplates (with some sumptuous and flavorful Chicken and Lamb preparations), Bruschetta cart and a dedicated desserts counter (with the delights changing every week, they're definitely curating a new dessert experience every week). The amazing variety of cold cuts would definitely add to your brunching experience, the quality of parma ham and other cuts was surely top-notch.
For Beverages, you'll again be spoilt for choice at Sorrento. My own brunch started with a refreshing glass of Prosecco (Italian white wine), it paired perfectly with each and every course. Somewhere in the middle of my meal, I decided to try their highly recommended Wine Popsicle. Acting as a palate cleanser, this lightly sweetened chilled delight was indeed a welcoming part of the Sunday Brunching experience at Sorrento.
After enjoying the cold cuts, Chicken and Pork pizza and the fresh roast chicken Bruschetta, the courteous servers at Sorrento, Shangri-La served us some delightful appetizers. The Chicken Cacciatore was my personal favorite. This chicken dish was very close to the Indian flavors with its 'hunter' style preparation consisting of Onions, herbs, and tomatoes. Tangy in its essence, the chicken itself was perfectly cooked as it almost fell off the bones.
At Sorrento, they have an authentic range of in-house pasta. The sumptuous sauces and the succulent meats absolutely enhance this Italian culinary experience. If we talk about my favorites, the exotic 24-month aged Parmigiano stuffed Ravioli is definitely recommended for the subtle first bite and the aromatic aged-Parmigiano flavor that takes over later.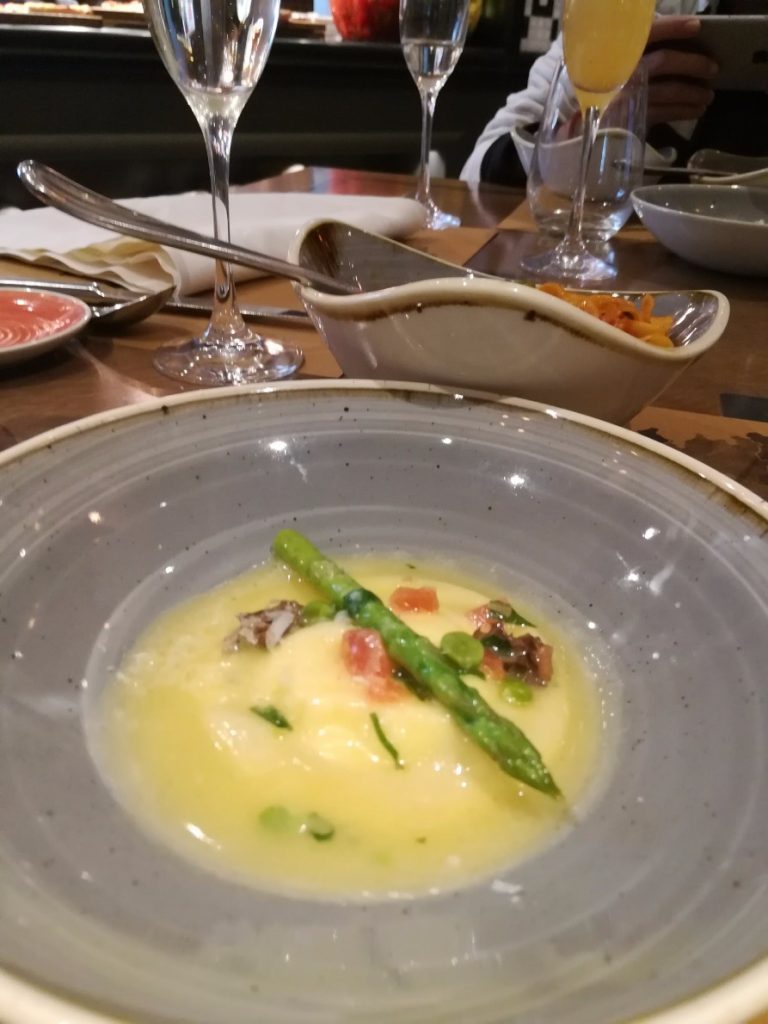 If you are a meat lover and would prefer a dominance of tangy tomatoes and lamb in your pasta, go for the Tagliatelle with lamb, tomato, and basil. This one was quite filling and delicious as well. [Tagliatelle is a flat rolled pasta noodle]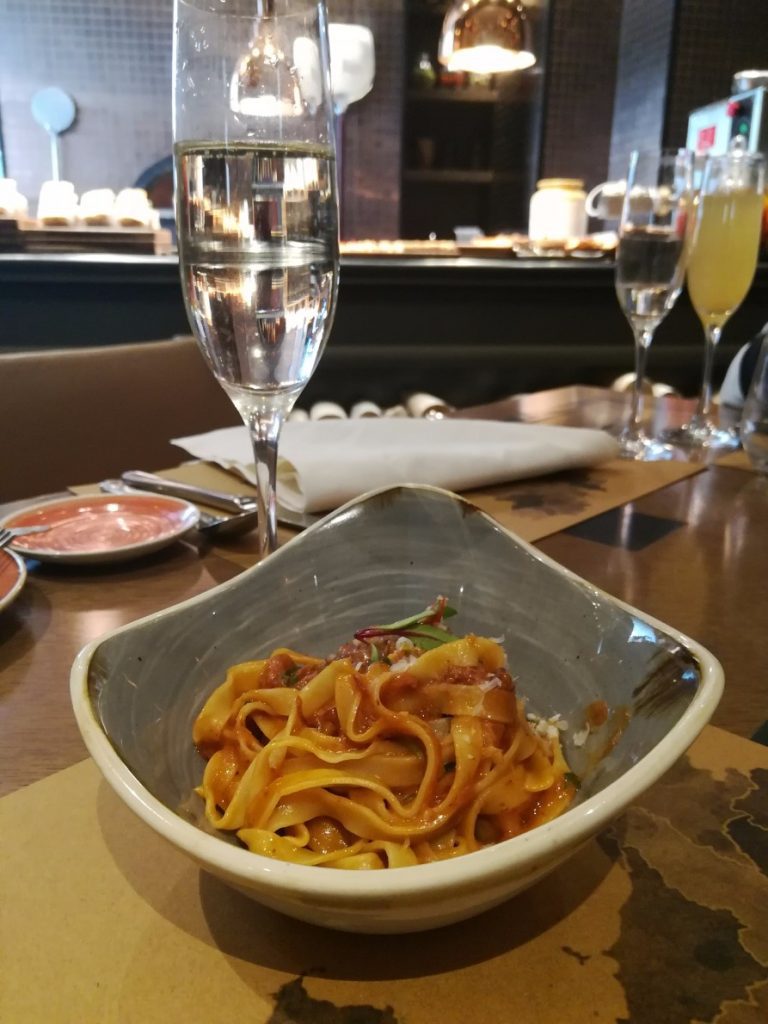 Coming to the main course, the Sea-Bass preparation absolutely bowled me over. A high-quality seabass fish steak with a drizzle of a subtly flavored herb butter. This was served with a side of grilled veggies and herb potatoes.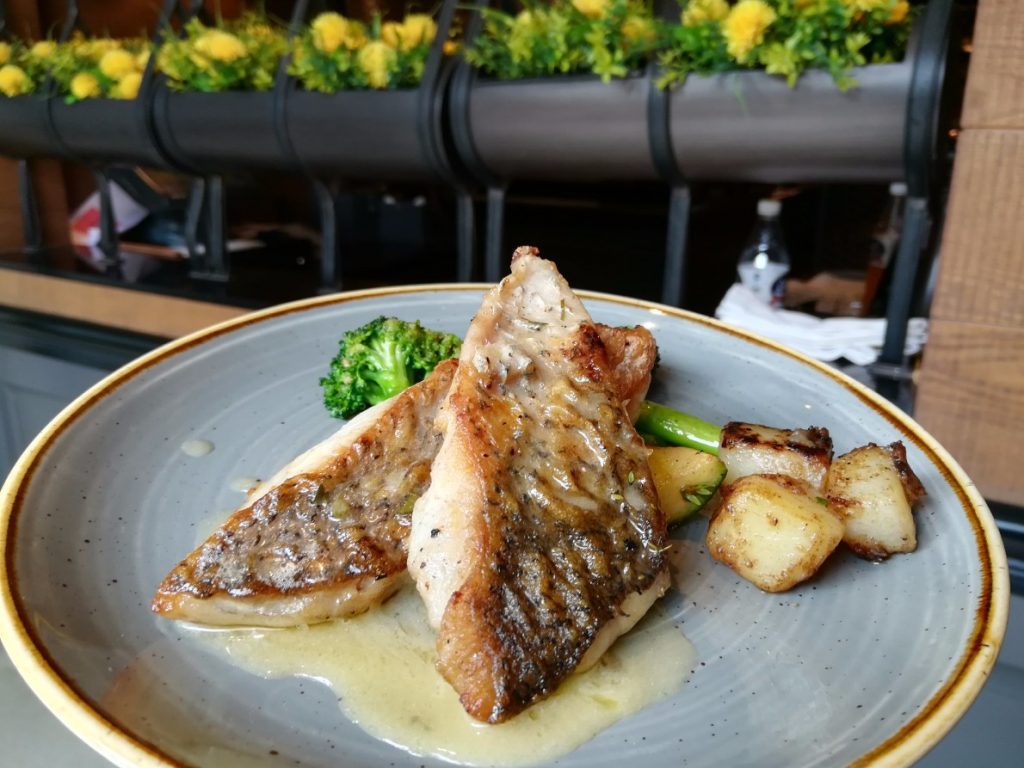 At the dessert bar which made me jump with joy like a kid, there were some interesting and colorful delights (new goodies every week at the counter). The Tiramisu had to be good and it indeed was (especially with that little macaron used for garnishing).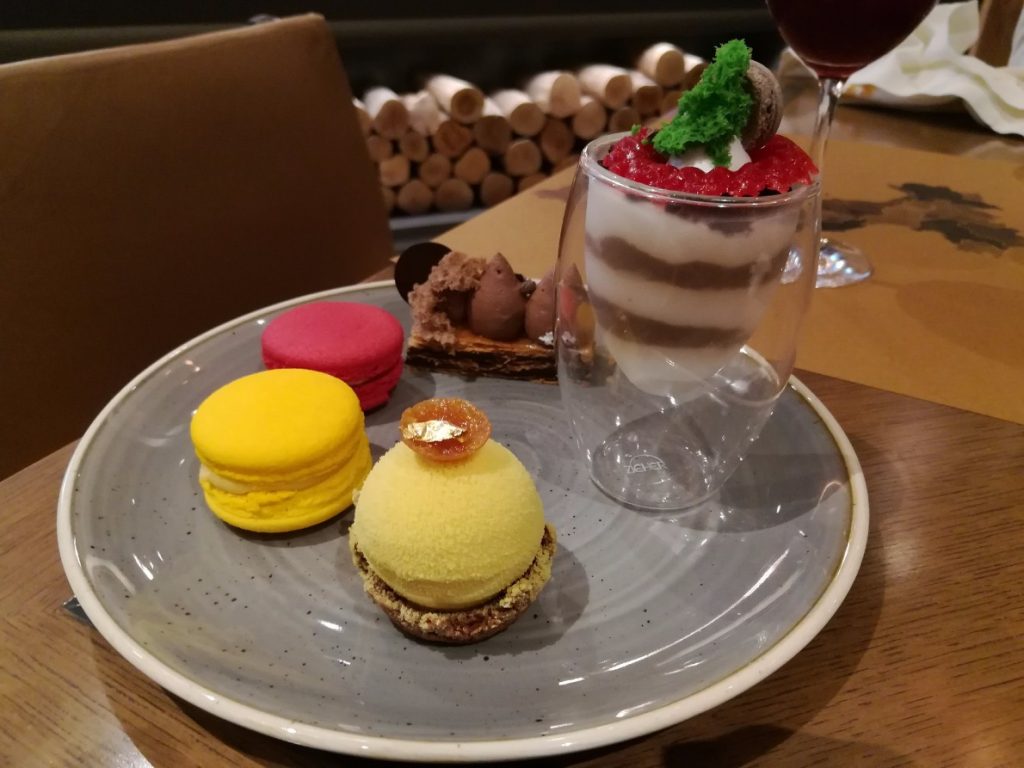 This beautiful Italian restaurant should definitely make it to your to-do-list if you're looking for a laid-back and delicious Sunday winter brunch. Do take a seat at their beautiful outdoor Al Fresco seating to soak some winter sun.