Sunder Nagar, the location for one of the most happening Diwali Melas in town, now has a quaint and classy restaurant bar (open year round) that serves some of the best dishes from the World Cuisine. Not only that, it is also the originator of the award winning cocktail, the one and only, Espresso Martini.
This martini definitely lived up to its name with the flavor of espresso that stood out in the ice cold martini, topped with a piece of Kit Kat Chocolate wafer which itself added a balancing touch of perfection. A refreshing strong drink, this one.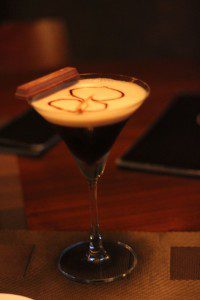 The Bar at Number 8 itself has a very Westernly charm to it. The whole place would give you a vibe similar to what brand new leather seat covers would give to you in a car. Modern yet Comfortable drinking and dining experience is what Number 8 promises, where seating is in plenty with two floors plus a compact yet beautiful terrace tailor-made for winter dining.
By the time I was done appreciating the beauty of Number 8, it was time for some bar snacks, the ones you would usually not think twice before ordering on the bar counter. Starting off with spicy and flavorful Indonesian style chilly chicken, it was a yummy bite sized chicken lollipop tossed in flavors that felt closer to the Thai cuisine (maybe because of my evident unfamiliarity with the Indonesian flavors). Nevertheless, I enjoy the flavor of Kaffir Lime and the fiery hot after taste with the lingering spices of this yummy bar snack. The pork belly was another flavorful dish, very delicate and well cooked tender bite sized pieces of pork belly tossed in a sweet and spicy concoction of ingredients and topped with sesame seeds.
Chicken Liver Parfait is also a prominent part of the Entrees' Menu at Number 8, Sunder Nagar. Now this dish isn't for everybody. Firstly, order it only if you're well versed and adapted to the unconventional after-taste of chicken liver. Secondly, you must know that a parfait is supposed to be a fine paste and hence, this one is Pate of chicken liver. Okay with these factors? Well, go ahead and treat your palate with this exquisite appetizer served with toasted loaves of bread.
After a trip for our taste buds to Indonesia and Great Britain (origin of the Chicken Liver Parfait), it was time for them to get a taste of Thailand with the amazing Thai Glass Noodle Salad. The highlight? Sweet and tangy sriracha glaze in which the glass noodles, mushrooms, crumbled chicken and of course, the crunchy peanuts were tossed.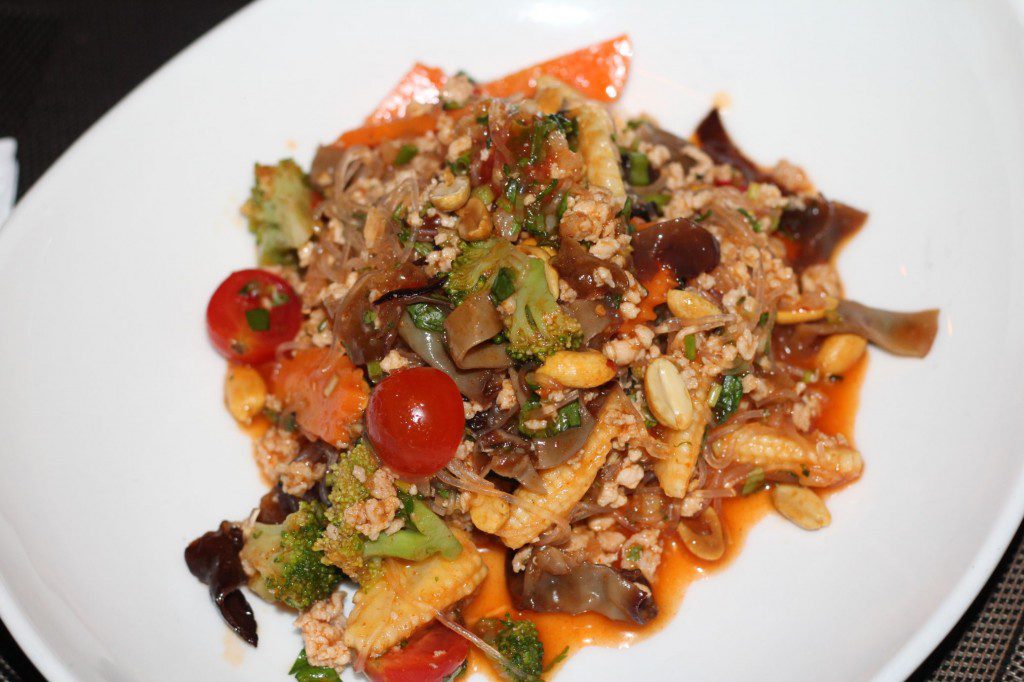 It was time for the Travel of the tastebuds to take a detour and reach back to India with the Anda Parantha with Bhuna Gosht. Hands down the best bar snack at Number 8, Sunder Nagar. Tiny fluffy egg paranthas topped with amazing roasted lamb chunks cooked in a flavorsome gravy, with a garnish of a red onion ringlet. This one was indeed an addictive dish and I couldn't just stop at one Anda Parantha.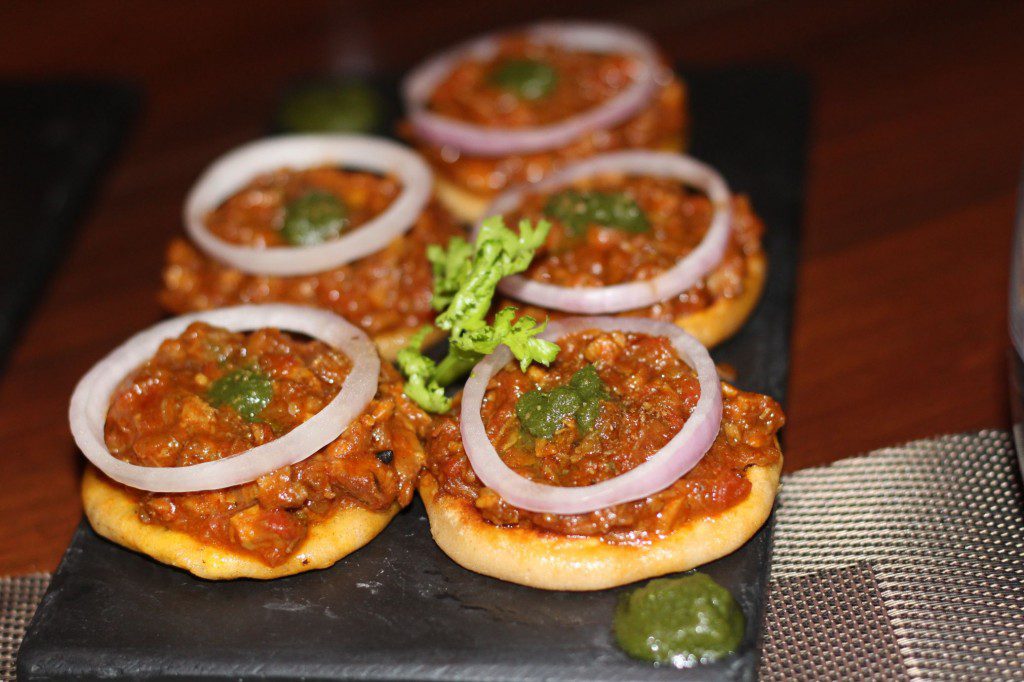 For the main course, there were a few hits but, there were some misses as well. Loved the quality of the Wild Mushroom Risotto and this one was indeed devoured very quickly. A wonderful classic Italian Preparation, done right at Number 8.
Coming back to an unusual preparation originated right here in India, the Khatte Baingan ki Biryani failed to leave a mark on my taste buds. I just couldn't accept anything apart from tender succulent meat/chicken in a Biryani. Hence, if you're an avid meat lover or a Biryani fanatic, I wouldn't recommend this dish unless you're in mood for some unusual culinary experimentation.
Then to satiate my meat cravings, the Australian Outback Lamb chops arrived at the table and the world tour for taste buds became all the more interesting. A very unusual concoction of aromatic and tangy flavors on very well cooked and tender lamb chops with lamb meat that almost fell off the bones. Served with a side of crispy fried onion rings, this lamb dish was delightful.
For the desserts, I highly recommend the very sinful yet spectacular Flourless Chocolate cake. High on chocolate, low on flour, this decadent and gooey cake won my heart for its texture and taste.