DLF Mall of India welcomed this new legacy of the united group, United Coffee House Rewind, a few days back. UCH at Connaught Place being the elder brother of UCH Rewind has set the niche for serving the people for generations by giving them an unforgettable fine dine experience.
Rewind has a classic café like vibe to it with exquisite décor saying it all about the bygone history, a very diverse menu with over 300+ dishes to serve and the music of 70s hitting the right chords and adding the delicious slice of nostalgia.
They have a really massive menu, which makes it very difficult to select handful of tasty dishes to taste. Starting with the drinks we had;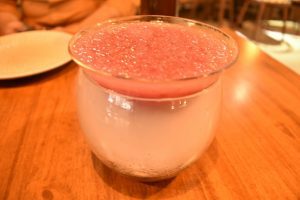 Jamunrita: Chilled and refreshing beverage served in a huge glass bowl, enveloped with dry ice which made it so tempting. It was a jumun extract with a tinge of red chilli. It was truly an amazing drink and a must try from the menu.
Sitara Phool: Another bracing drink served with the appetizers which was a balanced drink with a taste of burnt sitara phool which is a spice.
Lotus Stem Chips and Water Chestnuts: Fried Lotus Stem chips drizzled with some pepper was very crisp and delicious and the plum sauce served with it was the cherry on the cake.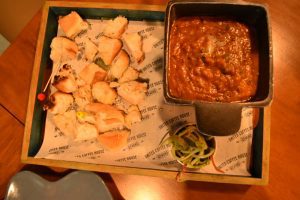 Pav Bhaji Fondue: Indian dish served with a twist. This was basically pav bhaji in which pav was served in small bite size pieces and the bhaji was served in fondue pot.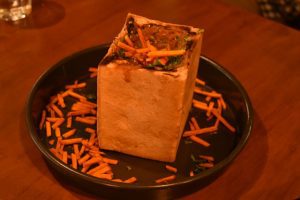 Bunny chow: Soft hollow bread stuffed with hot thick gravy paneer, you just have to take a bite of the bread and dip it in gravy and enjoy its taste. It was really a dish to relish and a must try from the menu.
Chicken Kursi Miyani: hard boiled eggs stuffed with minced chicken which was very tasty and tantalizing served on rice crisps with spicy coriander chutney. Another must try from the menu.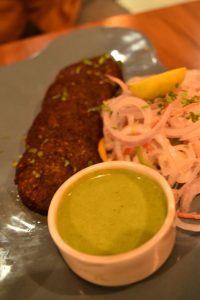 Red Velvet Tikki: Beetroot tikki served with ring onions and mint chutney. It was really soft but with bland taste. It needs to be improved.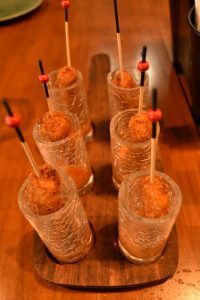 South Hall Fish Fingers: Crispy coating on the outside and soft and juicy fish inside which was perfectly cooked. Good presentation as well. Must try.
Hare Moong ki Kadak Mangodi: Crunchy moong dal dumplings served with spicy chutney is a real treat for all the vegetarian food lovers.
To end this wonderful food journey we had their signature cona coffee served with cute little cookies. Strong and awakening coffee made with dense cream and milk left its taste on the palette for quite long.
So if you have not been to UCH Rewind yet, add it to your list for an amazing and unforgettable dining experience.