Noida's First food festival, the Pitstop Food Festival is happening at the coolest gaming destination in Noida, Glued Reloaded in Sector 41. Right above the Theo's Bakery. And they have some tasty delights being served like the decadent and delicious Ice Cream Tacos (waffle tacos filled with Ice Cream and molten chocolate), while you enjoy activities like Pool, Snooker, Bowling, Arcade Gaming and our favorite, Console Gaming.
Pitstop Food Festival at Glued Reloaded Noida
The festival is on till 29th January 2017 and here is a brief about the amazing deals on games that are a part of the Pitstop food festival;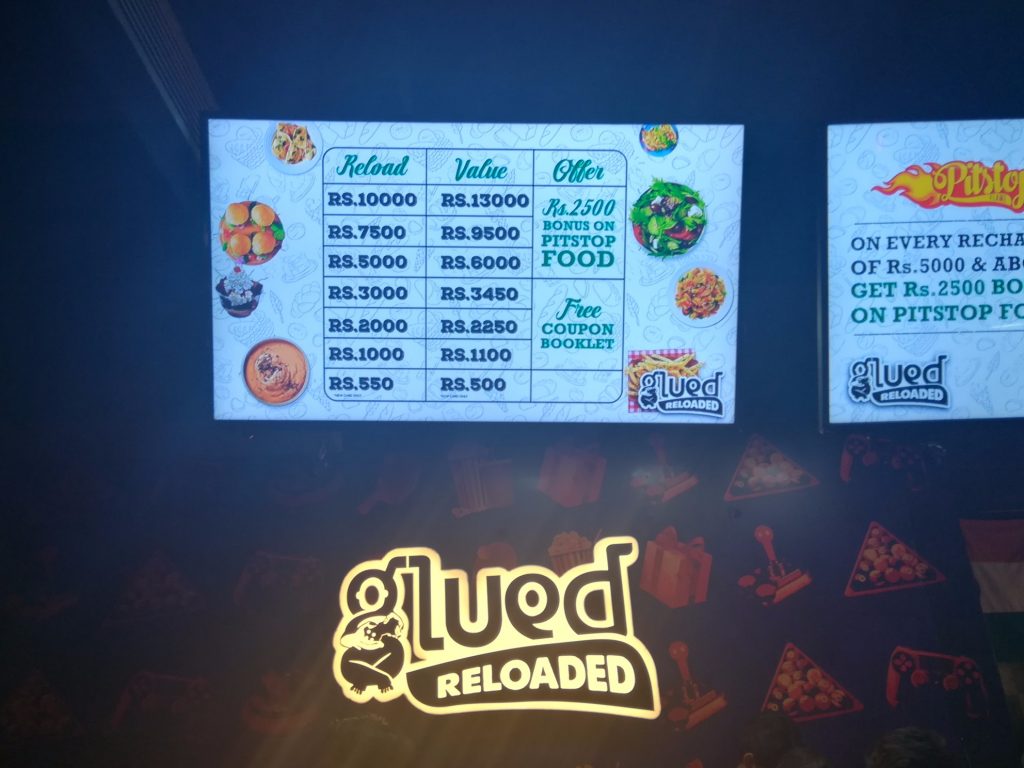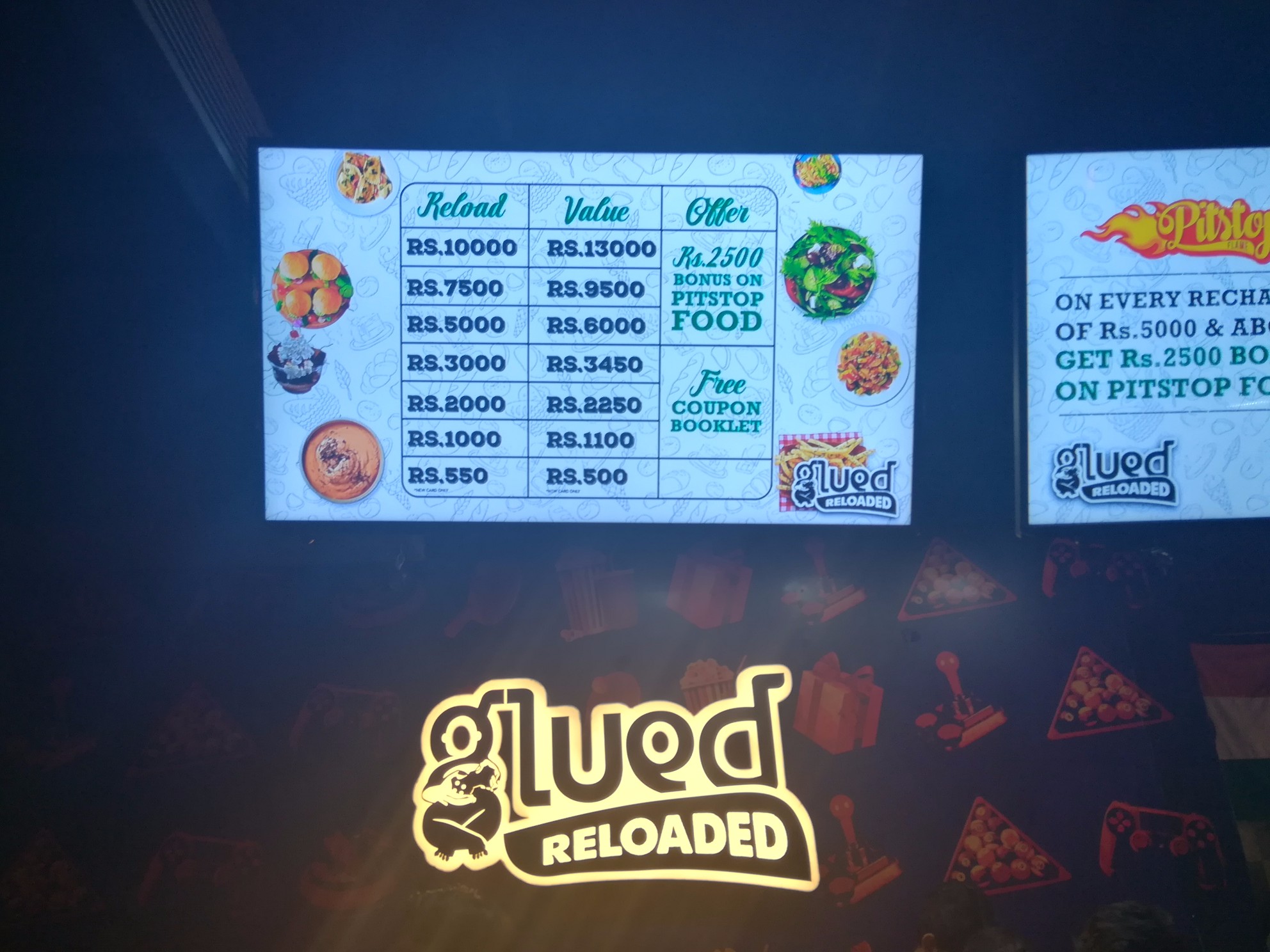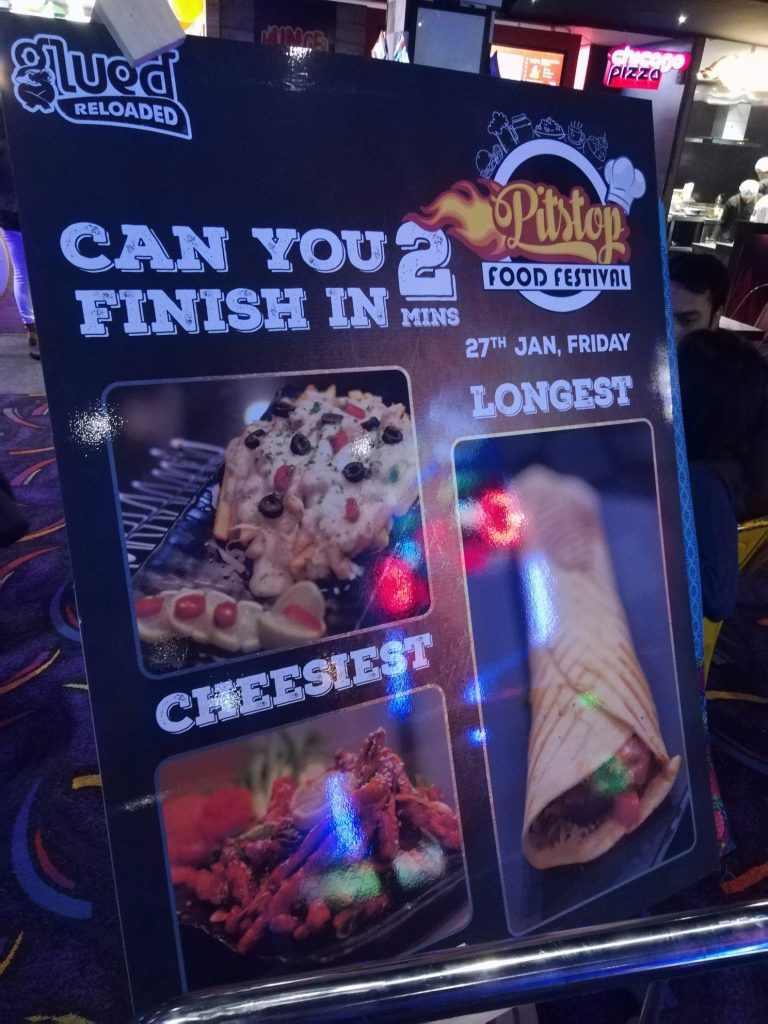 Under this festival, they are running some superb deals on games and food. Just 40-minute drive from Delhi, this is a highly recommended option for all of you looking to hang out with your buddies over some cool sheesha and of course, FIFA 16 😍
I was surprised at the quality of the food at Glued Reloaded's Pitstop (flame) and also at the highly reasonable prices (they also have a Keventer's and Chicago Pizza counter). The fully vegetarian menu at Pitstop was full of innovative dishes and superb international delights.  Even though the place is an out and out gaming paradise, it would definitely woe the foodies too.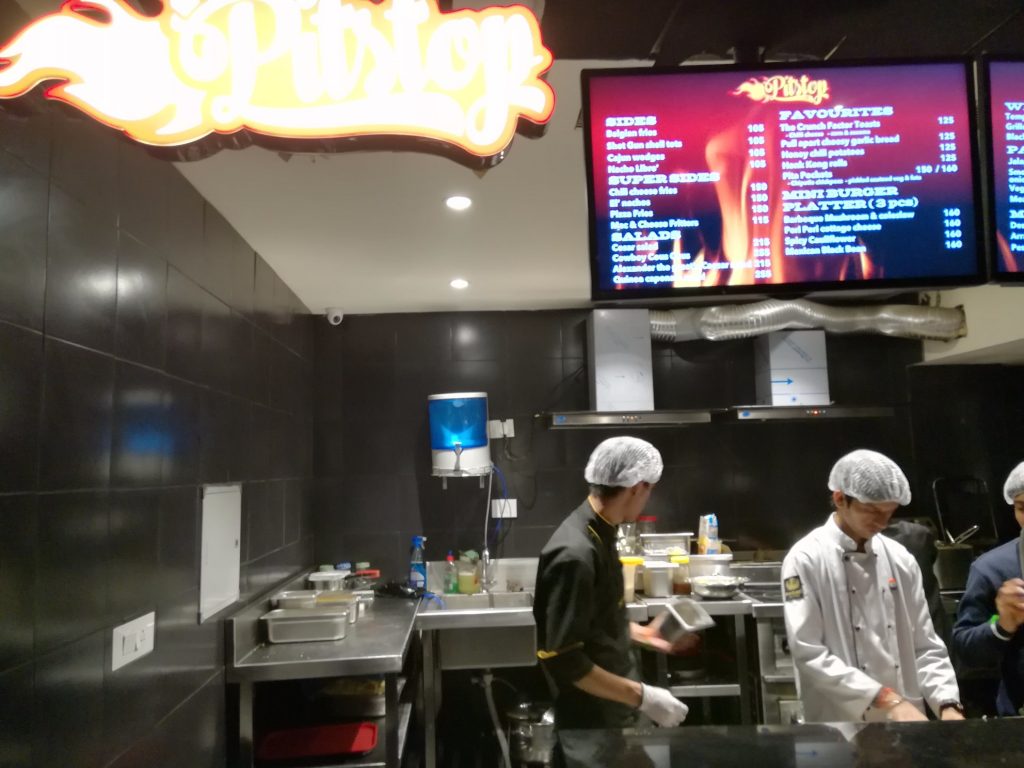 We ordered the Barbecue Mushroom Mini burger platter (3 pieces) and the burgers were delicious with the mushrooms tossed in barbecue sauce,  onions, and tomato sandwiched between perfectly toasted slider buns. The pull apart cheesy garlic bread had oodles of garlic butter and stringy cheese, a perfect arcade snack.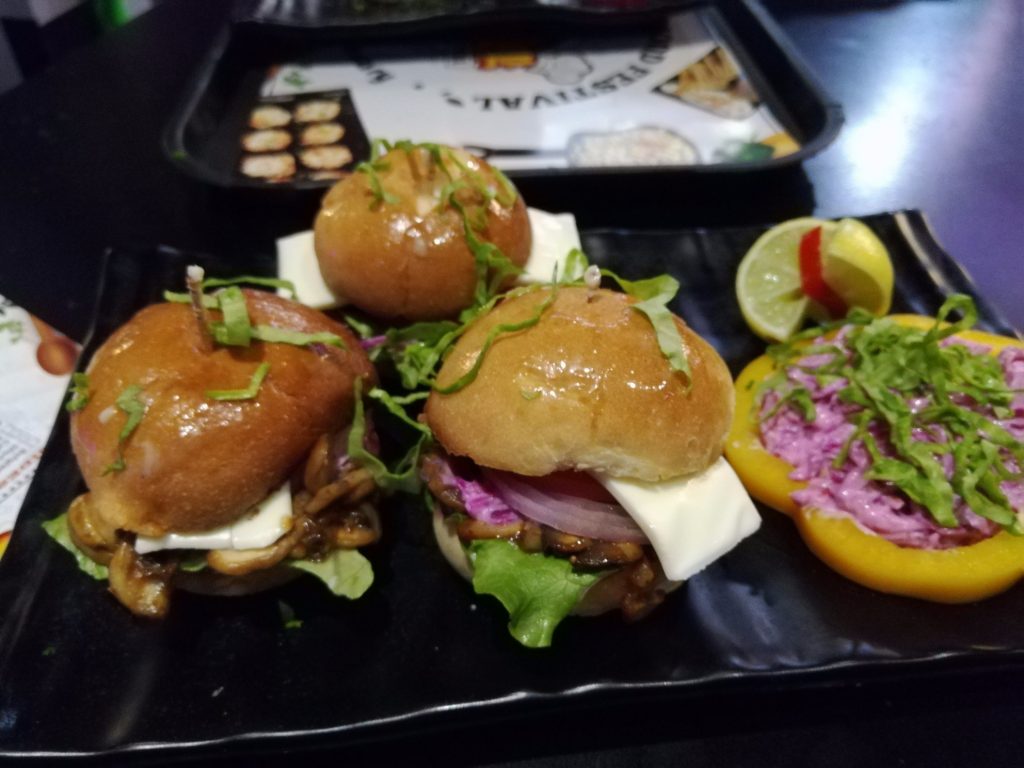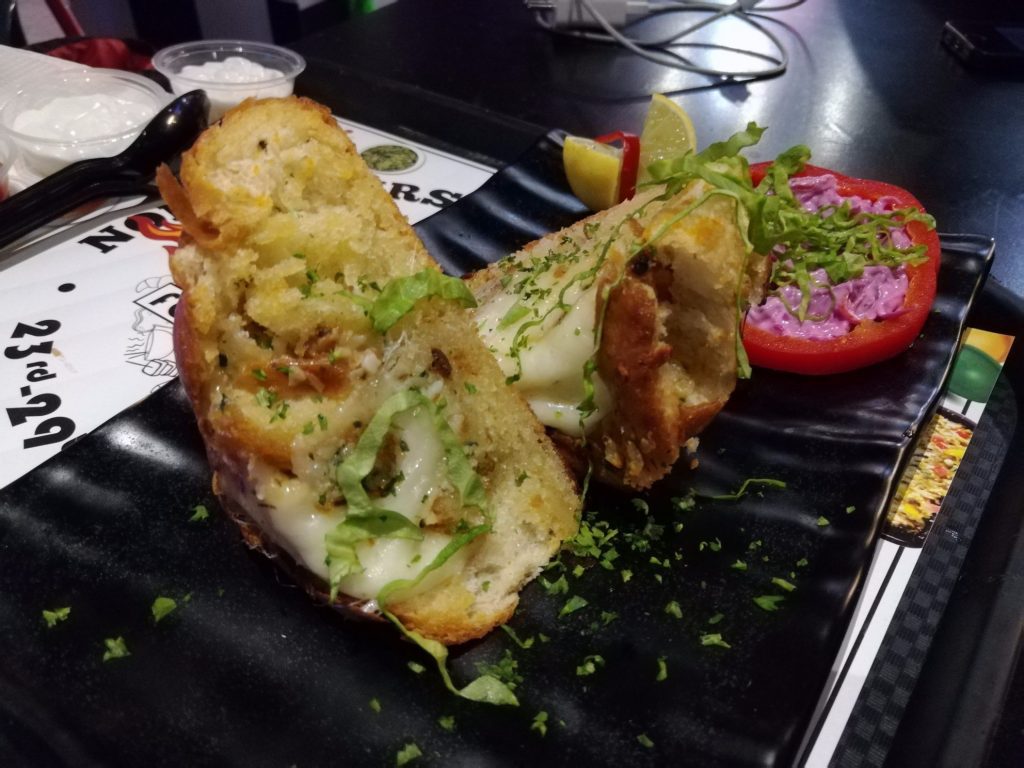 The pizza fries were loaded with cheese, jalapeños, and olives (make sure that you eat them hot).
The best item from Pitstop's menu would definitely be the Mezze Platter.  This well-plated dish had Fresh and rightly seasoned Hummus,  Tahini dip,  grilled Pita and crunchy fried falafels.  This would be just the right filler to fuel you up for even more games.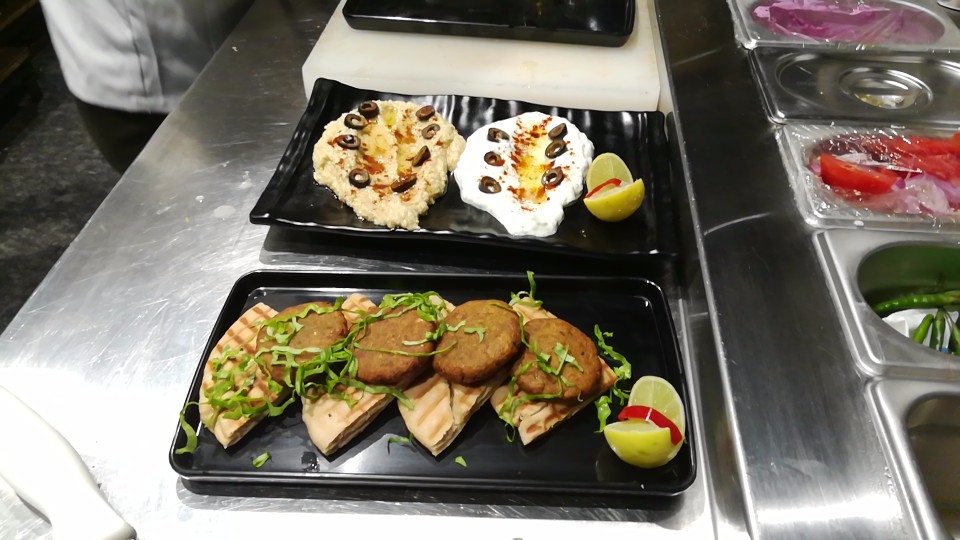 The dessert menu has a certified Gem in the form of Ice Cream Tacos and if the name itself hasn't made your mouth water,  the following description would definitely will. So the Ice Cream tacos at Glued Reloaded, Noida Sector 41 are made of three different scoops of ice cream (strawberry, vanilla, and Chocolate), each sandwiched between fresh-made sheets of waffles and topped with chocolate sauce, oreo crumble and chopped gems).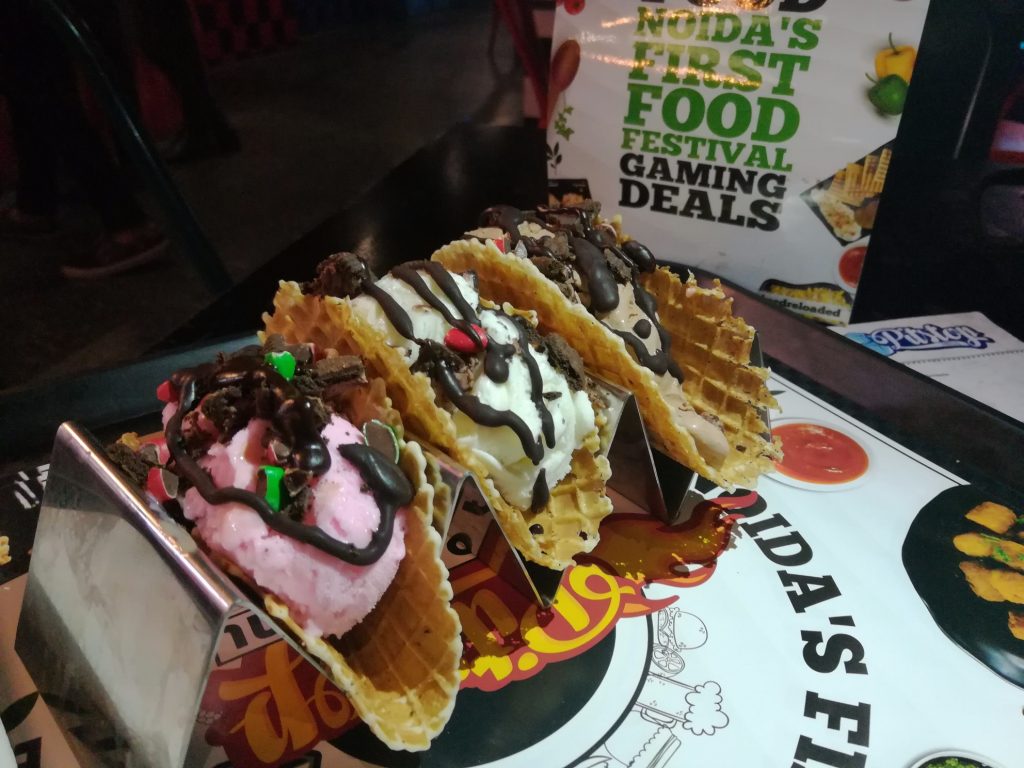 After our highly impressive stint at the Pitstop in the food court,  if was time to hit the arcade. We tried our hands at the bumping cars,  the bat-mobile arcade, air hockey, and finally, we ended this super fun day out at Glued Reloaded with a session of Bowling (which just costs ₹ 250/- per person).
All in all, your weekend checklist with the buddy gang must include a fun day out at Glued Reloaded. It has some amazing games and food at reasonable prices, and if you still need another reason, the Pitstop Food Festival live till 29th January 2017.
What: The Pitstop Food Festival
When: 23rd to 29th January 2017, (12 PM to 2 AM)
Where: Glued Reloaded, Noida Sec. 41.
Nearest Metro station: Golf Course
More Information: www.facebook.com/gluedreloaded
Arcade Gallery: