Chef Sujan Singh of Olive Qutub fame is known for his artistic fusion dishes that are as much a feast for the eyes as they are for the palate. This time, Chef shows his expertise with the Indian household native or home grown flavors to create a spread which is reminiscent of a carnival for as we call it in Hindi, a Mela for the taste buds, at Ek Bar Defence Colony
The menu is full of elements that'll remind you of your Mother's magic with cooking. Hence, that tamarind chutney, that Moong Dal ka halwa, those pickled veggies, and a lot of similar homegrown elements would reach your table at Ek Bar in an avatar you'd love for sure.
The Ek Bar Sausage Thali is perfect for those of who like variety on a platter. All the rudiments of this Thali were pitch perfect for the meat lovers who are all game for some spices. The best one from this Thali was the homemade Malabari prawn sausage, the fresh prawn meat sausage had that lovely crunch and a burst of homely masalas insinuated by the Ek Bar ketchup (a home made condiment). The thali also had a bunch of other bites like the mutton cutlet (crumb fried fritters of minced mutton), Goan Chorizo scotch eggs and Duck Pattice.  The Vegetarian variant was equally delightful and at par with the sausage Thali in terms of quality and taste.
Ek Bar Granola; a very healthy mixture of Tandoori seasonal fruits topped with home made Jhalmuri (classic street food delight identical to a Bhel Puri) and was served with a butter milk sorbet (a whole new avatar of this classic north Indian cooler).
Burrata Cheese; a very fresh bowl full of local burrata mixed with the refreshing tomato chutney, topped with corn crisps, coriander and walnut pesto. Its savory, tangy and cheesy cool flavors deserve a big thumbs up.
The Non Veg Half Plates section at Ek Bar
was even more delightful with gems like:
Chicken liver and liquid bheja pate; Never been a fan of the peculiar chicken liver after-taste, however this concoction definitely didn't have that. It rather was very well spiced and had that twist of flavors for the Pate which were sumptuous to have with the masala taftan loaves (leavened flour bread) which looked like deep fried kachoris from the outside.
Lahsuni Chicken Tikka; Garlic and cheese is indeed a match made in heaven, add chicken tikka to that and you take yourself a step closer to the foodie Nirvana. These chicken tenders were first cooked in a tandoor and then baked with Kashmiri chilly cheese fondue and walnut crumb. Cheesy, garlicky goodness.
Andaman Tuna Chaat; Call it a fault in my palate or my misinformation, but had I not known about it, I wouldn't have guessed that my sev puri at Ek Bar had Sashimi-grade Tuna. It had other rich flavors of avocado, green apple, coriander, tamarind on a bed of home made crispy papris, garnished with Japanese spice mix along with the good old chaat masala. If this is a Indo-Japanese fusion dish, I must say the Indian home grown flavors overpowered everything else.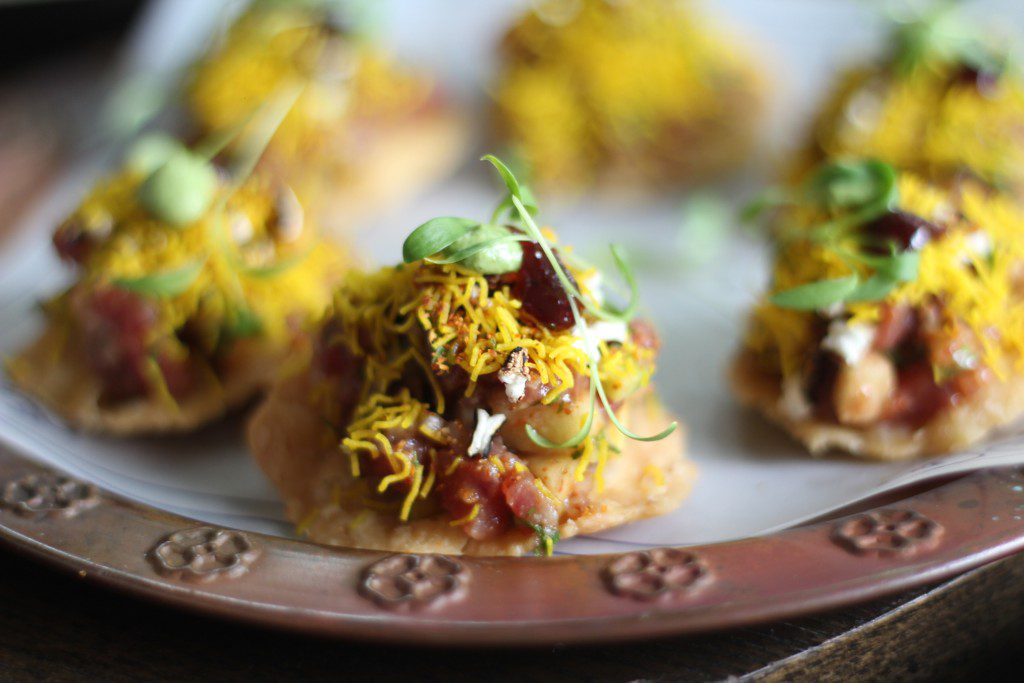 The Full Plate Section of the Ek Bar Menu
i.e. the main-course section:
Tandoori Paneer Roll; As good as this dish looked, it just didn't click with my palate. From the looks of it, I had anticipated a rich creamy tangy gravy with a pinch of sweetness for the paneer rolls, however, the slight pungency of the gravy was a slight let down for me.
Barbeque Pork Belly; Now this delightful smoked and glazed pork belly made up for the disappointment, as it was superbly cooked and plated. It gave the palate what it imparted through its looks. Sweet and tangy flavors with the heartiness of the pork belly. It was served with an aromatic bowl of garlic rice.
Nooriseekh Kebab; Just when the decision is difficult to make, when it comes to choosing between chicken or mutton kebabs, this dish solves the problem. Noori Seekh is made from minced chicken and lamb and hence has the best flavors from both the worlds. Served with garlic naan, masala onion, mint chutney, and garlic toum.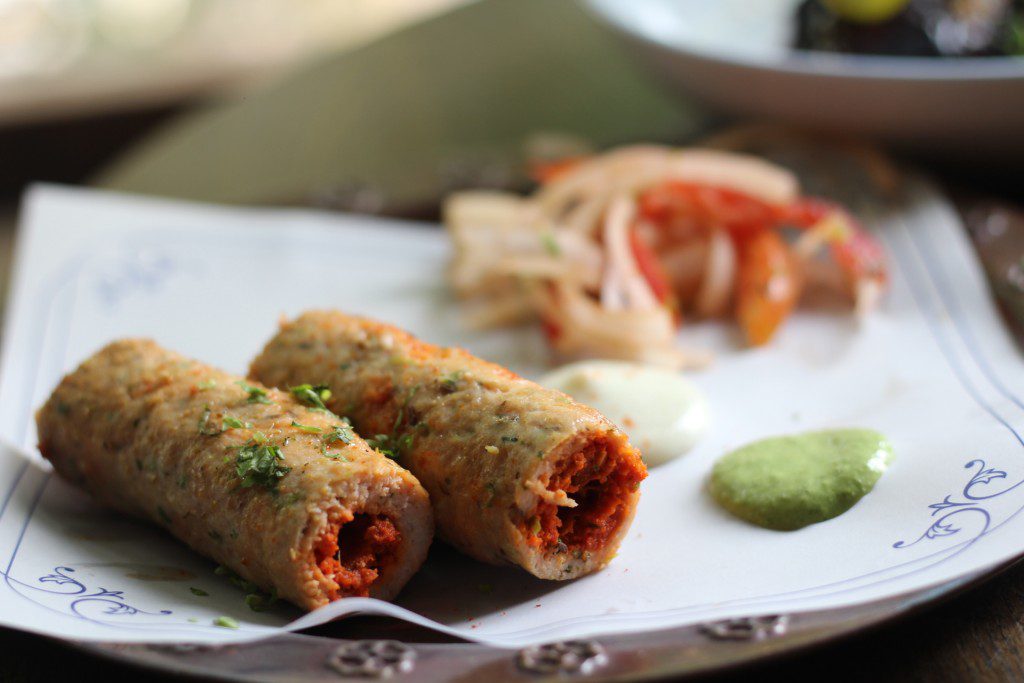 Chorizo Pulao; Crumble of Goan chorizo, homemade pork sausage and bacon (in short, a pork lover's dream) cooked with short grain rice served with avocado and garlic raita (seasoned yogurt).
Ghar ka Meetha
When we talk about home grown flavors, how can we possibly forget about Meetha or the Desserts. At Ek Bar, Chef Sujan and Pujan experiment with elements like Moong Dal, sesame and buttermilk to create some excellent fusion desserts.
The Auroville chocolate brownie was a nice chocolaty delight, whose combination with buttermilk sorbet is something I didn't like.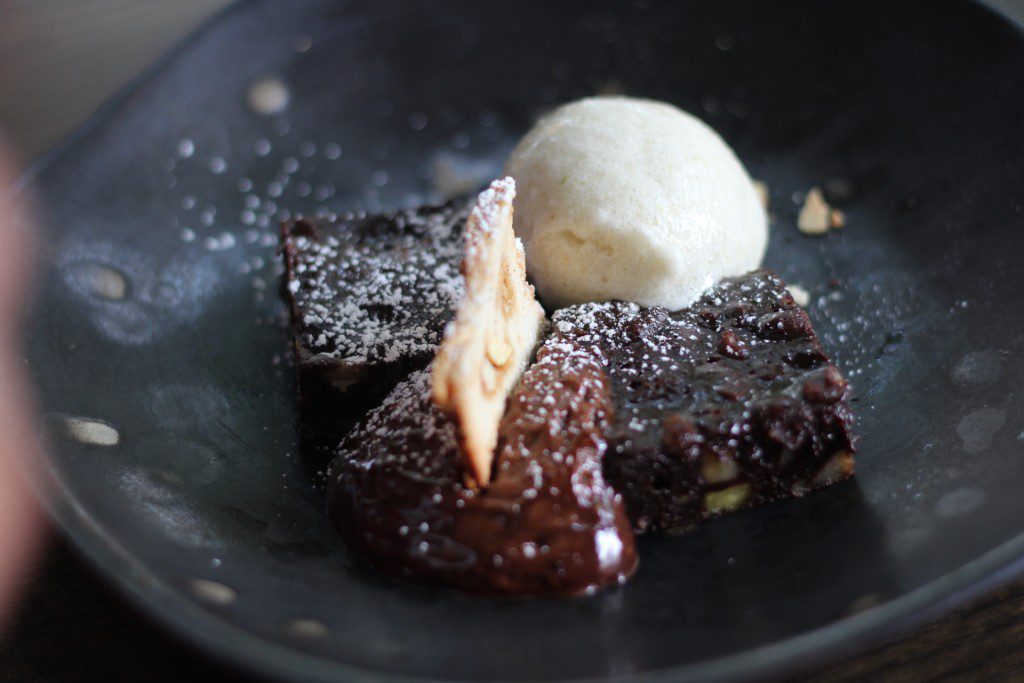 My favorite has to be the Moong Dal Baklava. The Turkish flaky pastry with layers of Moong Dal ka Halwa (just like the halwa made in Indian households during winters). What a delightful fusion indeed.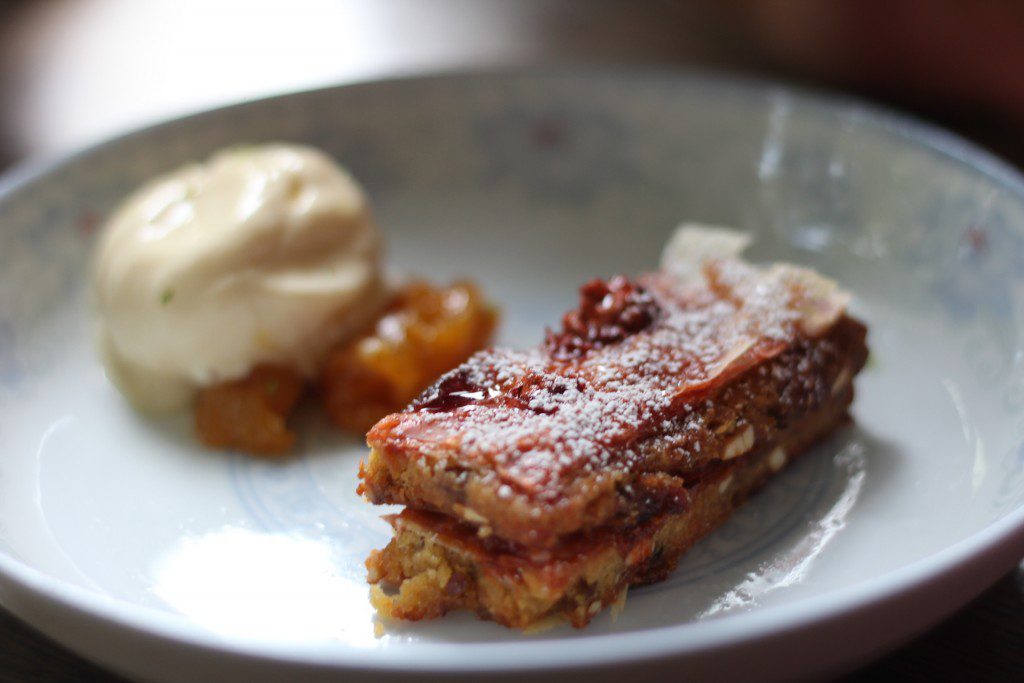 Favorite Drinks at Ek Bar, Defence Colony: The City of Nizams and Murabba Mule