Fabelle chocolate boutique has now opened its doors for all chocolate connoisseurs and lovers in New Delhi, at the iconic ITC Maurya Hotel. They have a wonderful range of Chocolate Ganache, Pralines, Customizable chocolate cups, sumptuous desserts and refreshing cocoa based beverages.
With four International master chocolatiers, and multiple ITC Master chocolatiers, Fabelle is indeed in good hands when it comes to the art of chocolate making.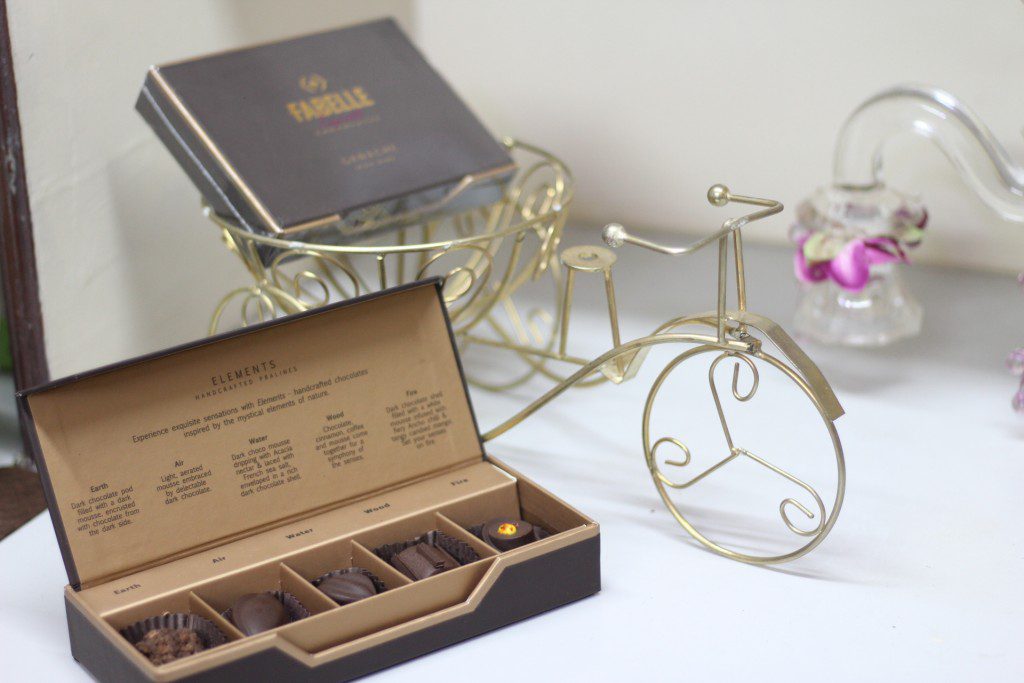 They have the finest cocoa sourced from the 7 of the most exotic lands of Africa and Southern America most suitable for the crop to grow, rendering the main ingredient to be one of the finest finds. Some of these locations are;
Madagascar
Ivory Coast
Venezuela
Saint Domingue
Sao Tome
The Fabelle Chocolate Boutique
Starting our Fabelle journey with an exclusive chocolate tasting session, we were quite sure of the fact it would indeed be one of the best sugar rushes we would've had in a recent while. And that is exactly how the experience turned out to be;
Starting with a tour through the legacy of Fabelle, we got to know about the amount effort and the number of miles does the team go in order to ensure a class-apart chocolate experience for the patrons. Be it the hand-crafted boxes or the hand-crafted pralines, this chocolate boutique is your go-to place for one of those days when you want to gift your loved ones or indulge yourself  into a sinful but worthy dessert experience.
Eating the Elements at Fabelle
The signature pralines collection is rightfully called, 'Elements'. This one has a collection of 6 types of pralines, each as distinct from the other as the natural elements are. Earth had a coarse outer covering with chocolate rubble, giving it a earthy texture. Air was filled with a very light and airy chocolate mousse, Wood was a log shaped chocolate with a slightly smokey sweet filling. Water was my favorite, a flow-ey mildly sweet honey filled chocolate praline. Fire, the last one was filled a Mexican ancho chilly, giving out a heavenly fusion of sweet and spicy flavors.
Best Chocolate Ganache in Delhi?
It was brought to our notice that Ganache– fine cocoa mixed with cream and fresh butter, is the purest type of edible chocolate which you can taste. Indeed, as the smooth and sturdy cubes of the dark milk chocolate Ganache reached our taste buds, we got to know the relevance of the a-fore mentioned statement as the cubes melted to impart a bitter sweet after taste after creamy smooth chocolaty experience for the palate. Easily, the best chocolate Ganache you can buy in Delhi.
You can also indulge in a fine variety of exotic cocoa based desserts at offer, along with a heavenly range of cocoa based beverages (Frappe of Madagascar, as the name suggests, was a wonderful cold beverage on nougat, made of the finest cocoa from Madagascar) . In the desserts, the Chocolate Flower is an experience you must not miss, once you decide to treat yourself with a trip to Fabelle at ITC Maurya. Other desserts that won our heart?
The Vanilla Cremeux Bar with Saint Domingue Chocolate Mousse- A delightful mousse bar with a rich exotic mousse, glazed from the outside.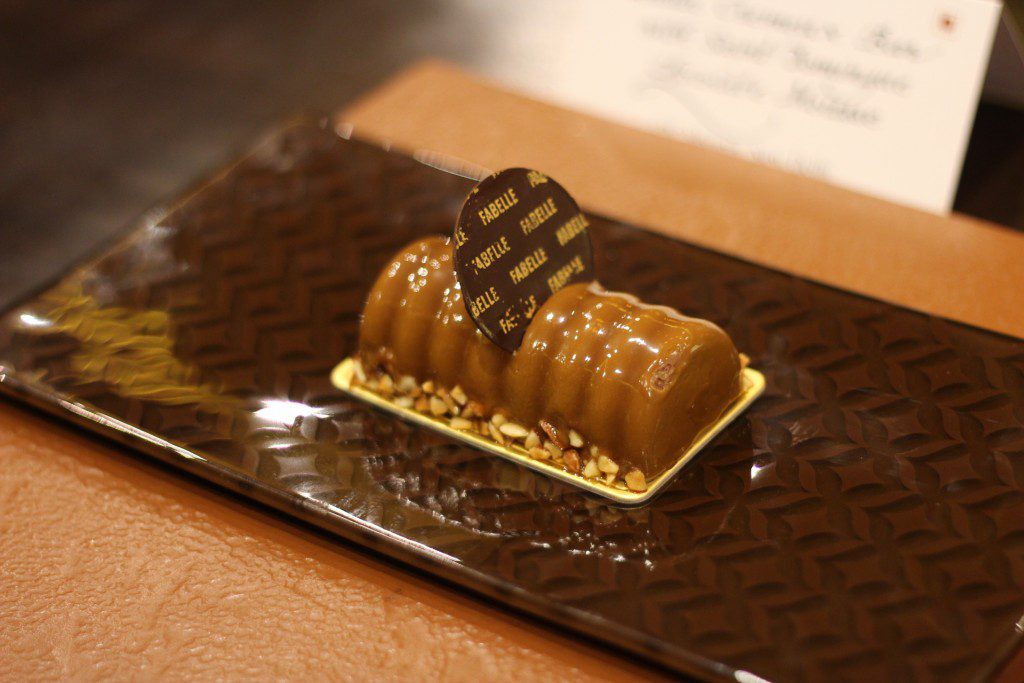 Dark chocolate lovers are up for a superb treat with 84% signature dark chocolate petit cake with fleur de sel.
I am a cheesecake fanatic and hence, I was way too ecstatic to see a cheesecake on the menu. The White Chocolate Cheesecake Jar is their in-house recipe with rich creamy Philadelphia Cream Cheese and white chocolate topped with a juicy mix of fresh berries.
[Also Read: Best Desserts in Delhi]
Fabelle As You Like It
We also got a chance to try our hands at mixing and matching chocolates to create the customized chocolate cups. I must say I was amazed at my own random chocolate mixing skill as I made this Minty Dark Almond Overload' Choco Cup (If only there was a first prize for the most Random creation, I would have surely won it *insert the crying laughing emojii)
To say the least, the whole experience at Fabelle Chocolate Boutique was nothing short of a prize for me. From their warm signature ITC style hospitality, to their utmost expertise in chocolate making, everything was super impressive. I may have found just the right place for buying gifts for the loved ones, this Diwali.