Movenpick is super renowned for their finest Swiss makes. Their outlet in DLF Mall of India absolutely does justice to that by pleasing our eyes with minimalist white theme and a hint of black. The textured wall even looks like ice cream flowing down with full force.
Movenpick Swiss Ice Cream and Cafe at DLF Mall of India
The outlet itself is not just about ice creams, you can indeed also order a cup of their amazing cappuccino or the Hazelnut Latte and sit back and enjoy without any hurry. They also have some extra-ordinary shakes in case you find a shortage of sugar rush.
About their ice creams, the lesser said the better. Truly one of the best Ice creams you can have in town. The Stracciatella ice cream was such a delight to have (almost sent me to a food coma). Finest and authentic swiss cream with Italian chocolate chips.
Then it was the creamy and milky Vanilla Dream. An ice cream company's quality is as good as their Vanilla, hence, no surprises when I say that the Vanilla Dream was indeed the perfect kind of vanilla ice cream. Not too cold, melts to leave that creamy aftertaste. Loved it so much that I even ordered a Vanilla Dream shake. Served in a tall glass, it had three layers of awesomeness, the bottom layer of caramel, the middle one with the Vanilla shake and the topmost layer of vanilla milk froth. Yes it is a vanilla lover's dream in a tall glass.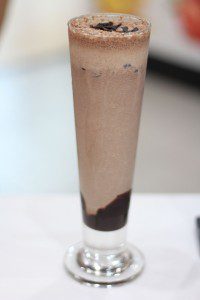 If Vanilla Dream is for Vanilla lovers, the chocolate lovers have the Swiss Chocolate Shake to boast about. A tall glass filled with Scrumtuous thick Swiss chocolate heaven. This is the sin I would like to commit every weekend. Don't forget to take a jog the next of having this decadent delight seemingly imported from the Chocolate factories of Switzerland.
What is the second best thing you can do with Ice Cream (the first is of course eating it) ? Well, eating it with a serving of freshly made, piping hot waffles with a drizzle of Swiss chocolate sauce. Movenpick has a delicious range of waffles, each served with two scoops of their fine ice cream. We tried the one that came with Swiss chocolate and Stracciatella. Honestly, all these desserts made me fall in love with chocolate and ice cream, all over again. I highly recommend the waffles at Movenpick, DLF Mall of India.
[Also Read: Top 4 Desserts in Delhi]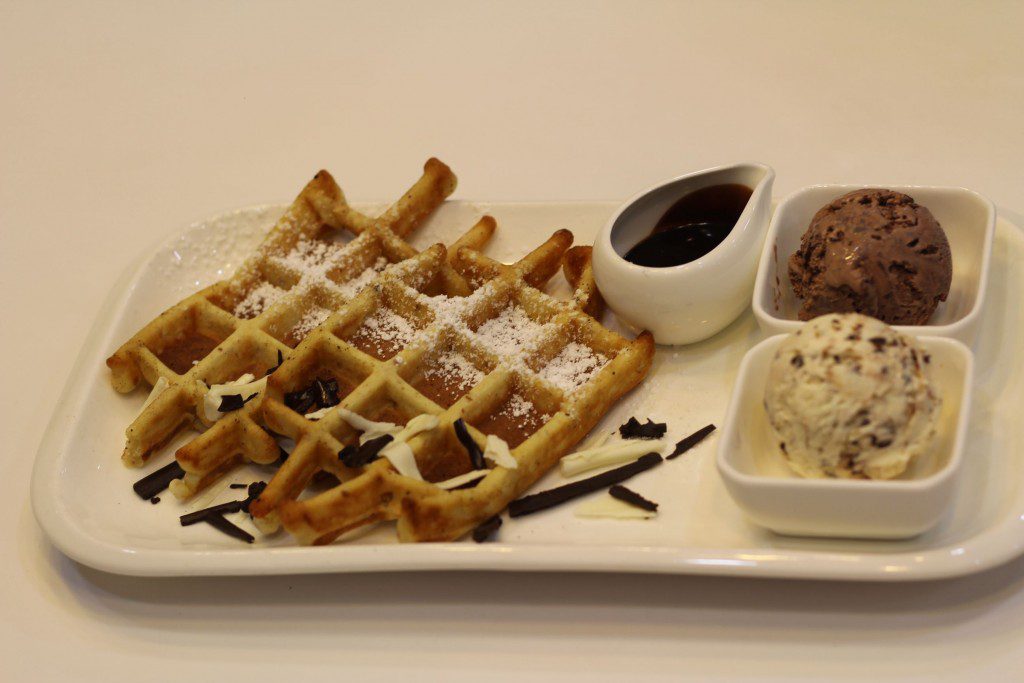 To add some more sweetness and crunch, you can also try the Ice Cream filled Macaroons too. The fresh and creamy ice cream would still be the real deal at Movenpick and also their amazing beverages.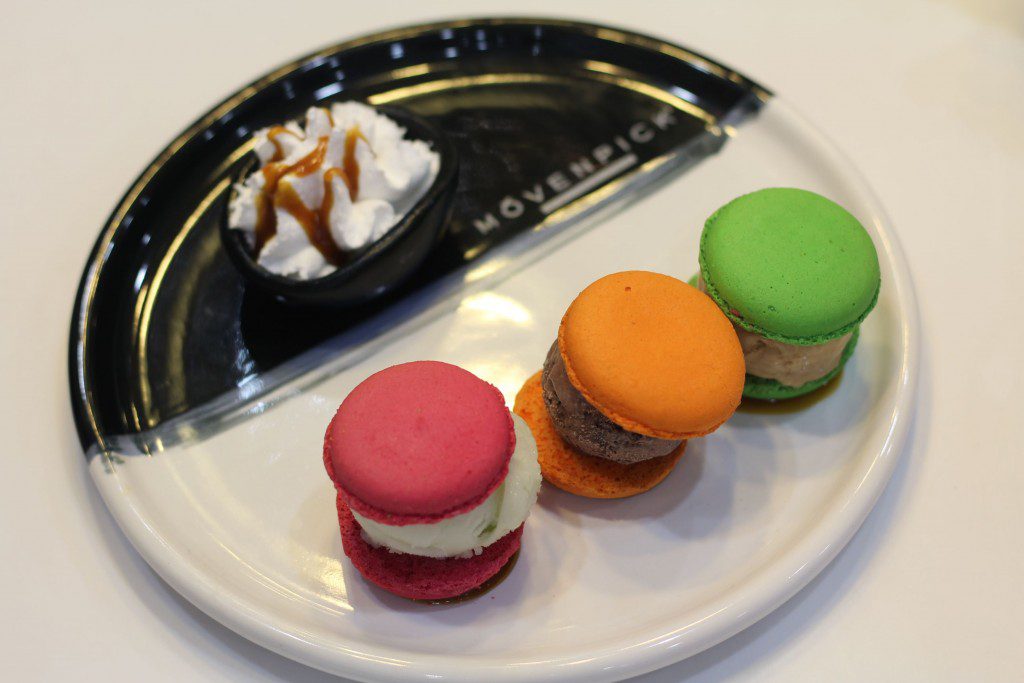 All in all, you must visit Movenpick at DLF Mall of India, for their spectacular ice creams, drool-worthy desserts, superb shakes and delicious hot beverages, which you can relax, sit back and enjoy over interesting conversations and more.