Farzi is an experience in itself. The minds behind the concept of this restaurant totally deserve a standing ovation. Now, from drinks to desserts, from Appetizers to even palate cleansers, there is hardly an item that doesn't blow your mind off. The concept of Farzi revolves around molecular gastronomy and fusion food. To get the boll rolling, I ordered the alcoholic banta (these are drinks with a perfect balance of kick and flavors, being served in old-school banta bottles). I tried the Aam Panna Flavor and it rocked (my senses).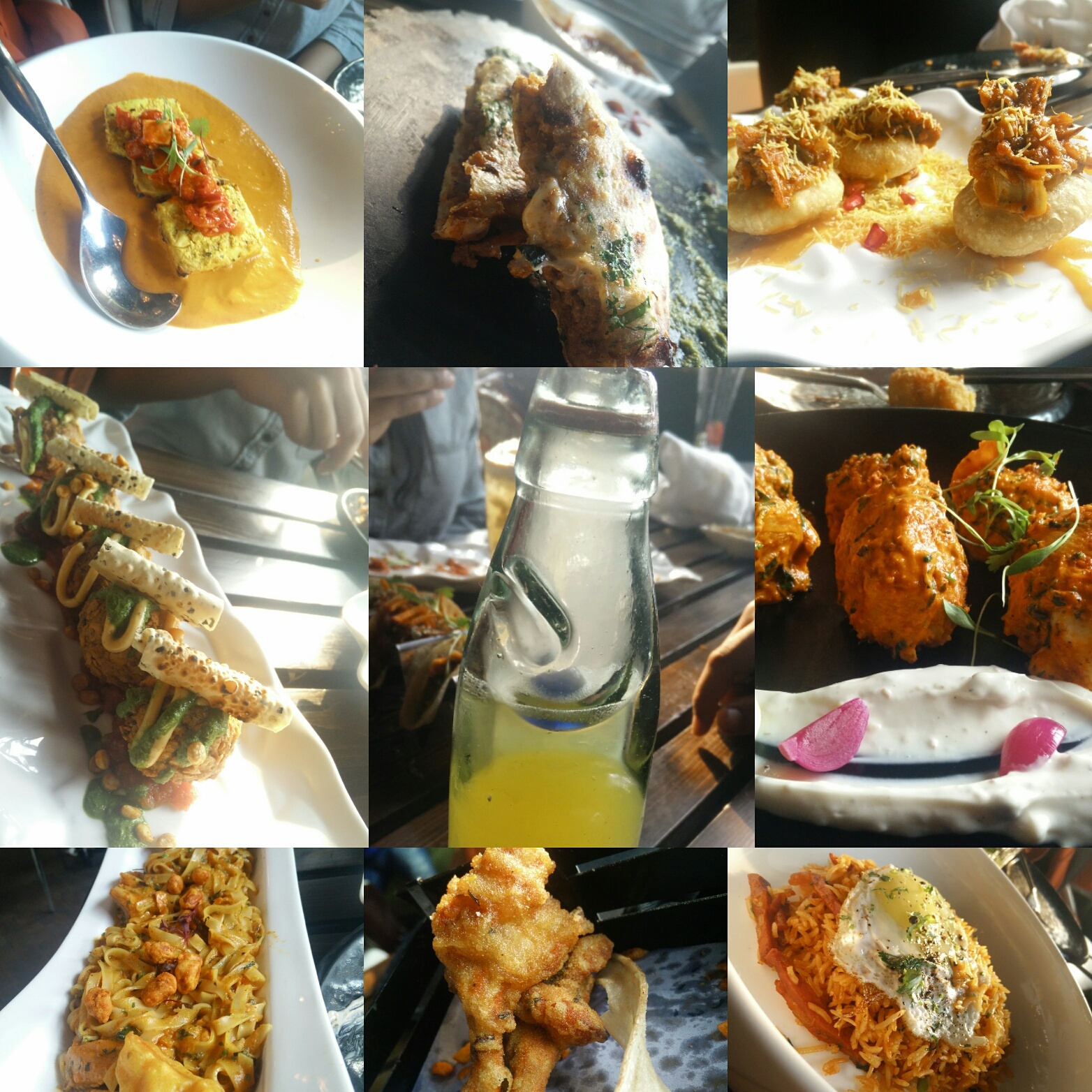 Mind Blowing Food at Farzi Cafe, CP
Farzi Fried Chicken is a fusion of roasted and fried chicken. Served in a miniature truck, the presentation and execution of this dish rocked to the core. Kept me asking for more.
Keema Kulchas were tiny little puffy kulcha pockets filled with the ever so flavorful keema. A Simple and delicious appetizer.
Then there was the Rajasthani Chaat. These were tiny little kachoris topped with savory tamarind chutney and semolina sev.
Was also amazed by the tiny Mishti Dohi Shots. These burst in your mouth for a refreshingly sweet after taste.
Dal Chawal Arancini. The common Man's staple served in an uncommon avatar, i.e. in the form of fried fritters topped with a tiny papad rolls. Awe-struck by this mix and match of flavors.
There was a dish called Bacon Kachodi. This combination didn't go down well for my palate.
Before heading down to the main course, a huge vase full of nitro frozen yogurt lollipops are brought to your table. These unique lollipops cleanse out your palate and get you ready for the roller coaster of flavors that are about to follow.
Lunching at Farzi Cafe CP
For main course, I tried the Irachi Mutton with Malabar Parantha. Not much of a mutton fanatic, however, this one had tender boneless pieces of mutton cooked in a preparation that wasn't super spicy because of the subtleness of the layered and flaky Malabar Parantha. This was probably the first time that I enjoyed so much whilst eating a mutton dish.
The Rice Noodle Chicken Biryani. Gosh! Where do I start? A fusion of the Italian Pasta and the Indian Biryani, this dish could only have been conceptualized and executed at a place like Farzi Cafe. Long strands of rice fettucini cooked with fried chicken chunks.
Chorizo Pulao. Bacon Lovers ahoy! this pulao cooked with chunks of chorizo and bacon and topped with a sunny side up was a scrumptious treat.
The service at Farzi is COMMENDABLE. They just don't make you wait for your dishes at all (do they already know what we're going to order? ).
Then for the vegetarians they have Tandoori Soya Chaaps, which the Non-vegetarian will equally love. The Paneer Makhani was delicious with huge chunks of Paneer Tikkas on which the sumptuous makhani gravy was poured fresh.
Out-of-the-world Desserts at Farzi Cafe CP
Coming to the desserts, well, they were out of the world. Incidentally, one of the we tried, one was called the Milky Way. This one had so many elements and ingredients, all of which came together to present an unforgettable dessert experience. With an artful tray decorated with white chocolate milky way galaxy orbits, consisting of 10 planets which 10 different types of desserts crumbled into shapes reminiscent of planets. There was blueberry cheesecake, white chocolate ganache, carrot halwa and a lot more. The alternate belt of the milky way consisted of chocolate crumbs, rice crispies, graham crackers topped with pistachios. The sun was orange zest ice cream which was washed with liquid nitrogen, making it brick hard and brittle. This sun was then broken into the galaxy and finally topped with white chocolate Rabri sauce. We were finally allowed to dig into this extra-terrestrial dessert.
Another one was the chocolate mud. A bowl that looked like a flower pot from my granny's garden, it had chocolate crumbs topped with some other sweet treats. Liquid warm chocolate sauce was then poured over this delicious mess and finally  ploughed  to mix all the elements to finally give way to a dessert that sent us all a bit closer to the foodie nirvana.
Then the classic Parle-G Cheesecake needs no introduction, classic biscuit sandwich with cream cheese and rabri, topped with chocolate gems. Must try.
FOODelhi Review One-liner for the Farzi Cafe CP
Farzi Cafe is an experience my friends, which would cost you much less than a meal at a 5-star restaurant. Stars fall less when I try to rate my own Farzi Experience. Easily, one of the best diners in Delhi. Hope you get #Farzified very soon.