Uzzuri Deli in Janpath looks a like a pretty little European Cafe located on a busy lane in the Shopping haven called Janpath. As soon as you enter, you couldn't help but notice a bakers' refrigerator stocking fresh and beautiful looking cakes. Sit down in this comfortable and lively Deli while you sip on some hot coffee or an Uber cool cocktail.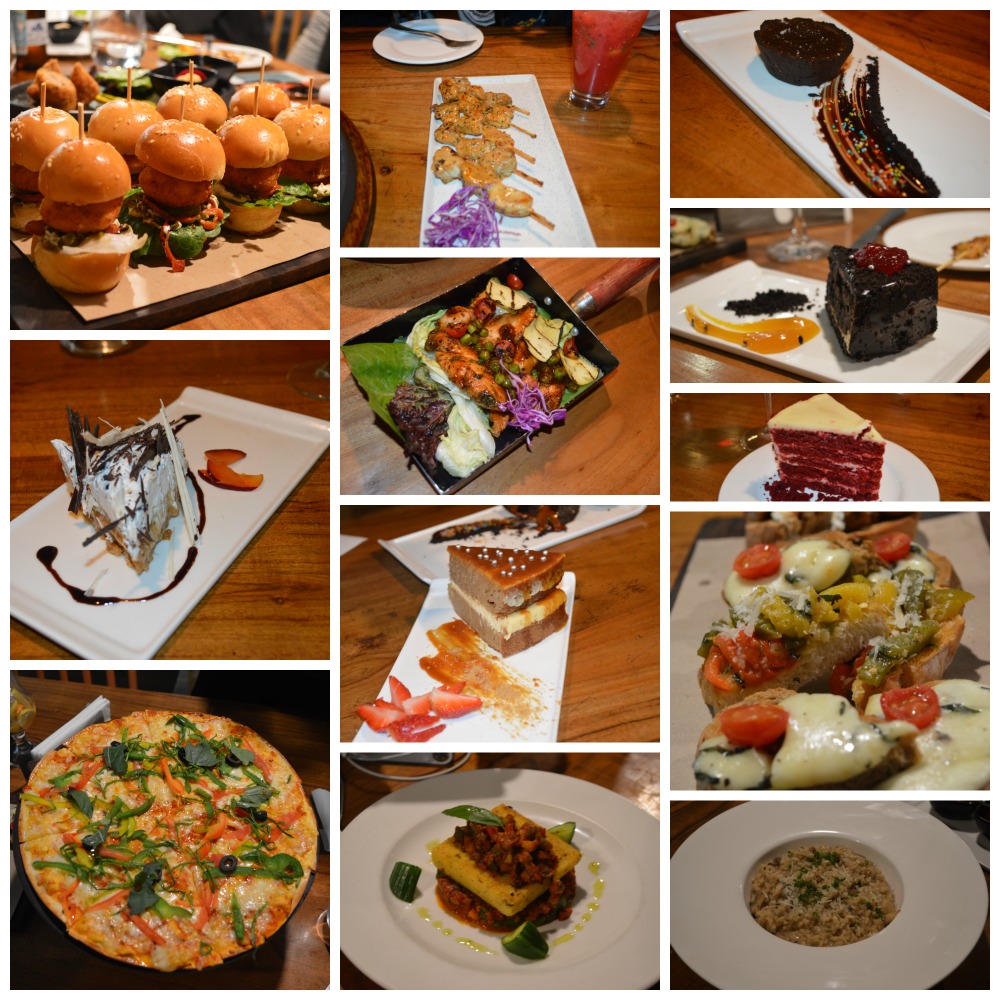 Food at Uzzuri Deli Janpath
For appetizers, they have some fresh salads. I liked the Barbeque Chicken Salad for the quality of chicken and the way it was seasoned. Nevertheless, it looked better than it tasted. Bruschettas were as delicious as they looked, especially the Mushroom ones. Chicken and Prawn Skewers were also served, but they failed to impress me. Finally, when the Cottage Cheese Burger Shorties were served, I had a sigh of relief for finally having something excellent on the table. The patties were crispy and fresh, so was the lettuce and the seasoning. I would have totally called for another portion of these (had my meal partners agreed to stuff themselves a little more).
For the main course, I must say that they have really out-of-the-box European gourmet dishes. The 3 cheese chicken was a sumptuous dish of fresh poultry stuffed with 3 types of cheeses and served with mashed potatoes and grilled veggies. Being a fan of chicken, I totally loved this one.
The roast garlic Polenta was again a pretty looking dish that tasted equally well. Wasn't completely blown over by it though.
The 3 Mushroom Risotto floored me. It was finger lickin' good (although I used a spoon I swear). I say that because until the moment we did not leave the table, I kept on having good scoops of this flavorful vegetarian main course consisting of an amalgam of fresh mushrooms and sticky rice (until of course my friends intervened).
These are the two dishes I totally loved. A huge and hearty piece of Mutton was also in the form of 'Lamb Shank', however, not being a mutton eater, I asked my friend (a mutton connoisseur) to tell me about the taste. The way he had the mutton gave away quite a few pointers about the deliciousness of the dish and how much the Mutton eaters would love it.
Finally, Pizza was also served. It was the Farm Fresh Vegetarian Pizza. As the name suggests, this one was light on the tummy with its crispy thin base and fresh vegetarian toppings.
Must Try Desserts at Uzzuri Deli, Janpath
The Black Velvet Cake
Chocolatey Velvety Goodness topped with a yummy jam.
Banoffee Pie
With no overload of Banana and the perfect amount of cream topped with white chocolate shellings, loved this pie to the core.
Butterscotch Cake
This one was kind of fusion of cheesecake and butterscotch. The combination worked wonders for my sweet tooth.
The Classic Red Velvet
When in doubt, go for the classics. Uzzuri did complete justice to this one.
All in all, Uzzuri is a must visit for all the dessert lovers out there.