There is a restaurant in Gurgaon that is taking  fine dining to a whole new level. We are talking about the California Boulevard, Sector 29, Near IFFCO Chowk, Gurgaon. A recent visit to the diner left us awe-struck. From the beautiful Hollywood themed interiors, courteous staff, wonderful service and beautifully presented Gourmet food. All these factors make California Boulevard, a restaurant in Gurgaon that you mustn't miss.
(There is also a Rajouri Garden version of California Bouelvard and this review could easily be considered for the same).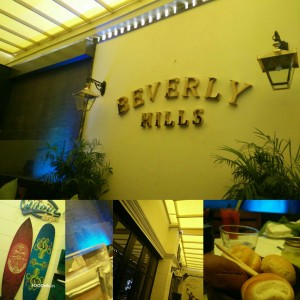 Who all Should Visit California Boulevard Restuarant in Gurgaon?
All those willing have a laidback weekend dining experience, with themed classy interiors and dim lighting, this restaurant in Gurgaon would serve just the right purpose. Although the name could lead you to believe that CB does only American or Continental cuisine, but, you'd be glad to know the diversity of the menu From Delhi ki Chaat to Italian Ravioli, they cater every palate. Those leisure lunches and success bashes, the California Boulevard would be the perfect venue to host them all.
The Best Dishes at California Boulevard Restaurant in Gurgaon
Dilli ki Chaat
The signature Dilli ki Chaat would be a perfect appetizer for those with a tooth for Delhi Chaat. The savory, sweet and sour dressing of yogurt, tamarind and mint chutney on deliciously crispy Spinach leaves, sprinkled with the evergreen semolina sev. The authentic Chaat experience served to you amidst the internationally appealing decorations of the California Boulevard Restuarant in Gurgaon.
Recently, we also had a good Chaat dish from Punjabi by Nature Quickie.
Beer Batter Fish
This one will win the hearts of fish-lovers and fried-food-lovers alike. The tartar dip served with this tender-on-the-inside and crispy-on-the-outside snack was scrumptious to say the least.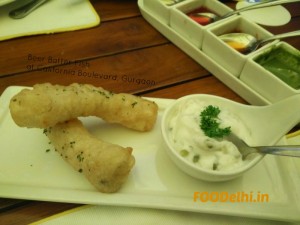 Paneer Sushi
Nice and tender cottage cheese rolls filled with mushrooms, coriander and  by a simple yet delectable coating. A nice variant of Sushi with an Indian twist, especially for those who are not fond of seafood but still would like to give Sushi a try.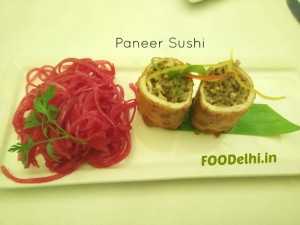 Peri Peri Crispy Chicken
All time favorite dish consisting of fiery hot chicken tenders served with a lovely chipotle mayo dip, which is also the highlight of this hearty dip
Seafood Thermidor
If it was to be put in the least of the words, the Seafood Thermidor served at CB Restaurant in Delhi, is every seafood lover's dream served on a plate. After you're done trying with a delectable range of appetizers, this main course would serve as the perfect grand finale for the fiesta of colors and flavors it is. The dish would serve you perfectly cooked and fresh seafood delights like Calamari, salmon in white wine, mushrooms, lime and gratinated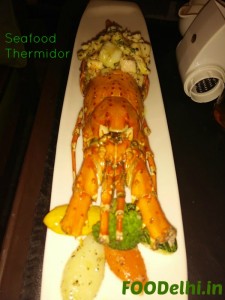 .
Ravioli Pasta
The classic Italian filled pasta. The aromatic cheese and delicious stuffings would surely linger your taste buds for long. The presentation also adds multiple dimensions to this classic comfort food.
Best Desserts at California Boulevard in Gurgaon
The Chocolate Bomb [MUST ORDER]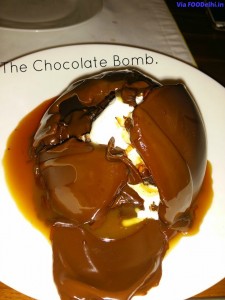 Piping hot caramel is dropped onto a huge Chocolate Sphere, which then melts to reveal a surprise of Vanilla Ice-cream and hot chocolate brownie. The combination of all these flavours is nothing but a feast for your taste buds. This dessert would be the best finale for your wonderful meal the California Boulevard.
Kulfi Bon Bons
This amazing fusion dessert could be called a marriage of Belgium with India. Belgian Chocolate coating on different flavours of kulfi (fig, Nutella and mango). A refreshing take on the classic Indian Kulfi ice cream, this dessert is a must try for all those visiting this restaurant in Gurgaon.
FOODelhi Grade Card
Food
4.5/5
Service
4.5/5
Interiors and Ambience
5/5
Value for Money
4/5
(Approx. ₹ 1700/- for 2 people)