Parmigiano Reggiano, a.k.a the Parmesan is also called the 'King of Cheeses'. This cheese is rare, unique and a powerful ingredient that imparts unmatched taste and aroma to Italian Food.
On 16th September, an exclusive 10-Day exclusive festival was launched at the Award winning Italian Fine Diner, Sorrento Ristorante at Shangri-La's Eros Hotel in New Delhi. The festival itself is a tribute to the 'King of Cheeses' and hence, has emphasis on 12, 24 and even 36-Months Aged Parmesan Cheese as the core ingredient. The spread is curated by the master from Italy, Chef Luigi Ferraro and the very talented Executive Chef Neeraj Tyagi.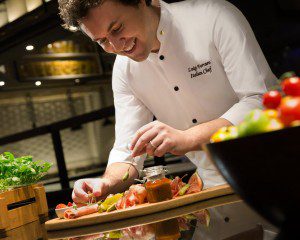 Of course, when there is fine Italian food, there'll be perfectly paired wine with it. Hence, you'll get a selection of paired wines as suggested by the Sommeliers at Sorrento. The menu is available during Lunch as well as Dinner.
Some of the major highlights of this wonderful menu has to be the following;
The Risotto from Sibari with  stewed Leg of Duck- Chef Luigi's Perfection is seen in the form this sumptuous and creamy risotto with Breast confit, Alba truffle pate and a dollop of white 36-months Parmesan Stravecchio Gelato. The aged Parmesan Gelato added that spectacular touch of flavor, complementing the delicious stewed duck leg.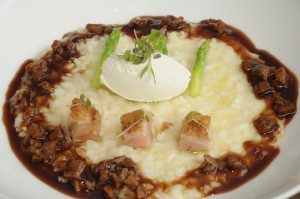 Ravioli stuffed with 24-Months aged Parmesan creme Brulee, morel mushroom, balsamic caviar and micro greens. This one was again a fabulous creation by Chef Luigi Ferrero. The very delicate, fresh made ravioli pasta with very subtle but delicious flavors enhanced by the well aged Parmesan Creme Brulee filling.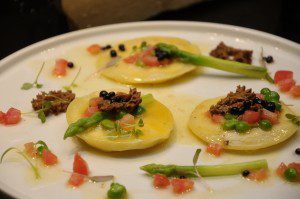 The star of the day was indeed the Sous Vide and Wood fired oven cooked free range chicken, Spinach, 24-months aged Parmesan with Saracena Moscato sauce. First of all, free range chicken is different from the widespread and common broilers that served at almost all the eateries in India, in the sense that is bred outdoors and not in factories. The free range chicken is hence the best quality of chicken one could cook and serve, with the meat being much more flavorful. On the top of it, the chicken was wood fired oven cooked, imparting some spectacular smokey flavors, not to miss the crunchy crust. By far, one of the best chicken dishes I've had.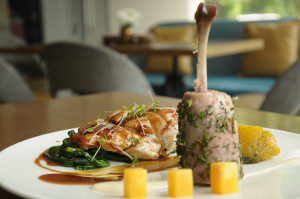 For the dessert, we went drooling for the 12-months aged Parmesan cheesecake and also the showstopping dessert, Pizzo Calabro Tartufo, a truffle shaped chocolate gelato stuffed with 24-months aged Parmesan on a bed of hazelnuts, pistachios and chocolate (so many elements of chocolate and crunch made it an extra ordinary dessert).
All in all, this meal along with the finest Sommelier recommended Wines, and the Parmesan cheese tasting was indeed a very delightful experience. Probably the best Italian food you can have while not being in Italy.
The Parmigiano Reggiano Festival ends 26th September 2016, and is not be missed.
Sorrento Ristorante Avg. meal Price for two: ₹ 5,000/-