A visit to Dhaba By Claridges in Cyber Hub was a satisfying in many ways. First thing that comes to your notice is the way whole restaurant is designed to give the look and feel of an authentic Punjabi Dhaba. From cutlery to cocktails, everything indeed has the Dhaba feel to it, making your dining experience manifolds better. The food is made with the highest grade of precision, quality and craft and you'll find hardly dish that tries to pull off a gimmick. Every dish on the menu is more or less authentic in all aspects, be it the taste or presentation.
Shuffling through the pages of their drinks menu, I stumbled upon a cocktail called Gulaabo. This one is the Dhaba version of a classic LIIT and I must say it was much better than a classic LIIT, the twist of Kaala Khatta and mild fragrance of rose made this drink excellent. It was served in a Batli (the ones usually carrying desi alcohol).
For the starters, I ordered the Highway Chicken Tikka. Served in an oval steel plate, with a side of fresh cut onions, the quantity of this one was amazing. The taste? I must say I was impressed. The succulent and pieces of roasted bone less chicken marinated in a spicy preparation (just like a classic chicken tikka that would be served at any highway Punjabi Dhaba, with a twist of of course, highest standards of quality).
I also loved the way the servers bring to you, a plate of onions and chutney, again a gesture  directly imported from any authentic Punjabi Dhaba.
Then it was my turn to try the ever so famous Mutton Galoutis. These also had all the elements of a perfect galouti kebab. The slightly charred crust, the delicate and melt-in-the mouth texture leaving behind a spicy and smooth after taste.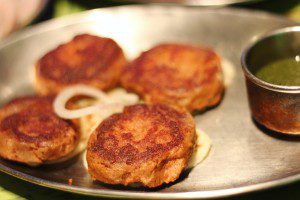 After these two appetizers and a glass or two of Gulaabo, I was indeed prepared for the main course, and I was quite clear about my choice and hence, did not ask for the menu. The Punjabi essential, Butter Chicken and Garlic Naan was ordered without any regrets at all.
I am somewhat sure that the combination of Butter Chicken and naan was set by the food gods in the foodie heaven, the glimpse of which I did receive after every bite of this super satisfying combination. I absolutely loved the Butter chicken at Dhaba By Claridges and highly recommend it to all the Butter Chicken lovers and also to those looking to try it for the first time (if at all there is anyone in Delhi who hasn't tried this heavenly dish).
The team Dhaba should be applauded for not diverting away from their focus cuisine, no matter what course of the meal we talk about. For this reason, you won't even find a single western dessert in the desserts' menu.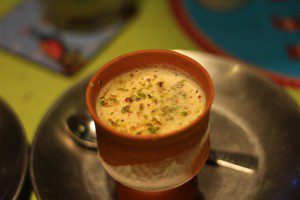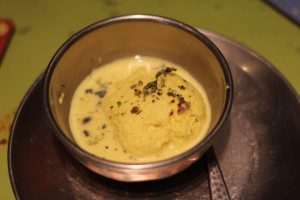 The spectacular Bailey's Kulfi is another highlight at Dhaba by Claridges. This home made Indian ice-cream with infused Bailey's had an amazing cloudy texture on the top (kind of like rabdi, also the part with the garnish of dry fruits) and hence it is not chilled in temperature, however the kulfi is chilled when you scoop the middle of the serving. The combination of both of these layers create a symphony of sweet, aromatic and earthy flavors. Another must-try from their amazing menu, you just can't call it a day at Dhaba without having a serving of this amazing freshly made Kulfi.