We all have been enticed by those really satisfying pictures of fried chicken and dips well stacked in metallic platters, mostly seen on Instagram. Hitherto, it was quite difficult to find such deep-fried deliciousness in Delhi NCR. Not that there aren't any good fried chicken options here but then we have to agree that there aren't any premium, International level options for the same either. Things change for the greater good of chicken and waffle lovers with the entry of American Waffle & Fried chicken brand 'Bruxie'. For the first time in India, the outlet opens its doors for the Indian market with their first outlet in India at Delhi NCR's shopping destination- Ambience Mall Gurgaon.
Launching with wordclass fried chicken and waffle sandwiches, the brand aspires to fill the void in the market that existed due to lack of premium, world-class fried chicken and waffle-under-one-roof places.
With a fantastic number of home-made dipping sauces at offer (7 to be precise), the extremely high quality fried chicken tenders will win your hearts. Each piece comes with a super crispy crust and excellent quality tender and succulent chicken. My favorite dip has to be the homemade 'ranch'.
Talking about the groundbreaking introduction that Bruxie brings with it is the maple glazed fried chicken that becomes a part of their hearty and filling waffle sandwiches. We tried the Super Cluck variant and it came with bacon, melted cheese, bacon and of course, the signature maple glazed fried chicken crust. It is an out and out burst of flavors and the perfect way for you to enter the delicious world of savory waffles (something you have to eat to believe).
Apart from these 2 fantastic categories, there are a good number of sides at offer. The fries were good but the tots were my favorite.
The dessert waffle options are limited and that in a way works in the favor of the experience. We tried the Nutella and Banana waffles and they were so light, crispy and delicious. Couldn't stop at the first bite.
Everything that reaches your table is freshly fried or baked (in case of waffles) so don't expect it to be a fastfood experience. Consider Bruxie as restaurant experience that specializes in fried chicken and waffles and it is not designed in a typical QSR format. Your order might take a little longer but what arrives your table will be worth the wait. Piping hot, fried chicken, burgers and waffle sandwiches with an array of fresh ingredients and an International appeal that will also sit well on the Indian palate.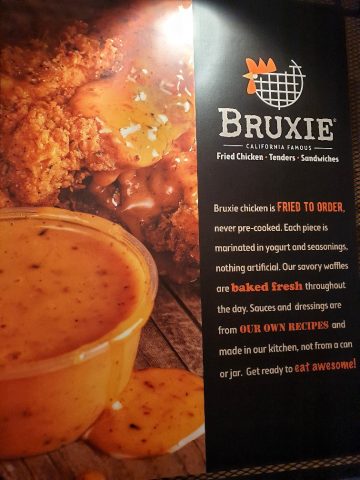 Where? 3rd Floor, Ambience Mall, Gurgaon
Opens: 22nd Jan 2020 (Please confirm with the outlet)