Do you like to party? Do you like to click Selfies? Do you like to click selfies while partying? Well, Rajouri Garden B.K. Dutt Market has just the place for you.
Move over Hauz Khas, Check out Rajouri Garden Party Scene in Delhi
For a long time now, Hauz Khas and the HKV has dominated the Party Scene in Delhi. However, things are changing. Amazing clubs and Cafes are emerging at the leading markets like Rajouri Garden. With the opening of the newer cafes and clubs focusing on the 'Party' aspect of fine dining, Delhi would soon witness an usher of new and happening places, not necessarily in Hauz Khas area, or, even not only in South Delhi or Gurgaon. Party Scene in Delhi (west) is picking up with great speed.
The newly opened Cafe Foto Clubs has an amazing concept around which the new party place has been launched. As the name suggests, the place is all about partying and photographs. From door knobs to walls, the whole place will surround you with Cameras and Polaroid replicas. Apart from the fun and frolic of food and drinks, clicking pictures is one the major upcoming social conventions that have already made their way into the human party scene. Now, when the theme of the party place/club is itself, 'Photography', even the shiest of people would not hesitate before turning on the front cameras of their smart-phones. Party scene in Delhi is now getting us to witness some really interesting concepts like Cafe Foto Club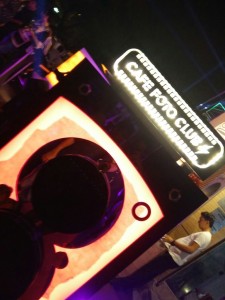 All about Cameras? NO!
Indeed, the theme is polaroids and photographs, but, at the end of the day, it is a full-fledged cafe and bar. Hence, gourmet food and innovative drinks are not hard to find here. The FOODelhi team had a chance to sample some of these at the Cafe's opening bash and indeed, we could hardly find any flaws with this new party place in Rajouri Garden. The sheesha was also the USP. Once we visit the blogger's meet at the place, we would bring to you the crisp and clear food pictures and the review of the food part of this amazingly conceptualized cafe called the Cafe Foto Club. Below are some of the pictures we were able to take at the super fun opening bash.