Amidst a plethora of options for Delhi University students and foodies around the Hudson Lane, GTB Nagar, there are very cafés that actually stand out and strive to provide eating options that are not only delicious but also well-thought-of and prepared with passion along with out of the box thinking. This is where The University Bistro enters the DU Food Scene. It is indeed the café we needed, the one that stands out and serves passion on a plate.
What's Awesome About The University Bistro
As soon as you enter the café, you couldn't help but notice the quirky and inspiring wall art. With art works that give out a message, to the best moments of your favorite sports stars. I like how they put up great thought behind the designs that look good while giving out a message for the young patrons and inspiring them.
Another awesome thing about TUB, the super awesome Live Pizzeria. Now, we all know that Pizza is Life, however, at TUB, the Pizza is Live! (Pun game strong?).
The University Bistro for the Food Lovers
Coming to the main aspect that makes us dine at a place, FOOD. (Captain Obvious to the rescue).
We are the students, all we need is comfort food and comfortable prices. The University Bistro solves that problem like a boss because they serve all the snacking essentials like Nachos, Sandwiches and Pastas at super affordable prices. However, the low prices do not come with any compromise of either quality or quantity.
TUB is an out and out multi cuisine restaurant and hence, you can take your taste buds to Mexico one moment (delicious and super filling Burrito) and to Turkey, the other moment (Mezze Platters).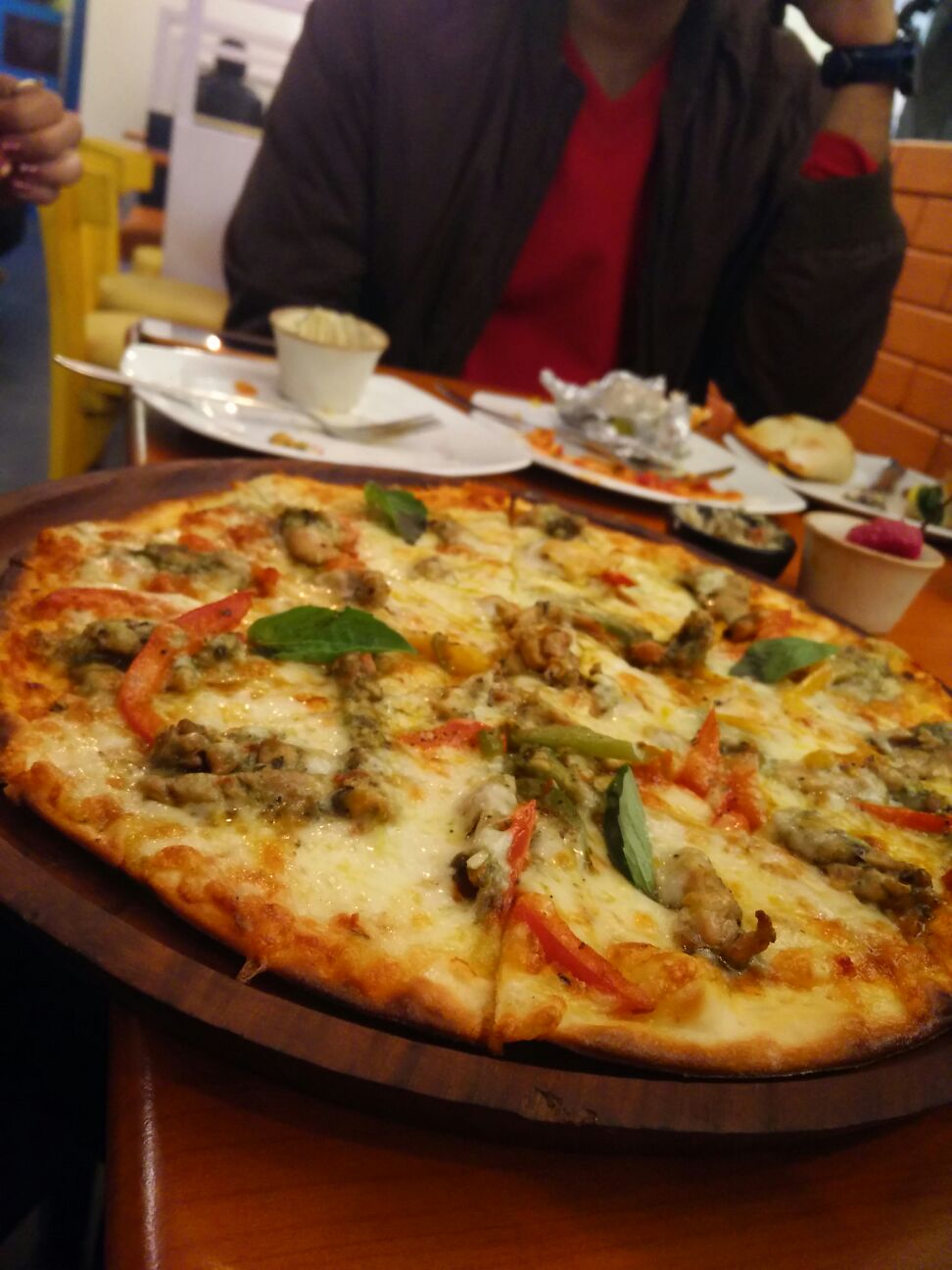 As we've already mentioned, they make Pizzas right in front of your eyes. Thin crust goodness topped deliciously cooked pesto chicken pieces, this is the pizza we got to taste and it was Delicious. They serve a wide range of variants (both Veg and Non-veg) of Pizzas. They also have their own range of toppings, pizza dips and sauces to augment your pizza experience.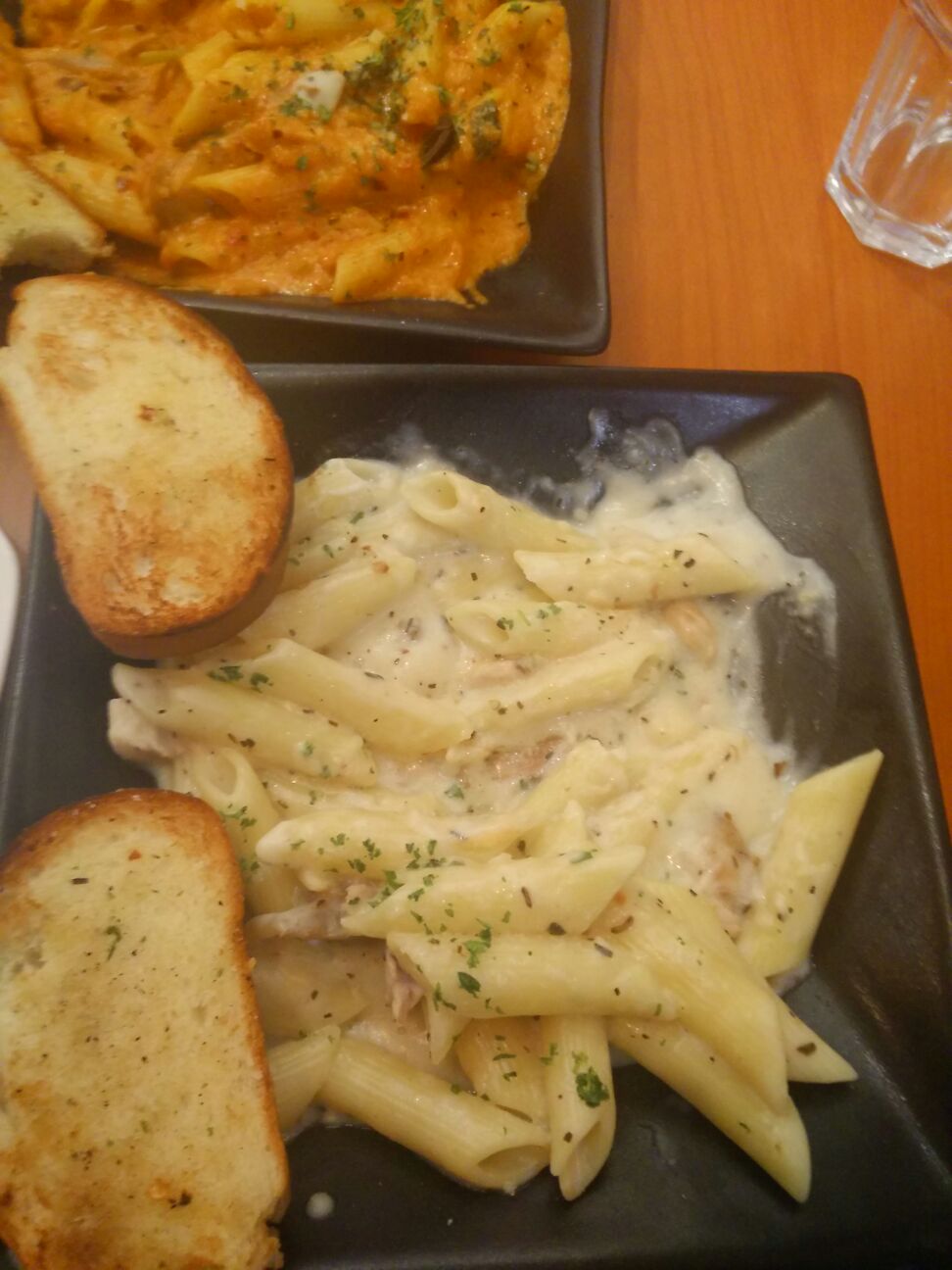 Pasta Essentials are done right at the University Bistro. I tried the Penné Arrabiata (Red Sauce), and the sauce was chunky (just as I like). Being a fan of White Sauce pasta, I had to try the Chicken White Sauce pasta and I wasn't disappointed at all. Yummy chunks of chicken and pasta well cooked in filling cheesy white sauce.
I also ordered a cocktail chicken sandwich: Properly Grilled White bread sandwich stuffed with a delicious filling of onion, capsicum and chicken. This hearty sandwich was served with crisped nachos and a tasty dipping sauce. I was in instant love with the sandwich. A little more pieces of chicken and I would have literally eaten perfection (the feedback has been given to the restaurant and hence, more chicken for sure in your sandwich).
The Wellington Style Pizza was something totally new and I had never seen it before. It is a type of inside out pizza pie with puff pastry crust filled with a cheesy filling.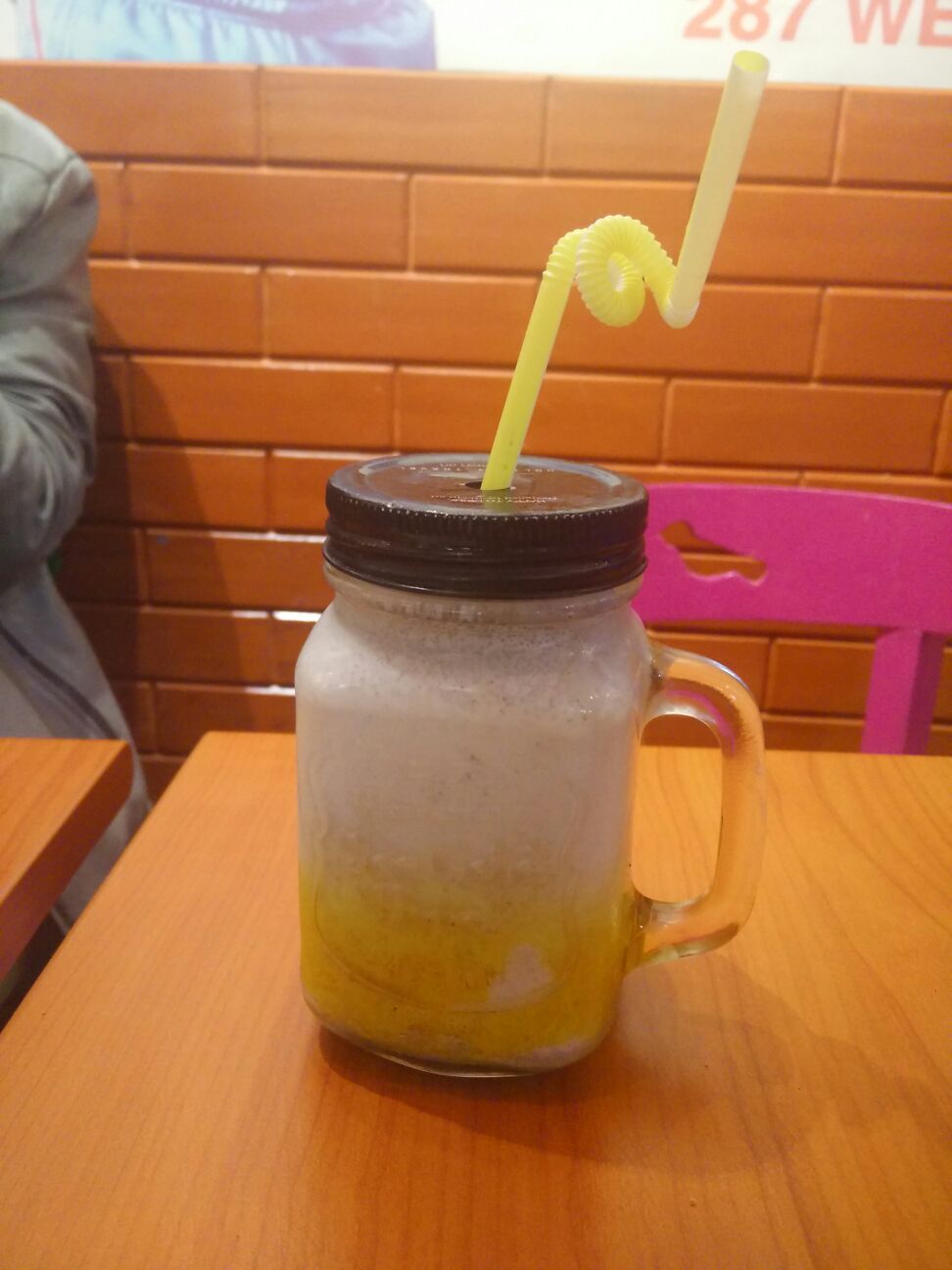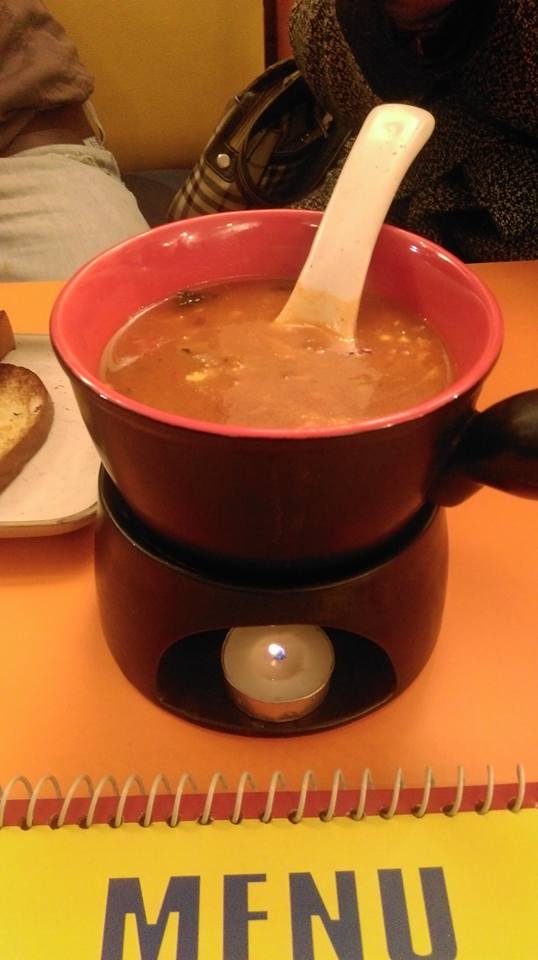 All the soups were served hot and to help them retain the warmth, they were served in innovative dishes with each one having a small burning candle below the bowl. Just the thing you need for winters. If you don't like it hot, just go for their scrumptious and chocolatey shakes. I personally loved the Oreo Vanilla Shake (served in a cute little mason jar).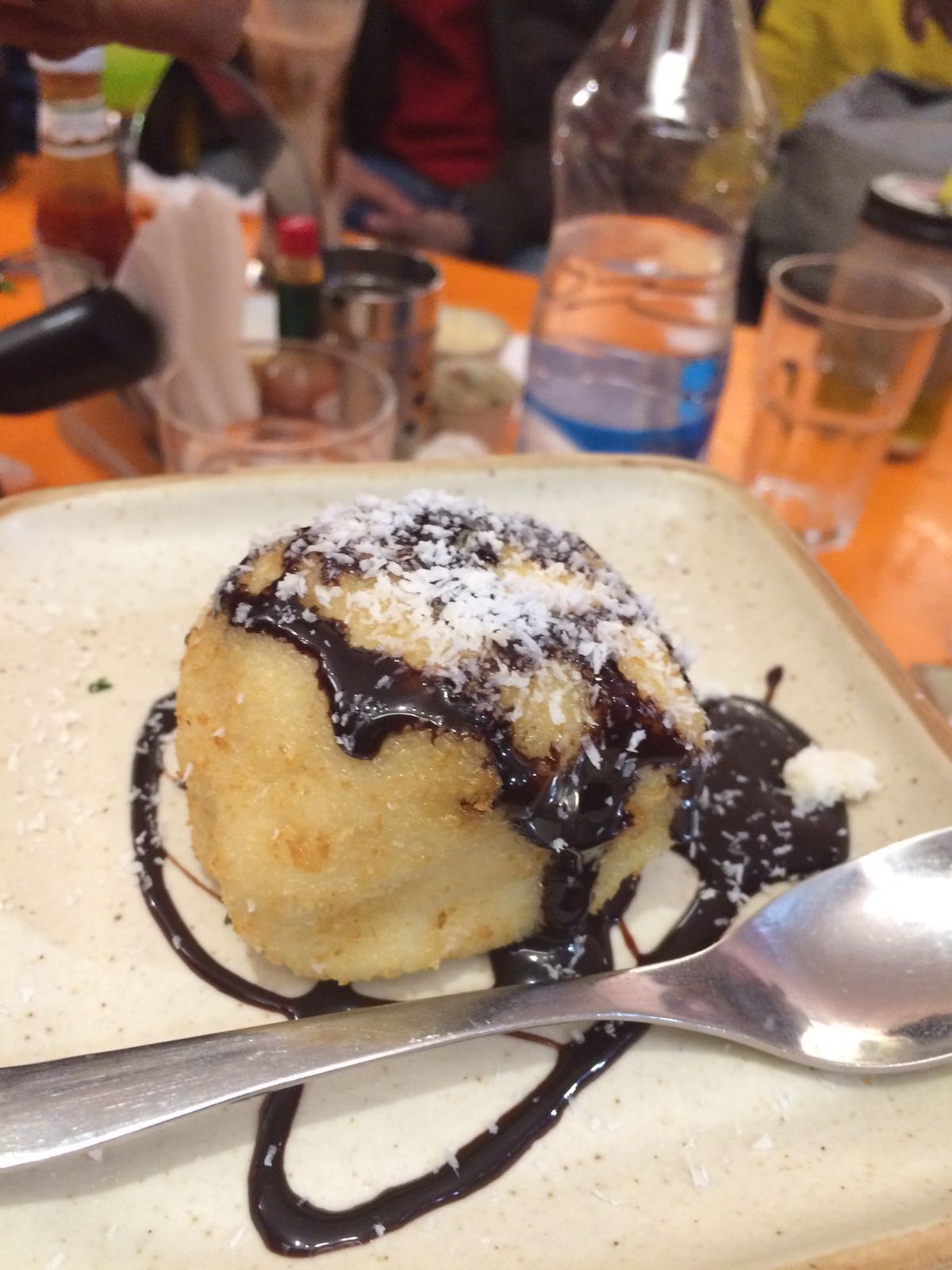 For desserts, the out-of-the-box fried ice-cream won all the hearts at the table, with it its crispy fried crust filled with warm vanilla icecream and topped with coconut shellings. All in all, a delicious, sugary and coconutty dessert. I personally loved the chocolaty brownie filled Choco Cigar rolls. Fried stuff anyday goes well with chocolate.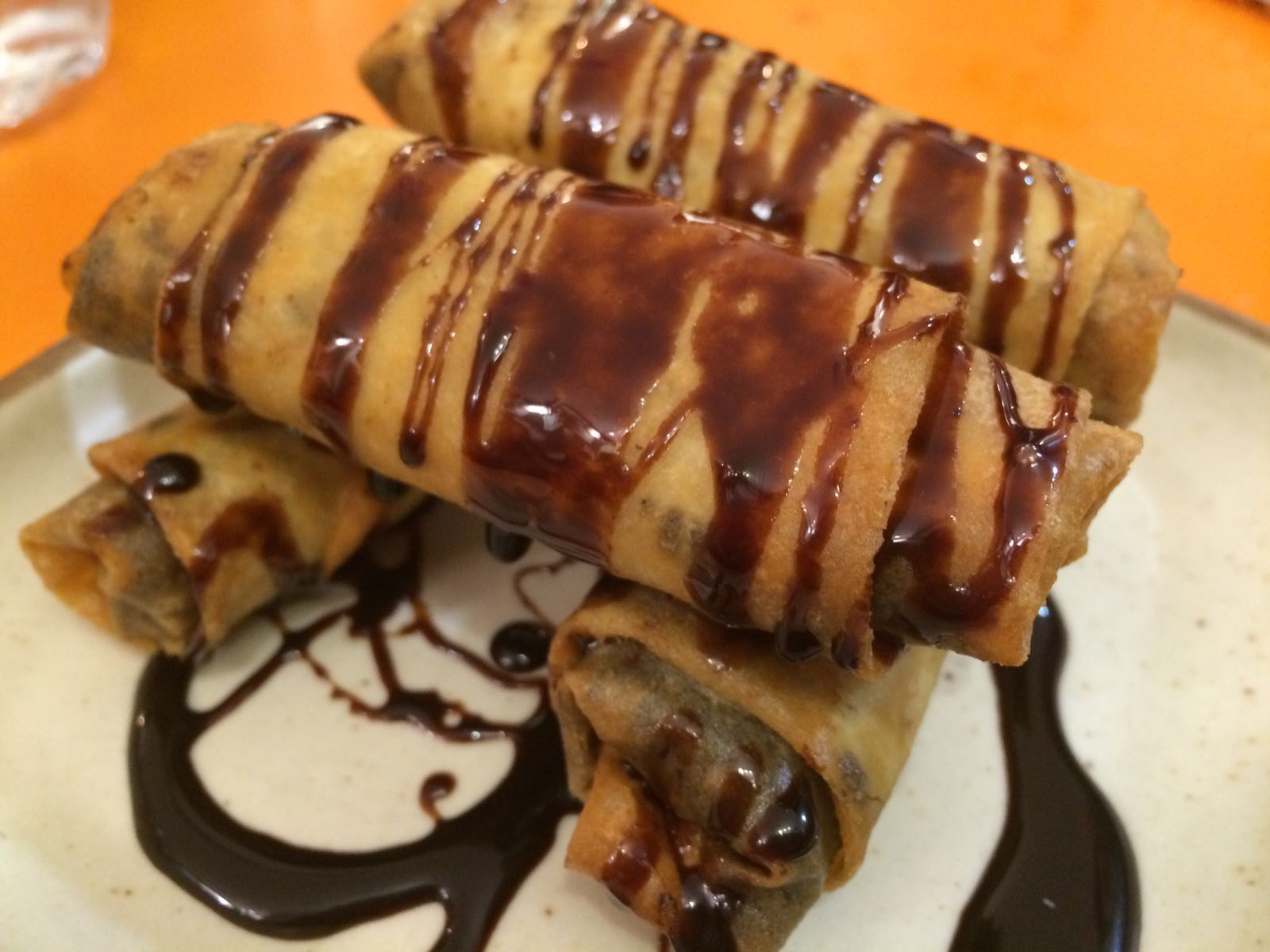 Kudos to our host, Mr. Sidharth Bhan Gupta and hats off to the whole staff at the University Bistro for serving us so well. The University Bistro is a quirky, fun, refreshing, out-of-the-box and super pocket-friendly multi cuisine restaurant. One visit would be enough to make you come back for more and more.
FOODelhi Grade Card for the University Bistro
Taste– 4/5
Service– 4.5/5
Value for Money– 5/5
Ambience– 5/5