Shawarma is known to be a delight from Lebanese cuisine
. It is a dish centered around shredded chicken flavored and cooked with some sumptuous spices and served with a pita bread or inside a roll, depending on the place you choose to have it from. The Shawarma could easily be described as flavor bomb for your taste buds. The Indianized Shawarma isn't a familiar term and I am probably the first person to use it. But the fact remains, the Shawarma available in most of the street joints in Delhi, is actually unofficially tweaked to meet the flavor and spice cravings of the Delhiites.
Street Food Shawarma in Delhi
The street food Chicken Shawarma in Delhi differs from the conventional Shawarma, in both size and preparation. From what I witnessed with my experience, the Indianized street Shawarma is smaller in size as compared to authentic shawarma. The texture of fillings is also different. While having the authentic Lebanese Shawarma, you would find the chicken filling to be more chunky and a bit bland in itself. Whereas, the filling in the street Shawarmas of Delhi, has a minced texture to it. Due to the minced nature of Delhi street Shawarma chicken filling, you could actually see that the spices mix well and hence your taste buds have a chance to relish a more spicy and flavorful experience.
The Delhi street Shawarma is mostly served with Mayonnaise which is sometimes coupled with a green tangy chutney(mint based)
Try it out at the best Street Joints for the Dilli Wala Shawarma: –
1. Al-Bake in New Friends Colony for sure tops our list of joints serving sumptuous street Shawarmas in the capital. Served with a Mayonnaise and a tangy green chutney, the hearty and flavorful Shawarma filling in each roll of Al-Bake's chicken Shawarma would surely leave you craving for more.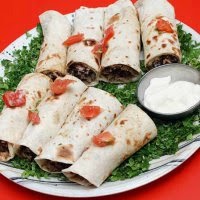 The best street-style Delhi Shawarma at Al-Bake, New Friend's Colony
Image- Zomato
2. Shawarma King in Karol Bagh is a fairly new entrant in the sphere of street food joints but nevertheless, it has remained there for enough time to make a niche for itself in the group of joints serving sumptuous street style Shawarma in Delhi. The chicken filling has a decent doze of butter and that is why we call it the typically 'Indianized Chicken Shawarma',
The King's Shawarma in Karol Bagh
3. Hunger Strike in Amar Colony, near Lajpat Nagar is rather famous for the delicious Tandoori Momos(served with 3 different types of dips) that are so hearty and flavorful, that you are bound to have a foodgasm. They also serve the much talked about Delhi street Shawarma which is worth a try if a plate full of 8 Tandoori Momos is not enough to put an end to your hunger-strike.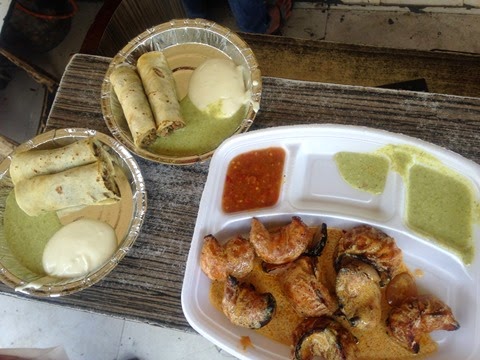 Shawarmas and Tandoori Momos at Hunger Strike, Amar Colony.
Image Credits- TheBhelPuriBlog
Authentic Shawarma in Delhi
The authentic Lebanese Shawarma has its own perks. The chunky chicken shreds have a smoky flavor to them because those shreds are flame grilled to perfection. The taste of the chunky chicken, in turn goes well with the veggies(cucumber, beetroot and lettuce) and the Hummus plus the Tahini sauce that you would find inside an authentic Lebanese chicken Shawarma roll. You can savor upon authentic Shawarma at any Lebanese joint in your neighborhood mall or also in the upmarket cafes like: –
The Warehouse Cafe, CP
Ricos, Hudson Lane
The authentic Lebanese Shawarma served at a small food-joint adjacent to PVR Saket is also worth a shot because the Hummus they serve(quality plus quantity) is amazing.