Momos have taken the Delhi street food by storm. Not only in the street food scene, this delicacy has become largely popular in the Cafe Bar culture of India as well. You can guess the popularity of this wrapped delicacy by the fact that on my trip to a remote village in Uttarakhand, I found that Momos were popular in their street food scene as well. Well, coming back to the Capital, here are where I found the Best Momos in Delhi;
Best Momos in Delhi- Where to Find Them?
1. Darjeeling Momos in Old Rajendra Nagar [Cart Closed on Current Location as of November 2021 🙁 ]   
This small little stand right next to a Pan Shop in Old Rajendra Nagar has been an all time favorite when it comes to enjoying Momos. Although not uniform or well shaped, these gooey momos are loved by the locals because of the tasty and crunchy oregano sprinkle, the mildly spicy and thick sauce and of course, the mayonnaise.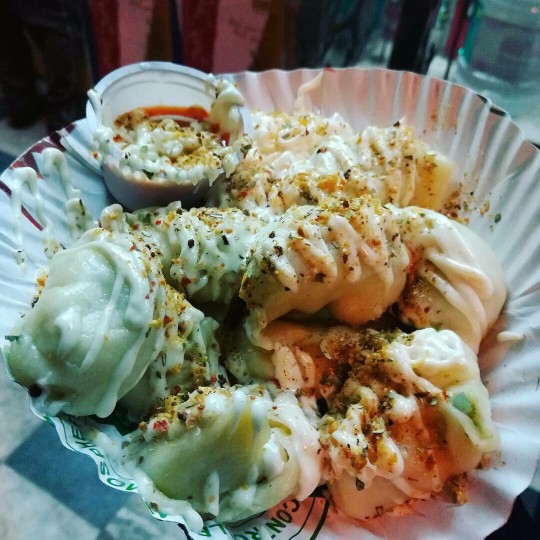 Price: Rs. 50/- A Plate (Paneer Momos are better than the Chicken Momos served here).
Nearest Landmark: Dukes Pastry Shop
Nearest Metro Station: Karol Bagh
2. Aunty Momos in Amar Colony
Now there have been debates about who serves the best momos in Amar Colony, is it Aunty Momos or Dolma Aunty Momos? Well, I discovered only the former one and haven't felt the need to shift to any other stall to enjoy the best Momos in Amar Colony (only for steamed momos though). So these momos are particularly loved because of the fine quality and hearty quantity of chicken. Chunky from the inside, these momos are served with fiery sauce, mellowed down by the creamy mayo.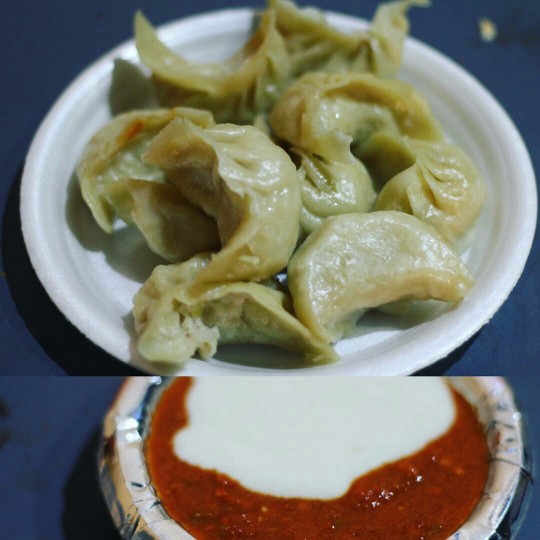 Price: Rs. 70/- A Plate (Chicken Momos are the tastiest)
Nearest Landmark: Amar Colony Market
Nearest Metro Station:  Moolchand
3. Hunger Strike in Amar Colony
[Update: Quality not as same as before but still worth a try I guess] Amar Colony is buzzing with great momo options, and if you visit this market near Lajpat Nagar, chances are that you'll surely get to eat at least one of the best momos in Delhi. This one makes the cut for creamy, piping hot and crusted Tandoori Momos. Hunger Strike has redefined this dish and surely has a lot of takers (you can see that by the increasing prices every now and then). These served with Red chutney, mint chutney and they'll give you a spoonful of mayo on request.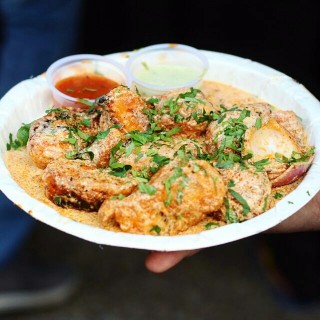 Price: Rs. 110/- 130/- 200/- A Plate (The last time I checked)
Nearest Landmark: Amar Colony Market (Near Cafe Coffee Day)
Nearest Metro Station:  Moolchand
[ALSO READ: Best Chicken Shawarma in Delhi]
Nearest Metro Station: GTB Nagar
4. MomoTarian [Update; Permanently Closed]
Now, this is a newly opened small cafe in Hudson Lane DDA Market, serving a HUGE variety of momos in Delhi(along with sandwiches, quesadillas and more). Very easy on the pocket and supreme on the taste, we highly recommend MomoTarian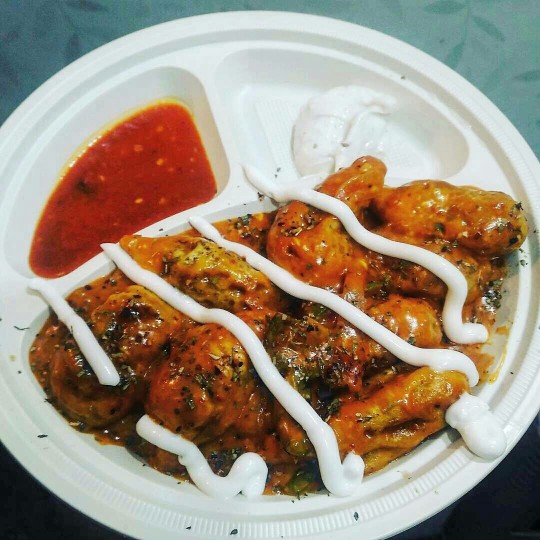 Nearest Landmark: GTB NagarHudson Lane, DDA Market
Nearest Metro Station: GTB Nagar
5. Cafe Brown Sugar
This cafe needs no introduction for South Delhi-ites. Their highly famous wheat momos (steamos) are delicious and filled with high-quality chicken. The very tangy chili dip is perhaps the USP of the momos. They have recently launched tandoori varieties as well. Probably the highest priced momos in this list, but worth each penny (considering the quality and taste).
Locations: GK 1 and DLF Promenade food court (Vasant Kunj)
Love Street food? You may want to checkout this awesome video then!