Oilve oil is definitely very popular in the Italian style of cooking. Even in India, this healthy oil finds its place in the kitchens of top restaurants, be it stand-alone or five-stars. However, when it comes to the daily Indian household cooking, use of a healthy cooking oil has always been a quest. Olive Oil and its health properties have been accepted by a majority, but the oil itself hasn't been able to penetrate into the household kitchens of our nation.
This is where the entry of Oleev Active Oil from the house of Modi Naturals changes things. We finally have an option of opting for a healthy oil with the goodness of Olives for everyday Indian cooking (a breather for all of you trying to introduce a healthy cooking oil to your kitchens without the objection of the head of your family and head-of-the-kitchen, usually mothers). Oleev Active Oil is specially created to fulfill the demands of modern lifestyle.
Why is Oleev Active Oil a Healthy Cooking Oil
Excellent for frying and deep frying. This is possible because of the extremely high smoking point of Oleev Active Oil.
Cooks healthier food because it prevents fatty acid breakdown at high temperature.
Lighter and Less Oily Pakodas and Puris: absorption of this healthy cooking oil is up to 20% less. This means that same good old tasty Indian food but with lesser calories.
[Also Read: Amazing Italian Food in Le Meridien Gurgaon]
The Taste-O-Meter Taste Test for this Healthy Cooking Oil
I recently attended a tasting session with some delights cooked in Oleev Active Oil at Beeryani, GK-2 M-Block. And, I am still not over the delicious biryanis that we were served here. Who thought that one day we would be able to eat a rich and tasty Biryani cooked in a healthy cooking oil with the goodness of Olive Oil. Other tasty delights; Achari Soya Chaap, Murgh Afghani. The other favorite of mine, Moong Dal ka Halwa, the perfect winter dessert cooked in this healthy cooking oil; brilliant flavors and the perfect sweetness. It was hard to believe that this delight wasn't homecooked.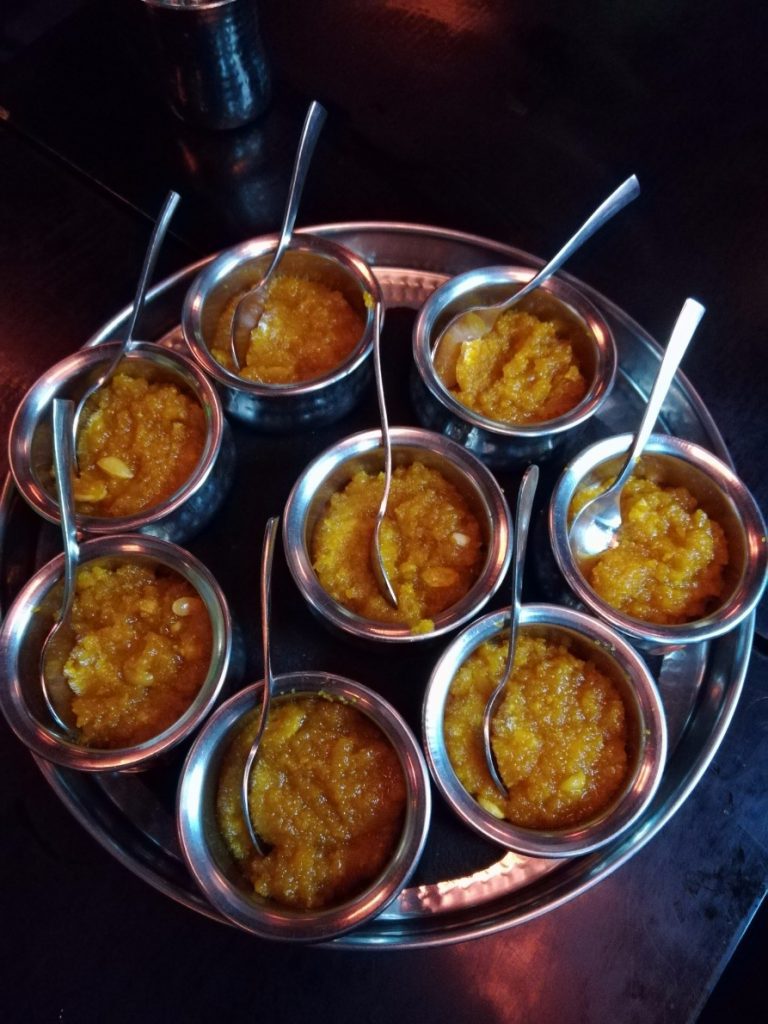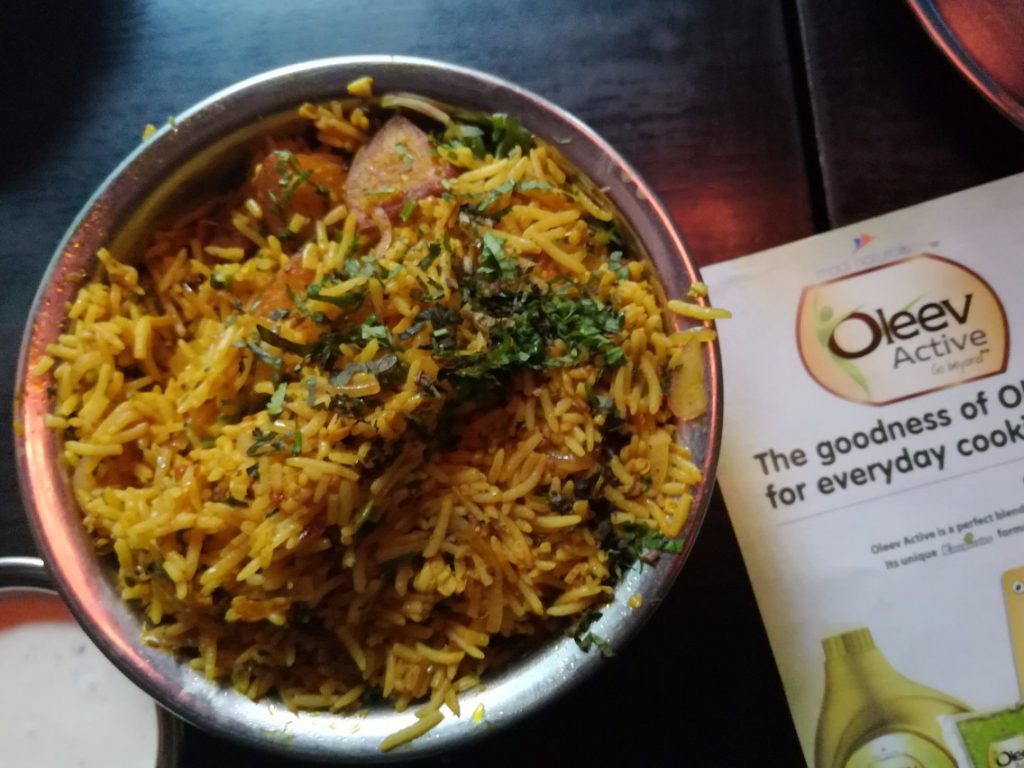 Trial Run at Home, Mom's Verdict for Oleev Active Oil
I was surprised when I was served Aloo Puri at home because I usually don't prefer to eat oily food. But, my mom did send in a message along with the plate. The traditional Indian dish was cooked in the newly purchased Oleev Active Oil. No wonder that the Puris were tastier and comparatively less oily and so was the case with the Aloo Subzi. Since Oleev Active Oil has a highly neutral taste, I was easily able to taste the spices and flavors of the Aloo subzi.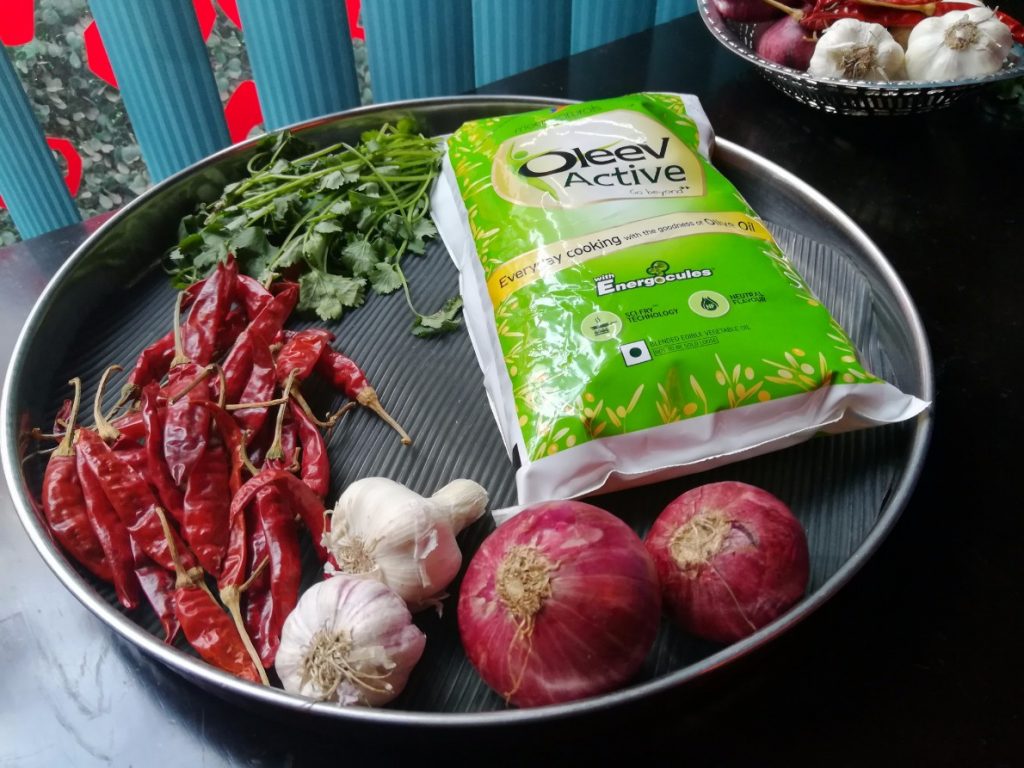 All in all, OleevActive Oil is indeed a second chance for our Indian kitchens and families to adopt a healthy cooking oil without compromising majorly on the taste and budget. It also comes with an Oil-o-meter so that the oil usage is tracked easily (great for monitoring and rationing of maid/cook handled home kitchen)