Indian Street Food Festival at Capers
The outskirts of East Delhi have been blessed with a refreshing new property in the form of Hotel Golden Tulip. With a host of Banquets, Bars and Grill Rooms, they also have a Multi-Cuisine Fine Diner called Capers. Located on the 2nd Floor of this classy property, Capers is now hosting the all time foodie-favorite Indian Street Food festival, every weekend for the coming two weeks.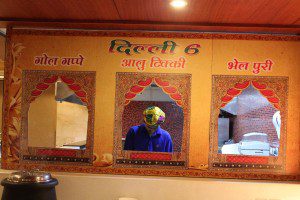 The restaurant and the decor is inspired by the Chaat shops of Dilli-6 with a hint of Rajasthan reflecting in the showcased props. Hence, at the comfort of impeccable service and utmost hygeine, you can savor the yummiest Street Food delicacies like Pyaz Kachodi, Samosa, Bhel Puri, Aloo Tikki, Gol Gappe and what not.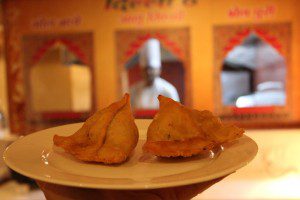 Our meal started off with a very delicious Pav Bhaji which distinguished itself from the other versions tasted elsewhere. The Pavs were super light and soft (bun variant of cotton candy?) Which went really well with the Bhaaji full of delicious chunks of Paneer and Onion. The tiny buns ensured that even those who binge on the dish, they'd have enough space to gorge onto the other delicious items in the menu.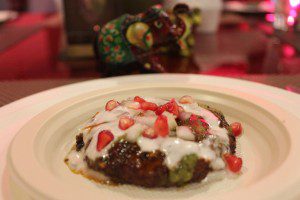 The all-time favorite, Aloo ki Tikki is also a part of the exciting desi-street food Menu at Capers, Golden Tulip Vasundhra. The Chef's special tikki was fried in the highest quality vegetable oil which imparted a certain lightness to the otherwise super oily street delicacy. It was wonderfully presented with a pour of some yogurt and tamarind chutney. The use of Pomegranate ensured a natural crunch and sweetness to the tangy fried tikki and the rings of onion added a yummy kick, creating a mosaic of flavors for the taste buds.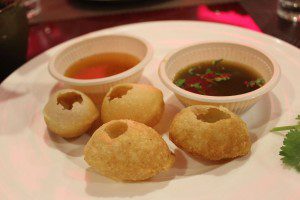 We also grabbed a couple of other bites like Samosa and Chhole Kulche and ensured that most of the items on the menu are awesome. When you get tired of these yummy Indian Street Food savories, you can go for the buffet spread. We loved the Paneer Lababdar along with freshly made Garlic Naans. The salad bar also has an Indian street style touch to it. There was a Fried Idli Chaat which we thoroughly enjoyed. The whit chana South Indian style salad was also yummy with the boiled chickpeas, mustard seeds and coconut.
The Desserts which were a part of the lovely buffet spread, were spectacular. One must try the Orange Souffle, Lemon Tart and the Chocolate Brownies.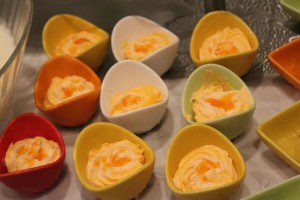 It was indeed wonderful to see all the Street Food delights brought under one roof, and if that wasn't enough, the following Buffet also succeeded in impressing us and our foodie senses.
So, what're you waiting for? Go ahead and enjoy a lovely meal of evergreen street food delights, at the comfort and feel of the lovely ambiance at Capers, Golden Tulip Vasundra.
Nearest Metro Station: Vasundra
Date: 9th-10th July 2016,  and the following two weekends
Location: 2nd Floor, Hotel GoldenTulip, Vasundra