Very few restaurants are created with their hearts at just the right places, and Yum Yum Cha (now open at Cyber Hub, Gurgaon) is one of them. The Origami themed restaurant serving the finest Japanese Cuisine in Delhi NCR, has interiors that are vibrant and brimming with colors. The ceiling centerpiece is endowed with a beautiful origami (Japanese paper folding art) artifact, the walls are full of small simplistic origamis drawings. The whole vibe is rejuvenating and you can feel your inner kid calling out and forcing you to order more dimsums than you can eat (FOODelhi is strictly anti-wastage btw).
The Dimsum Journey at Yum Yum Cha Cyber Hub
So there started the journey of our taste-buds to Japan. We tried 5 different types of Dimsum which are at offer on their wonderful menu. Chicken and Chilly Oil dimsums were beautiful to look at, presented inside steel tiffin-boxes, I wondered what life would've been like if mommy sent me dimsums like these in lunch, when I was a school-kid. Well, enough of the wishful nostalgia, the present time is already very awesome because we got to taste these scrumptious dimsums. Flower shaped steamed dumplings filled with yummy succulent chicken filling, lightly tossed in and topped with the spicy chilly oil (not to mention, there were micro veggies for garnishing).
The same way, other variants of the mesmerizing dimsums arrived at my table. The Pink Crab dimsums were the one I really looked forward to, and they surely didn't disappoint. Tiny dimsums filled with fresh crab meat shreds with a hint of beetroot (that's where the pink color came from). This dimsum is a delight for all the crab lover and also for those who want to try this delicious sea food.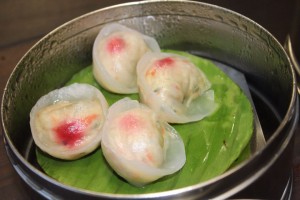 The Crystal Duck Dimsum was perhaps the most flavorful of the lot, it had a range of sweet and spicy flavors which was no less to the taste buds than what a symphony is to the ears. A delightfully prepared dimsum with a filling of pecking duck and cherries.
Prawn Curry was another flavor burst dimsum. Freshly steamed dimsum topped with corriander and Yellow curry. The aromas in this one were spectacular and the taste more so.
Ever thought what'd it be like to eat a cloud filled with Bar-be-que pork? Well, Char Siu Bao was an experience similar to that. Freshest of rice buns filled with the BBQ pork. With its flavors a bit on the sweeter side because of the BBQ seasoning, this one was still thoroughly enjoyed, especially because of the quality of buns.
The Dimsum Journey didn't end there…
Takoyakis a.k.a Japanese Style Fried Dumplings. We opted for the Octopus filling, and we LOVED it! The crispy crust and the tempura garnish, the smokey flavor and the spectacular Octopus (mixed with the batter before the dumplings were prepared, so don't expect chunks but a burst of seafood once you bite it off or eat in one go. The garnish of spicy mayo and tempura bits added a lot to the experience.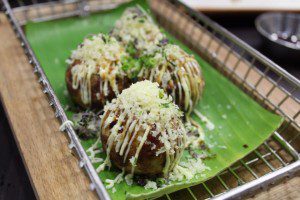 We also enjoyed the *Spicy Prawn Cheung Fun Rolls*
Spicy Prawn Meat Wrapped Inside Rice Noodle Rolls and then immersed in the signature style soya sauce.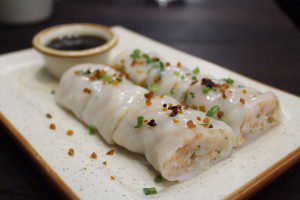 Pizza, the Japanese Way at Yum Yum Cha Cyber Hub
The Japanese Pizza, having a focus on flavors and meat, is a wonderful getaway from the usual cheese oozing baked awesomeness which we're used to. Topping we chose was Pecking Duck. So, the Pizza was assembled with Roasted duck as the topping (consume immediately because the duck tends to get chewy if left in the open for long), onions and the pungent Hoisin Sauce (a dark colored preparation). The Hoisin sauce imparted some delicious sweet and salty flavors which complemented the roasted duck (a very flavorful meat itself) and onions.
Soothing Sushi Experience
If you're a fan of Sushi, Yum Yum Cha is one of the best places in town to have the same. We tasted three different variants, even a vegetarian one and all were delightful. The asparagus tempura, the only veg sushi we tried during the tasting session, was a surprising winner. The simple concoction of Tempura fried asparagus, chillies and mayo made for a delightful sushi. Another favorite was the Volcano, a sushi consisting of tuna, scallops, ponzu (a Japanese sauce), spicy mayo and tabiko (tiny crunchy fish eggs). Dynamite was the sea-food version of Asparagus Tempura, with Salmon and Prawns Tempura, I personally loved the Asparagus Tempura more because of the perfect crunch and also because it went wonderfully well with the sushi rice.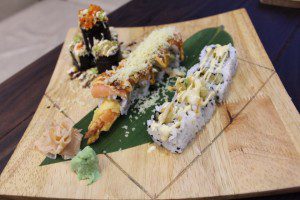 This sushi platter was served with a bowl of Sashimi, very lightly seasoned sliced fish. We tried Shake i.e. Salmon, Maguro i.e. Tuna and Hamachi Jalapeno i.e. yellow tail.
Tiny Bites at Yum Yum Cha
I got to try what went on to become the most flavorful seafood I ever tasted, Kalamari. So, this was in a dish mentioned as Shakes in which Tempura fried Prawns and Kalamari pieces are shaked together in a jar with a tangy garlicy buttery preparation. The taste of Kalamari meat was easily overpowering the taste of the prawn meat, the coating obviously tasted similarly delicious.
Desserts at Yum Yum Cha Cyber Hub Gurgaon
Japanese style ice cream i.e. Mochi with some unique flavors like Matcha Green Tea. Well, as weird as it may sound but the flavor of Matcha Green Tea in ice cream was actually a very delicious one, especially with the chewey yummy outer layer of mochi ice cream. Also in the platter, the second flavor of Mochi Ice cream was the Rocky Road (chocolaty, nutty and creamy). Had a wonderful experience trying this unique and delicious dessert at Yum Yum Cha, Cyber Hub.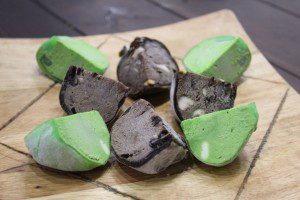 Soft cake rolls filled with Banana & Marscapone, and then topped with Caramel and Puffed Rice well that is what constituted the incredible Banoffee Sushi.