There is a plush green and serene property in Delhi where you can take your date or family to, for an experience that'll be a worthwhile getaway from the busy roads, markets and malls of this smoked city of ours.
Lodi- The Garden Restaurant is easily one of Delhi's most beautiful restaurants where space and air both are in plenty.
Lodi- The Garden Restaurant, An Experience to Remember
Moreover, air won't be the only fresh thing here as most of their ingredients are also equally fresh. Owned by the famous Sewara Hospitality Group, which has a couple of Relaxation Havens for Travellers in India, send farm fresh vegetables, fruits and spices to the Chefs at Lodi and they make sure that these are used in the dishes that are prepared at  For this reason, the Mangoes in our Mango Cheesecake were indeed grown organically and harvested fresh at one of the Sewara Farms at Pushkar.
Summer Menu at Lodi- The Garden Restaurant
Taking the legacy of freshness and rejuvenation forward, the Chefs at this wonderful place have now curated a very special Summer Menu for those of you requiring a respite from the usual high calorie and all-year-round food items.
Be it Watermelon or Coconut or Mangoes, the most popular summer products find their way in this sumptuous summer menu at Lodi- The Garden Restaurant.
Our welcome drink was just the perfect refreshment, especially after our long drives and cab rides cutting through the infamous traffic of Delhi. This welcome drink, the Mango Iced Tea was a delicious concoction off Iced Tea and diced mango chunks, tailor made for beating summertime blues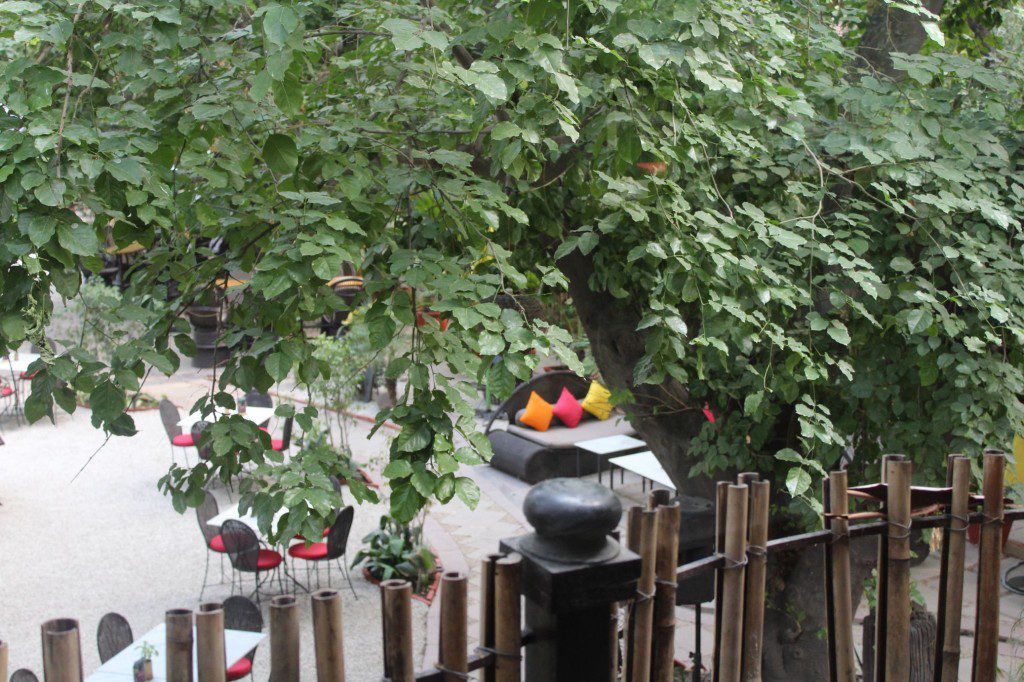 .
All the drinks there on, had one element or the other that imparted unmatched freshness. Be it Coconut in one of the cocktails or Watermelon in the Cold Soup. This went a long way to let us know that this menu was prepared from the heart. We were hosted by the courteous staff head by a welcoming gentleman, Mr. Virendra Negi, he guided us and went on to become a go-to-person for any food related queries we had.
The Watermelon, Feta Cheese and mint combination was presented in a  gazpacho (cold soup). Usually made with tomatoes, seeing the Fahrenheit rising in Delhi, the twist of Watermelon in this cold soup was indeed a very welcoming one. Tangy and sweet flavors in a soup bowl.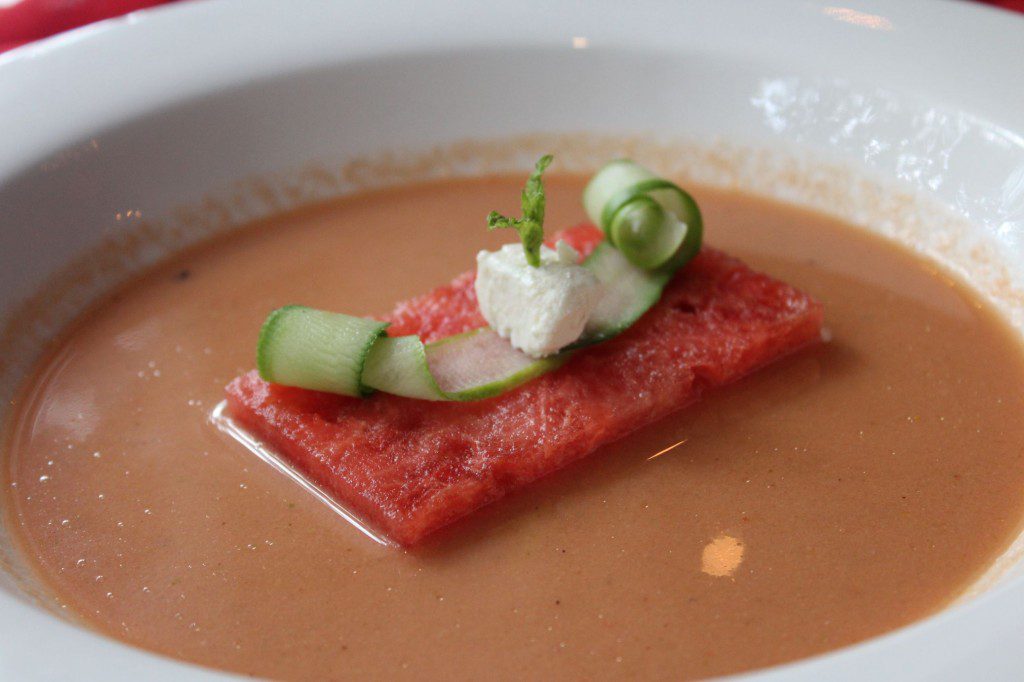 Quinoa is a revolutionary super food and hence, its salad was indeed a very healthy thing to eat. The grainy texture of this super food coupled with the seasonal veggies made it a very delicious salad.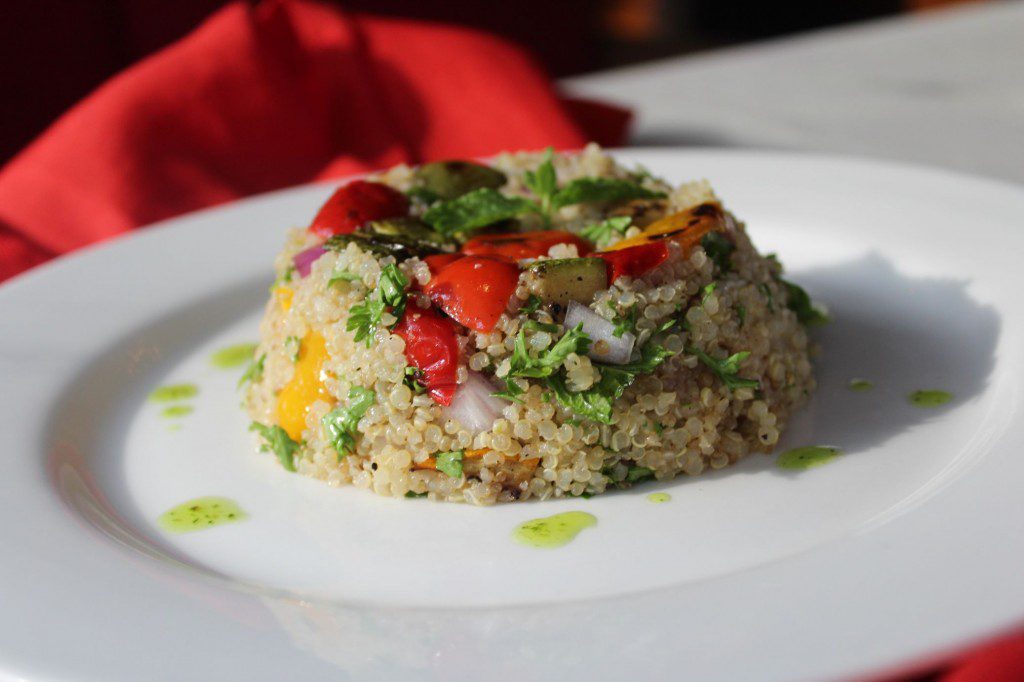 Another Salad was served in the form of Farm fresh greens, tomatoes, goat cheese,pear, sunflower seeds, extra virgin olive oil and honey dressing. Now this one was a richer and more flavorful salad, especially with a tinge of tomatoes and goat cheese together. Nevertheless, I loved the Quinoa salad more because of its simplicity and subtle flavors.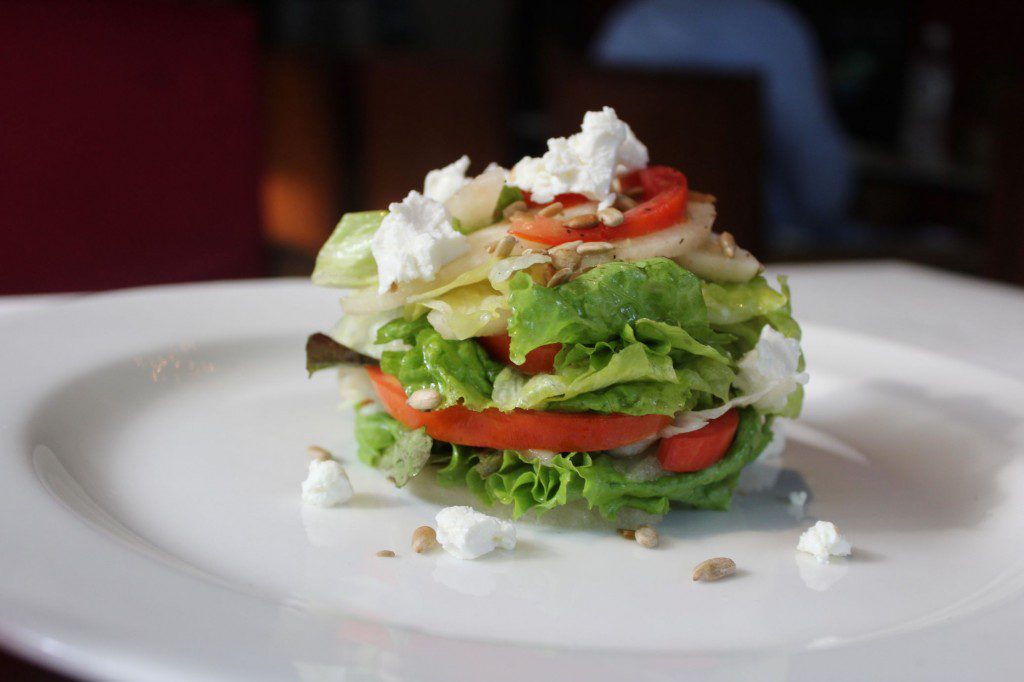 A fiery starter was served in the form of Pickled chillies stuffed with Goat cheese and spinach. These were served with a honey mustard dip. This Sweet and Hot appetizers is one of the best items on the new summer menu. Super spiciness of the pickled chillies balanced by the goat cheese and complemented by the sweet and tangy flavors of the honey mustard dip. Thoroughly enjoyed these stuffed chillies with crispy coarse crusts.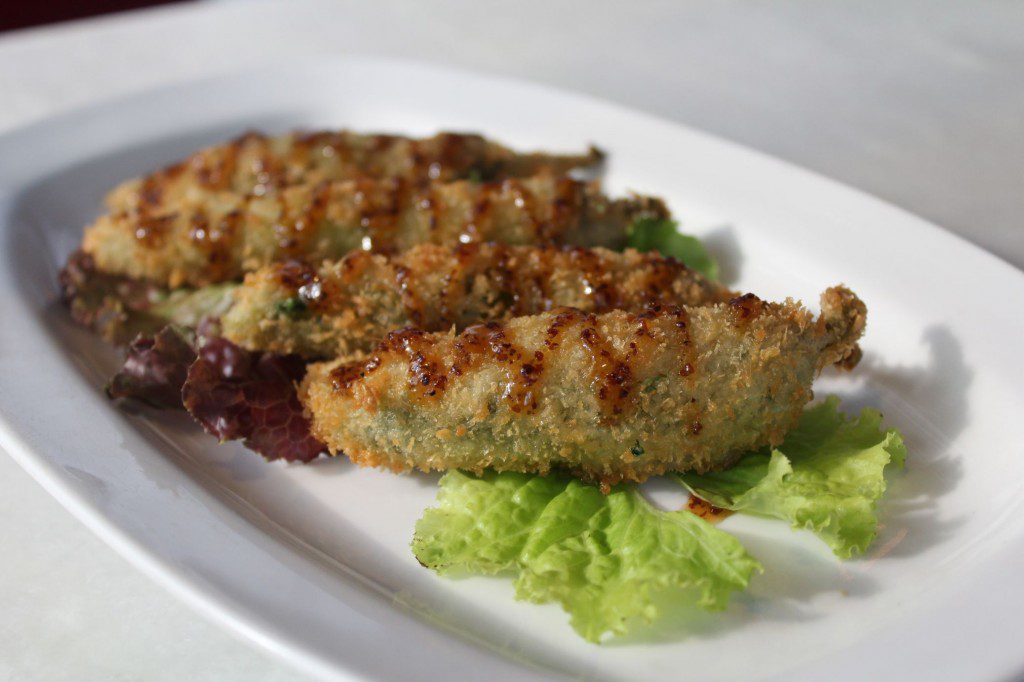 The fiery hotness of the chillies was overcome by the wonderful and innovative mojitos which have been added to the Summer menu.
The Coconut Date cocktail won my heart. A highly refreshing concoction of fresh coconut water, Bacardi and Malibu.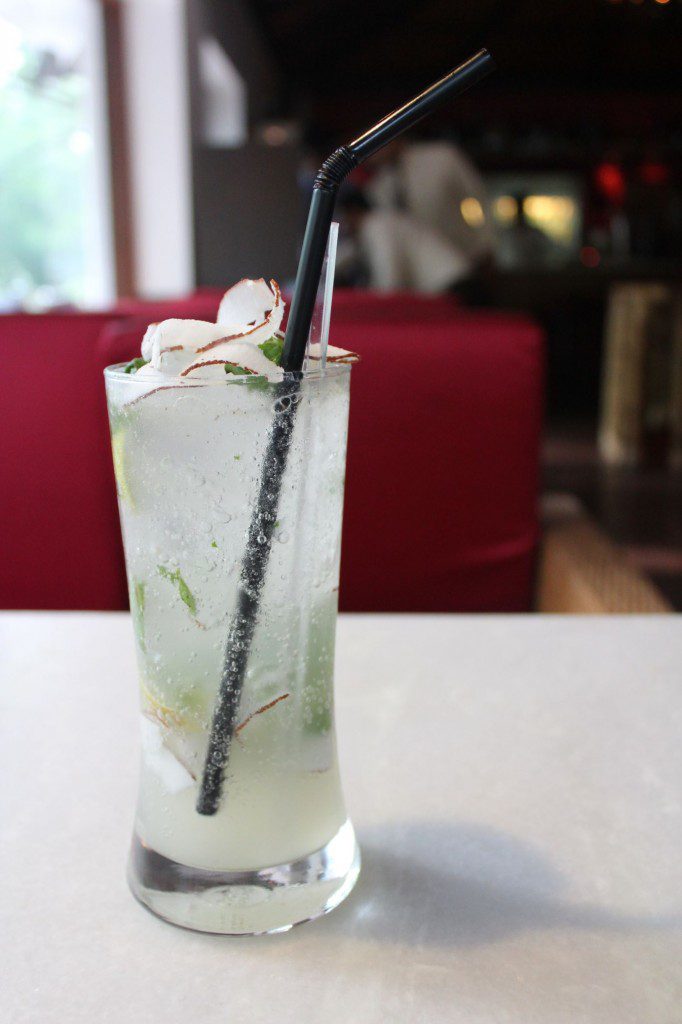 For Pasta, we were served a very simple yet superbly delicious version of the Italian classic. The Fettucini pasta with Grilled Vegetables, cream and confit garlic. Again, a very healthy and appetizing getaway from the unhealthily cheesy pastas served around the restaurants of Delhi. This one had very subtle flavors that made it a very light dish on both the palate and the stomach. It was nevertheless a wonderful pasta.
Mains had a preparation revolving around Tofu. The commodity being a relatively bland item to be on a plate, we were surprised at the Chefs' expertise to transform it into a spectacular and palatable main-course. The Char-sui tofu steak was indeed a very yummy dish to have in Main course. It was served with curried arinchini (Risotto Fritters).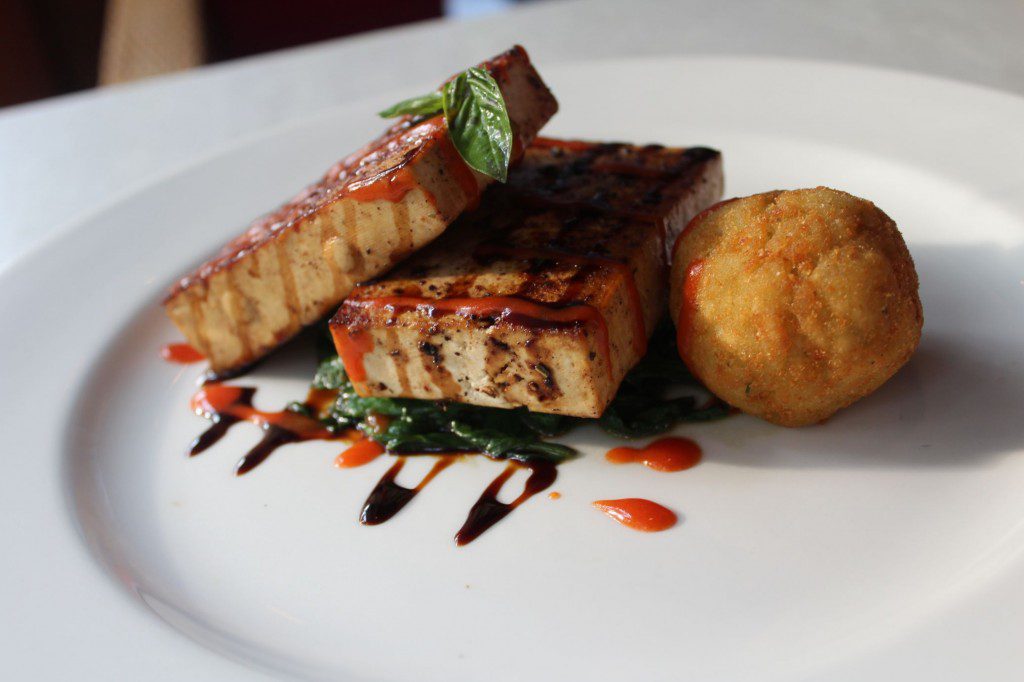 It is summer time and hence, how could our beloved Sole fish stay away from our plates. Grilled Sole Fish with Seasonal vegetables. Again, very subtle flavors inside a beautifully presented and plated dish with a side of mashed potatoes and beans, broccoli and onions. A squeeze of lemon did wonders to enhance the experience of this freshly grilled fish.
Mango Desserts at Lodi- The Garden Restaurant
Mango Cheese cake. Their version was a bit on the foamier side with the texture being not creamy and thick as the conventional cheese cakes. Hence, this was in no way a dish we've had before, in fact, their version of the cheese cake is indeed a bit out of the box. Topped with farm fresh slices of mangoes, this dish would be loved more by the mango lovers than the cheese cake lovers.