Lavaash by Saby is one cafe that had been on my list for long. I had heard great things about it from the most seasoned foodies in Delhi, and hence, was curious enough to try it out. Finally went there a few days back for a brunch with friends. The place has two level, with the upper one being a beautiful terrace with a view of Mughal Heritage, standing tall in the form of Qutub Minar.
The Cafe itself is beautifully designed with rustic decor and well-lit ambience during the day, via natural sunlight. Let's go through the hits and misses from the excellent Indo-Armenian (read Bengali Armenian fusion) menu.
My Meal Experience at Lavaash by Saby Mehrauli
Our meal started with the Armenian mezze platter. Of course, it started with Lavaash (crispy flatbread) and an array of gourmet dips to go with it. Almost all the dips were surprisingly good. Especially the fresh hummus.
Next up were the really different crispy lentil sticks. Lightly seasoned mini bars of grainy and chunky lentils were served with some tangy dips and a drizzle of soy sauce.
Nothing is better than a portion of fragrant thin crust pizza full of aromatic cheese. The Jurassic cheese pizza did solve that purpose and how. Several types of cheese imparting an unmatched cheese aroma to a piping hot fresh thin crust base. Really liked this one.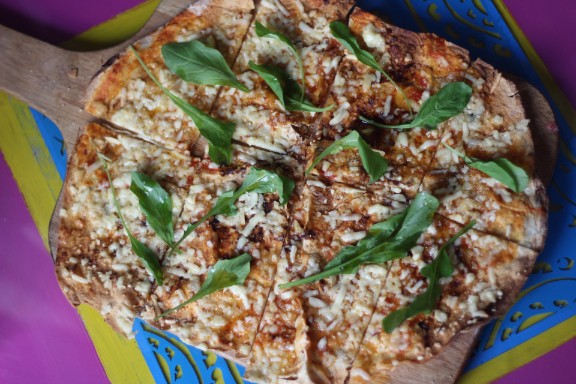 Egg devil, it did look too appetising being a fusion of minced meat and eggs, it ought to be a carnivore's dream. It did deliver on the expected taste without going overboard with flavours, hence, not mind boggling, but a decent dish. The flowing egg yolk was indeed the food porn moment for all my foodie friends.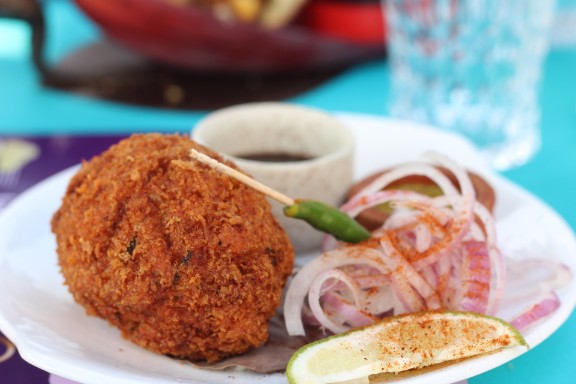 Eggplant Tolma was another innovative dishes that won my heart at the first look and not even the first bite (that did happen later). A baked and stuffed eggplant dish with an array of condiments, amrantran being the most noticeable one. It was described as the Indian Quinoa by the hospitable chef.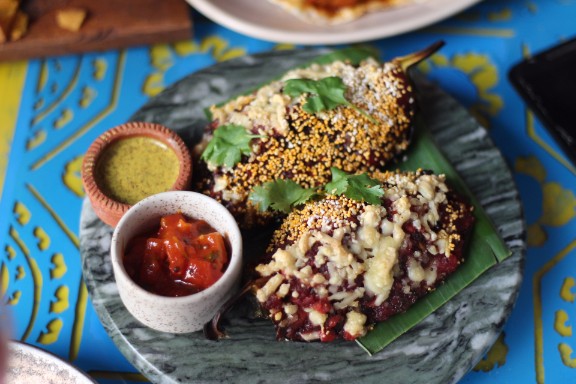 The Indigenous cheese platter was also served and it was my shot at becoming a cheese connoisseur or at least feel like one. Usually, cheese isn't served raw in Cafes, but the way it was carried off by the chefs at Lavaash by Saby is surely recommendable. Artisan, exotic cheeses plated beautifully with the perfect accompaniments.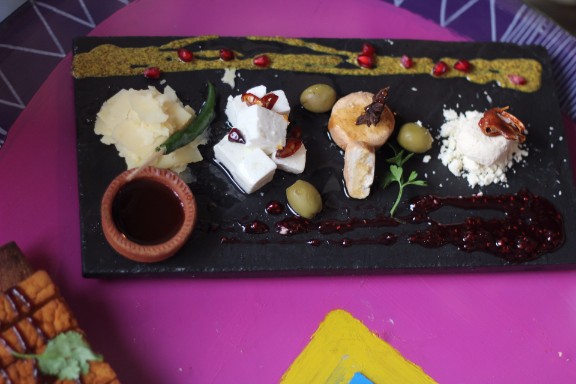 Lamb koobideh is hands down the best tasting dish at Lavaash by Saby. Delicate, tender Lamb kebabs, with a generous glaze of flavorful oils. Each bite took the taste buds to a trip full of deliciousness. Won't be exaggerating if I say these were one of the best kebabs I've eaten in a recent while.
Oh, the appetizers were brilliant at this lovely cafe located in Mehrauli., and so were the cocktails.
In the cocktails, the Evelyn is a must try for those who love some sweet and tangy flavours, reminiscent of Kala Khatta. Then, Black diamond is a bliss of Rum lovers, also for winter haters because the kick of rum would surely help you beat the winter blues.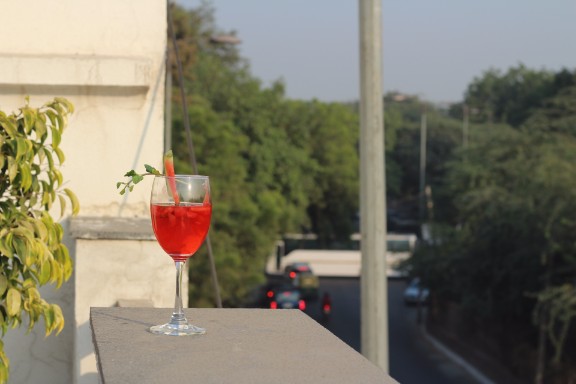 I have written so much about the appetisers just to realise that the main-course at Lavaashby Saby lacked that wow factor. The dishes served for this course weren't suiting my palate. The Lavaash fish looked promising, but the first bite did get me to realise that it wasn't the kind of flavours I was prepared for.
Cherry cheesecake was a hearty slice full of rich and dense cream cheese topped with cherries and chocolate. Orange pound cake had a very fragrant Christmas-y feeling to it, enhanced by the scoop of gourmet ice cream.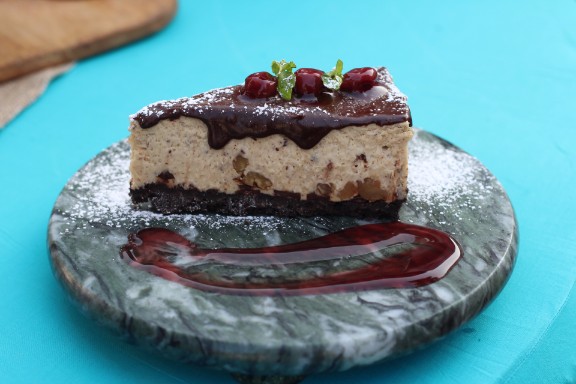 Nevertheless, the amazing appetisers, superb cocktails and food coma inducing desserts  were enough for me to rate this chic and innovative cafe a good 4 out of 5 stars. Hope I get to try other main course dishes during my next visit only to find my only concern gone. Otherwise, it is surely a brilliant place for food lovers up for an innovative food experience.