Qubitos- The Terrace Cafe is a place where you can expect good food and great ambience. The Live Kitchen is also a blessing for food fanatics. Music is fun and there an air of liveliness. All in all, the place is all about chilling and relaxing with all the good food, drinks, music and the company of your loved ones. You would say that the same could be experienced in any other restaurant in Delhi. So here is how we think Qubitos has in store that would make it stand out from a tonne of other options for eating fine food in Delhi.
How is Qubitos Different from other Restaurants in Delhi?
Live Kitchen? You've seen it. Roof-top setting? Meh! Been there. Latest EDM tracks? I have Sound Cloud. Fusion Dishes? Umm..Interesting. But, seen and eaten a lot of it. Well, these are a few of the factors in which all the restaurants are trying to excel in order to beat the competition. However, Qubitos provides them all under a single roof and, that too with interiors so spacious that you can play football there (just kidding, but yeah the interiors are huge). In times of space crunch, it is fun to be in a huge airy cafe, sipping your favourite Cocktail and smoking flavoured Sheesha.
Dish Recommendation at the Qubitos Restaurant in Delhi
Delhites are versatile people. There are fans of Dhabas as well as of fine dining restaurants in Delhi. Hence, the new Cafes surely have room for experiment and fuse the cuisines. That's what Qubitos has excelled at. With dishes like the Butter Chicken Spring Rolls, they plan to take your taste buds for a joy ride. These were simple chicken filled deep-fried spring rolls served with the Makhani Gravy sauce. I totally loved this dish.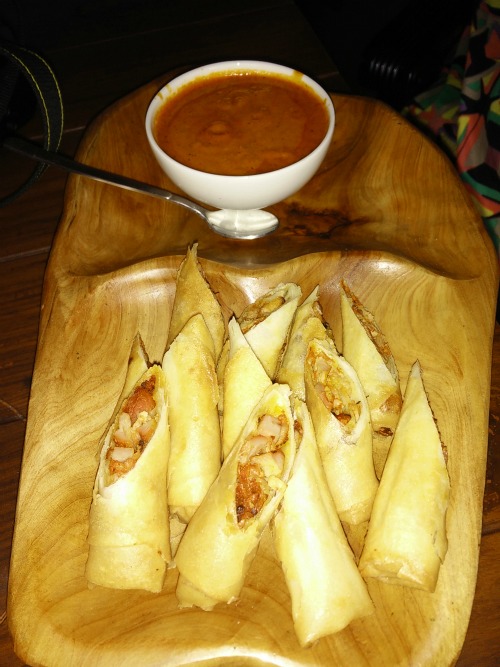 Foodies in Delhi surely have a soft corner for Momos. Hence, I too ordered a delicious sounding dish, the BBQ Chicken Momos. The dim sums were dry on the outside and super juicy on the inside. They hardly needed any sauce to be dipped in, because the chicken filling itself was super flavourful.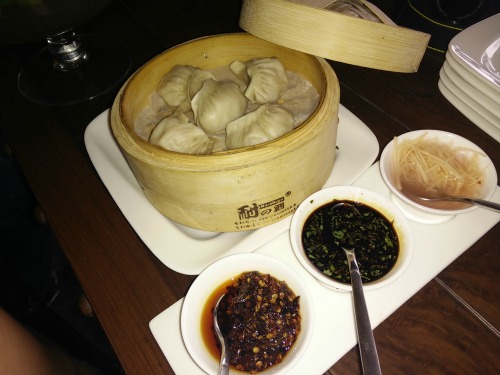 The good old pizza with some spicy peri-peri toppings was also served. Now, there is hardly any scope for pizza to go wrong. Of course, no one does it better than the Italians, but, we Indians have also excelled at the art of making this flatbread delight. Still, I would suggest that you ditch Pizza and go for their other innovative starters.
For the main course, I tried a couple of things. Firstly, it was the Cheesy Mushroom Chicken Spaghetti. It was delicious to say the least. Nice and tender chunks of chicken went really well with the cheesy mushroom sauce and well-cooked spaghetti.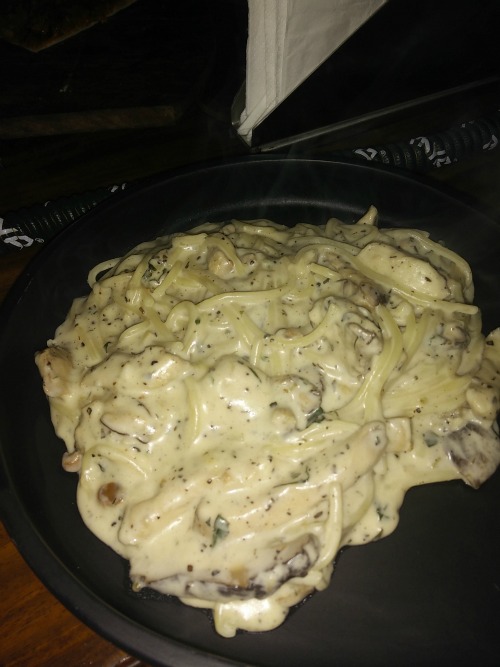 The Burmese Chicken Curry is something I would strongly recommend to everyone. Although mild on spices, this curry had a nice coastal feel to it, with all the coconutty and fragrant flavours. A bowl of well cooked steamed rice would be the perfect companion for you to enjoy the dish.
This would be all for the Dish Recommendation at the Qubitos Terrace Cafe in Rajouri Garden.
Cocktails and Desserts at the Qubitos Restaurant in Delhi
For Cocktails, they had some nice options too. I tried the Skull Island. It was beer based drink with a pinch of Guava Juice. A must try for the beer lovers (basically, everyone). Then it was the turn of a Cocktail Called, 'Bang Bang'. It was on the lines of the traditional Indian Aam Panna fused with Vodka. A nice roller coaster ride of flavours. The stars of the show were the humongous cocktail pitchers (shown in the picture below)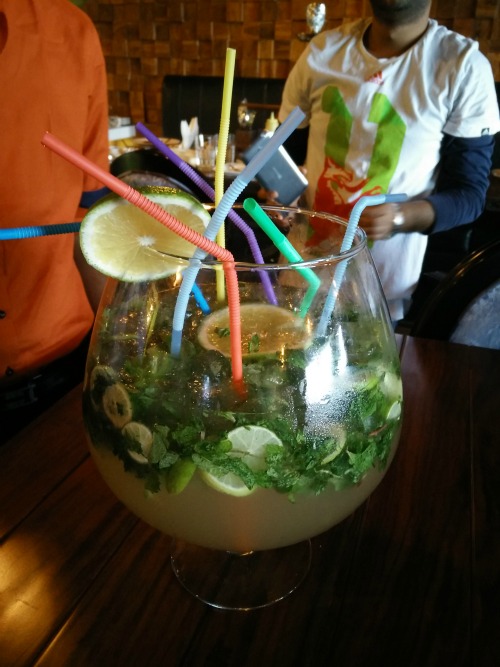 For desserts, the Blueberry Cheesecake takes the cake any day. It was perfectly sweetened, perfectly cheesy and had just the right amount of fresh blueberry sauce. You can also try the Chocolate Brownie Sizzler if you're an out and out chocolate lover.
With this, I think I've given you enough reasons to visit this restaurant in Delhi. FOODelhi Overall Rating: – 3.5/5