Being a food blogger, it is very difficult for me to adopt healthy habits. It also gets for us to take out time to hit the gym or go for a jog. With just two or three workouts a week, the exercising part just isn't enough. This is where a need arises for something super healthy and detoxifying. Also, being a lover of good taste, it is highly important that something that keeps me healthy, also tastes delicious.
Zoe is one such brand which is making an effort to keep the people in Gurgaon, happy and healthy.
They're doing this through their wonderful and super nutritious Cold Pressed Juices and Yogurt Parfaits. The cold pressed juices by Zoe are said to have at least 3KGs of fruits and veggies put into each of the juice bottle. The Yogurt parfaits were so delicious with all the fruits, berries, oats and fresh yogurt. Super glad to finally have something that is delicious and healthy as well.
Cold Pressed Juices from Zoe DLF Phase 3 Gurgaon
Tried three of their fresh cold pressed juices.
Feel the WIN
Watermelon was the key ingredient in this one. It also had Coconut Water, tomato, rosemary, pomegranate and lemon leaves. Now, for first-timers, Cold Pressed Juices may taste a bit peculiar. However, to know that this is the taste that going to put you on track for fitness, it'll be great to get used to the refreshingly different taste. That is what I did, and now I can gulp down a full bottle of this juice and enjoy it thoroughly too.
Feel the Growth
This was more of a vegetable juice. Nevertheless, the hint of fruits was a bliss and you'd hardly feel the pungency of the spinach taste (toned by the exotic fruits). This is one bottle you'd surely like to keep and share in a house full of growing kids. A blessing for health and immunity.
Feel the Youth
A cold pressed juice with the goodness of orange, cucumber, pineapple, basil, raw turmeric and curry leaves. From the sound of it, you may not want to drink it. However, with the very first sip you'll know you're drinking something very healthy, and it still tastes better than a lot of healthy drinks out there.
Fruit and Yogurt Parfaits from Zoe were LOVELY to say the least.
Verve was my favorite. It was a lovely concoction of Red Grapes, Bananas, Chia Seeds and layers of honey and yogurt. Zoe's only menu rightfully calls it a masterpiece. MUST TRY!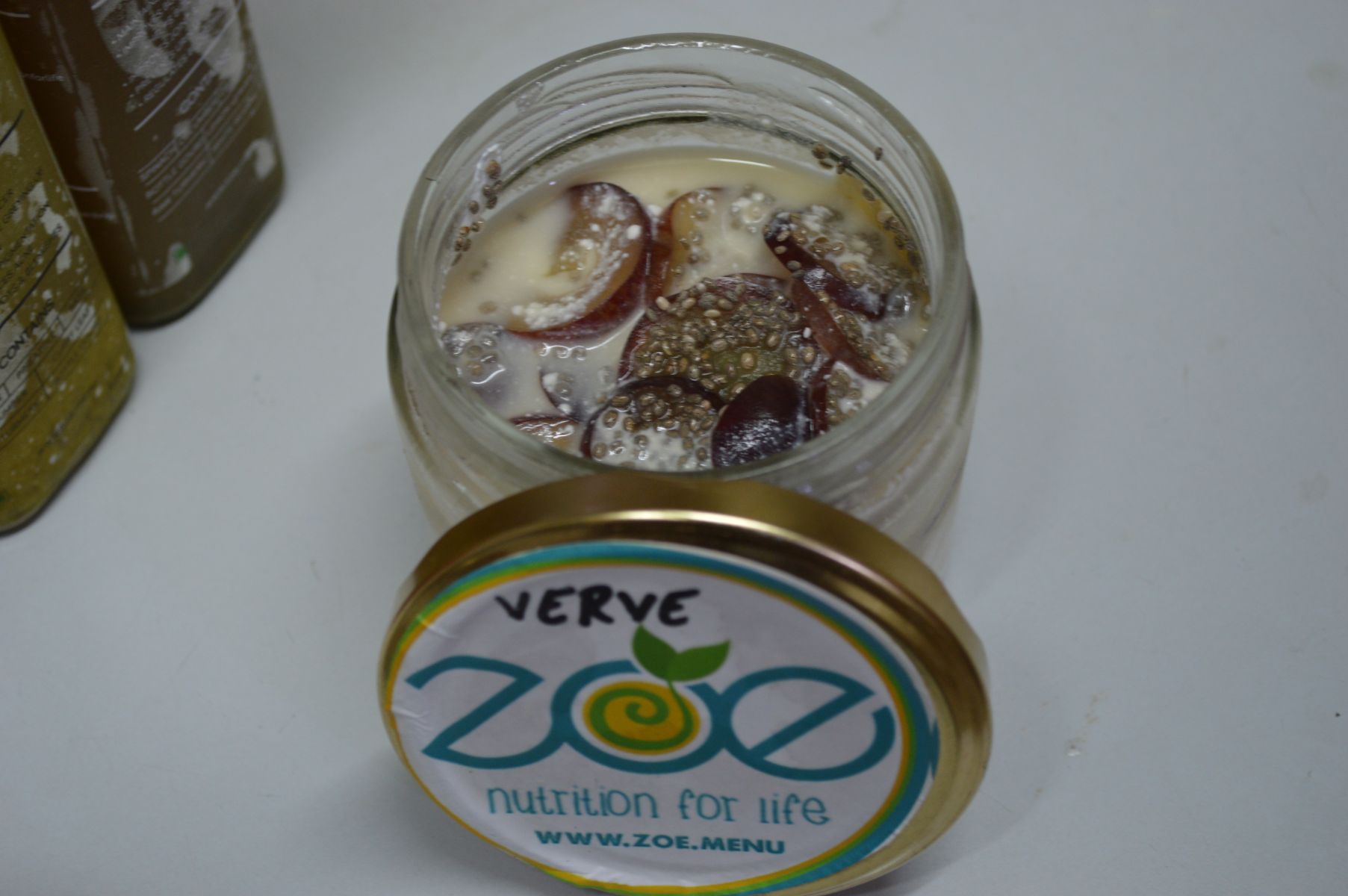 E-Lan Fruit Yogurt Parfait was also yummy with the pomegranate kernels, pistachios and oats with yogurt and honey.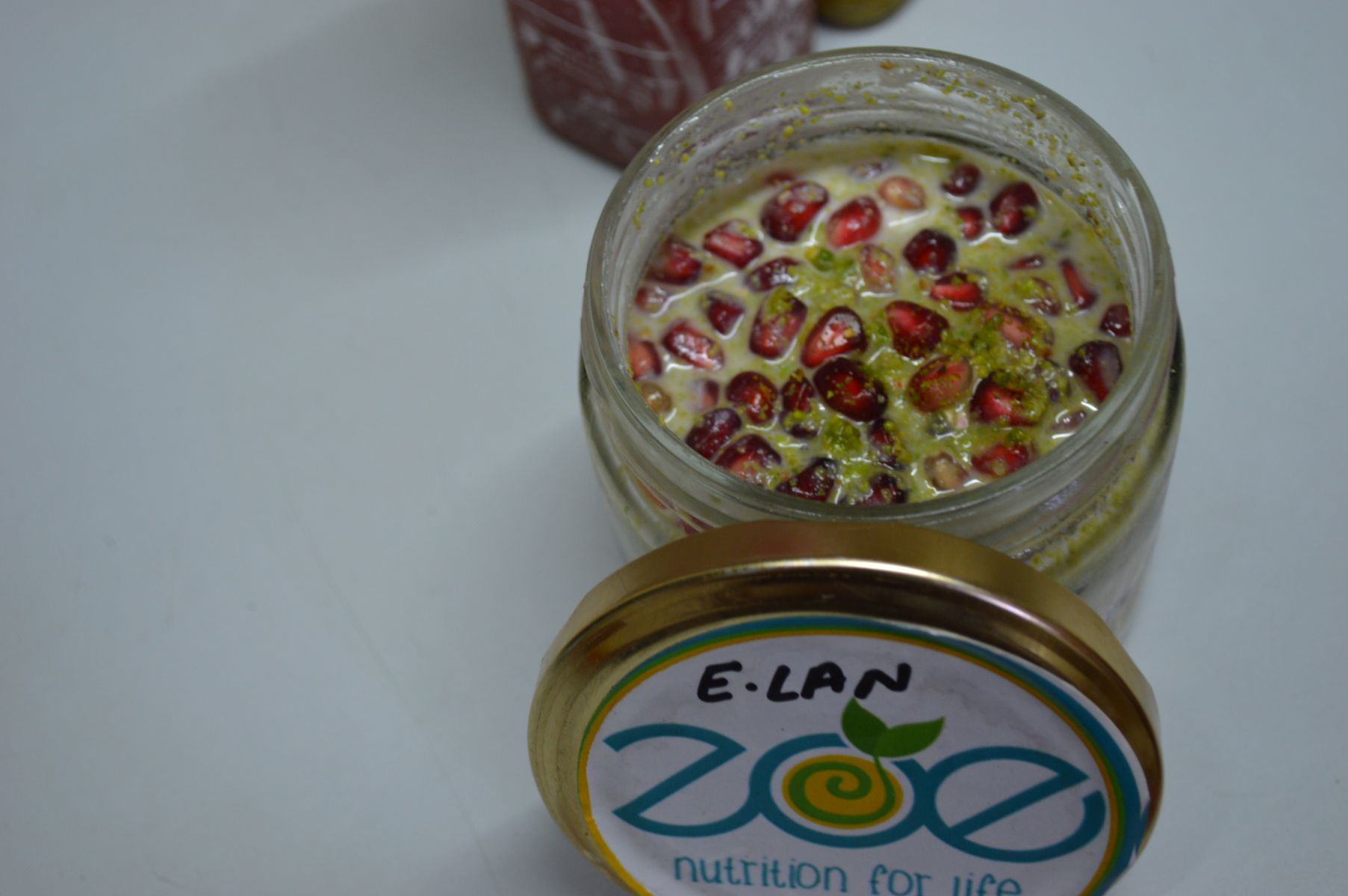 Good Taste, Good Health await you with the amazing range of products from Zoe housed at DLF Phase-3 Gurgaon.
Order Now at www.zoe.menu